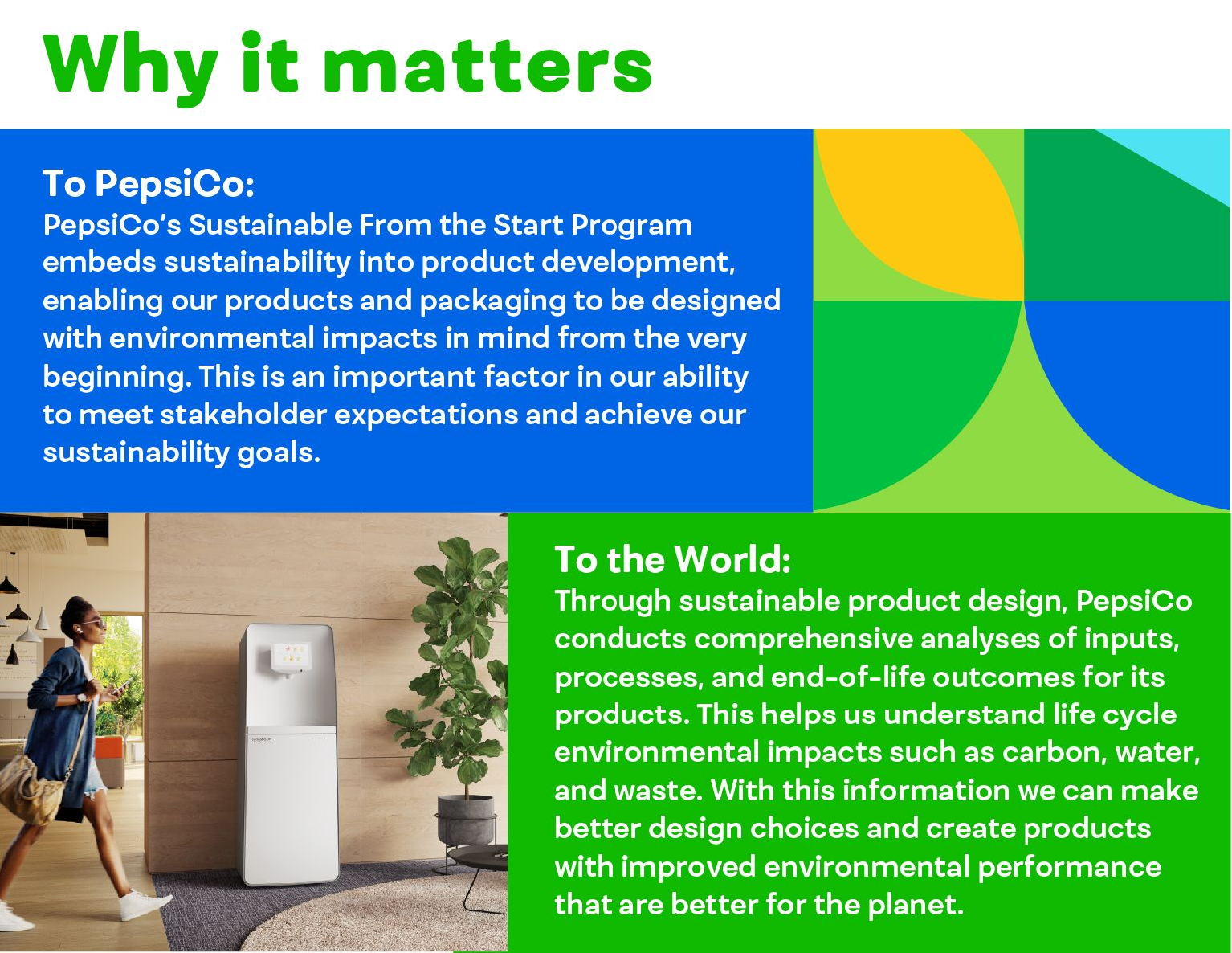 Approach
As we work to roll out our pep+ (PepsiCo Positive) agenda, we are embedding life cycle thinking in our product ideation and stage-gate approval processes, with the goal of making new products more sustainable than the previous generation, building a Positive Value Chain and transparently sharing information with consumers to allow them to make Positive Choices.
Sustainable from the Start (SftS) provides tools to estimate a product's total environmental impact — including potential greenhouse gas footprint, water consumption impact, water risk, and packaging recyclability — during its early design and development phase. It also provides guidelines on reducing impacts with changes to alternative ingredients, improved packaging, and more sustainable technology and distribution. Overall results from the tools are then incorporated into the new product development business process for visibility and decision-making.
The SftS Program is managed by the Global Sustainability Office with input from functional experts such as Supply Chain, Research and Development, Commercialization, and Marketing. Our assessment tools were developed in partnership with external sustainability experts, and they are reviewed and updated annually for accuracy with best available data.
PepsiCo's Global Sustainability Office evaluates program progress within our portfolio at category- and brand levels. We also collect feedback annually from internal stakeholders with the goal of improving communication, processes and tools.
The program supports our packaging, climate, water, and Positive Choices sustainability goals.
Progress
We launched SftS as a pilot in 2018 and as full-scale program in 2019-2020 including rolling out new tools and trainings globally. Since then, we have assessed over 1,000 projects from Research & Development teams in approximately 70 markets globally. In 2021, our teams assessed over 450 projects, including new product launches, packaging changes, and product reformulations.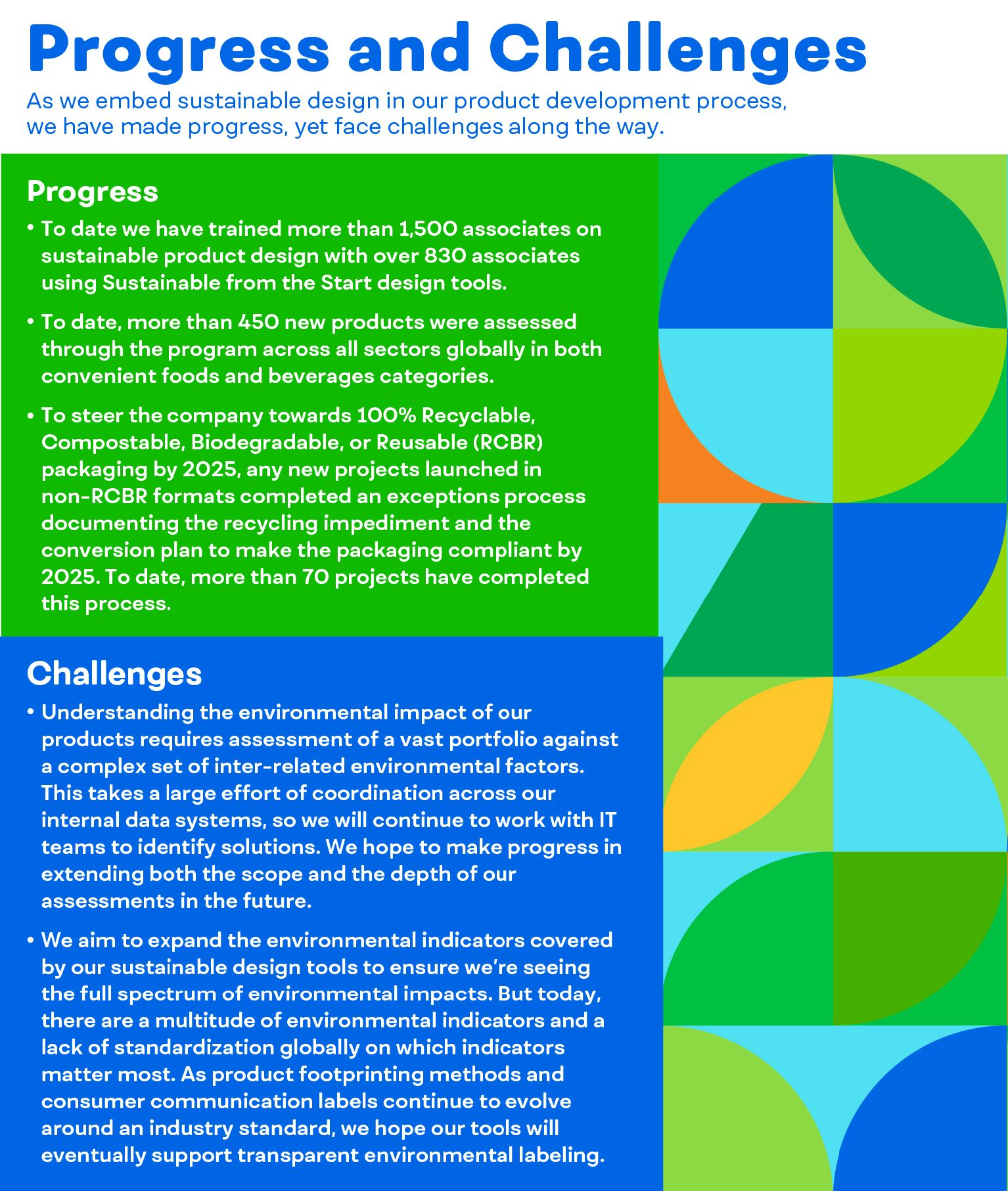 The program currently focuses on new products and will expand in the future to include our portfolio of existing products. In 2021, PepsiCo continued using SftS tools, first launched in 2020, to calculate environmental footprints for many of the company's top-selling products made and sold in markets today, such as Pepsi and Lay's. For each new product evaluated, teams are required to complete the sustainability assessment and report key performance metrics - such as greenhouse gas intensity, water consumption intensity, and packaging recyclability - throughout the product design and development process. Projects that do not meet design standards or are not aligned with our long-term sustainability goals — such as non-recyclable packaging — are required to track future solutions or mitigation actions.
Strategic Partnerships
Embedding SftS into our business functions takes close collaboration with key internal partners, including the Research & Development and Marketing teams that drive new product development. Teams are given the knowledge, tools and training to measure products' environmental impact. This in turn helps to inform decisions about sustainable design alternatives and potential trade-offs for factors such as packaging materials or ingredients.
What's Next?
In 2022, we plan to continue assessing the environmental footprint of new innovation products with packaging changes or ingredient reformulations through the SftS Program. We expect to formalize the program's key performance indicators and set internal impact reduction goals, building on data and lessons learned from prior years.
As PepsiCo continues to work to achieve its pep+ agenda, teams will continue to build on lessons from internal product footprinting tools and identify strategies to shift the food and beverage categories globally in a more sustainable direction. As we develop new packaging materials and product delivery methods, we will continue to evaluate their impact, ensuring that we are contributing to a Positive Value Chain. As we continue to strengthen our tools and assess more products, PepsiCo also aims to allow consumers to make Positive Choices by offering innovative packaging choices that prioritize the environment and share product-level sustainability data more transparently through our portfolio of more nutritious products and labeling efforts. We are constantly evaluating our goals and progress, assessing the technical and regulatory challenges we face in achieving our ambitious objectives, and innovating new ways to keep moving forward.
Last Updated
September 30, 2022