A message about the Diversity Report from our CEO
As one of the largest food and beverage companies in the world, PepsiCo does business in hundreds of markets, each with their own culture, character, and history. To compete on this scale, we must understand the unique needs of local consumers and put them at the center of everything we do, from our products and campaigns, to our partnerships and innovations.
Continue reading the message+
Perspective from our Global Chief Diversity, Equity, & Inclusion Officer
"Diversity is still just as important as ever, but it's not enough on its own. It's the first step along the continuum, and once achieved, will unlock our ability to further innovate for our consumers, deliver first class service for our customers, and cultivate a workforce that reflects our communities."
Tina Bigalke, Global Chief Diversity, Equity, & Inclusion Officer
Read the interview +
Striving for Gender Parity Globally
We're committed to increasing our diversity and have set a global goal to reach gender parity in management roles by 2025.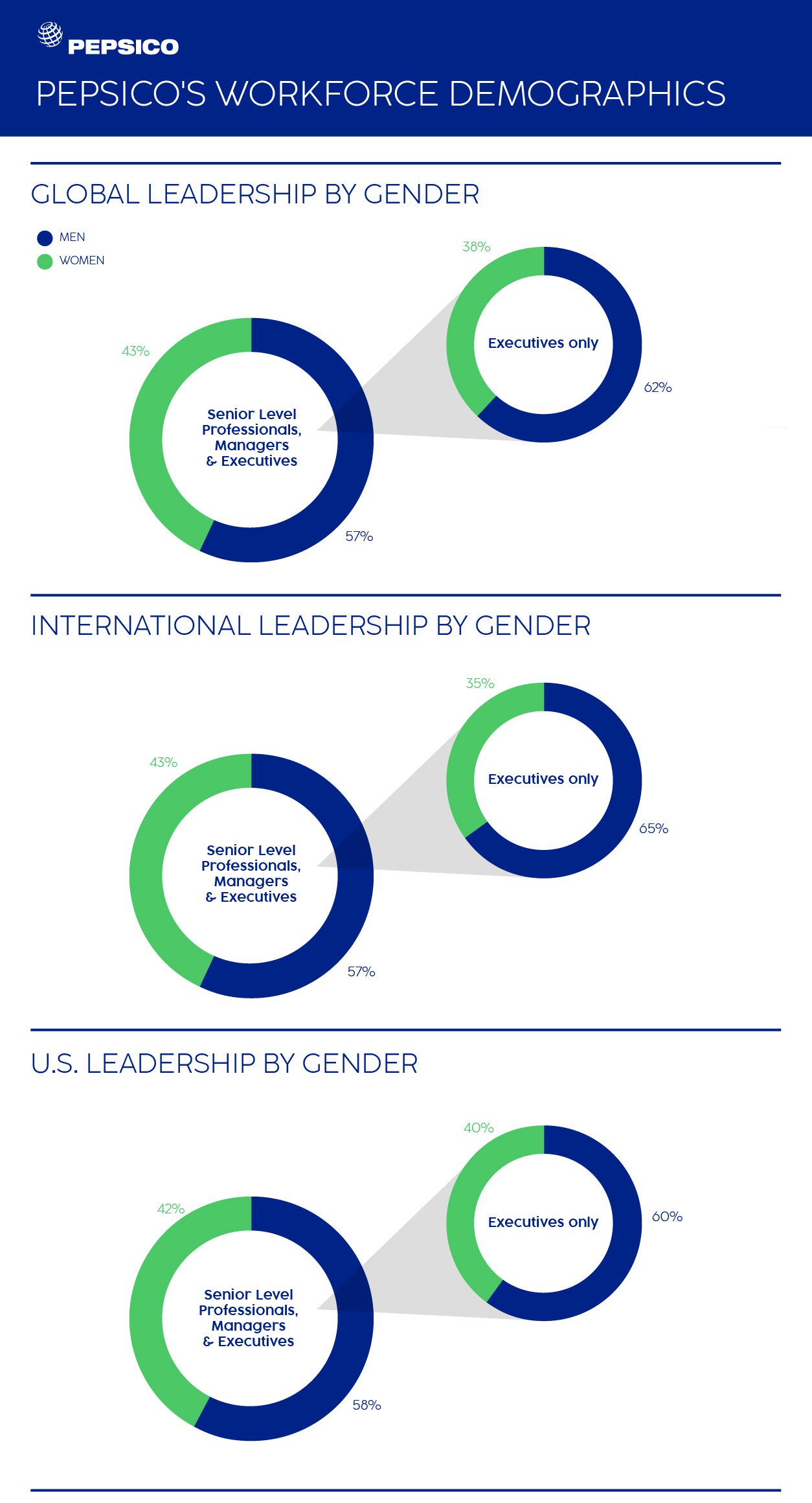 This is only the beginning of our efforts. Building a diverse, equitable, and inclusive workplace is a business imperative. We remain committed to advancing towards our goals because we recognize our opportunity and responsibility as agents of progress.

Tina Bigalke

Global Chief Diversity, Equity and Inclusion Officer


Total Number of Directors: 14
Female
Male
Non-Binary
Did Not Disclose Gender
Part I: Gender Identity
Directors
4
10
-
-
Part II: Demographic Background
African American or Black
1
2
-
-
Alaskan Native or Native American
-
-
-
-
Asian
-
-
-
-
Hispanic or Latinx
1
2
-
-
Native Hawaiian or Pacific Islander
-
-
-
-
White
3
6
-
-
Two or More Races or Ethnicities
1
-
-
-
LGBTQ+
-
Did Not Disclose Demographic Background
-
Previous Reports
2020 Workforce Demographics Report
Representation data for the Global and U.S. workforce is as of June 30, 2021. Board of Directors representation data is as of March 24, 2022.
As referenced in our goals, "management" and "managerial representation" represent "Senior Level Professionals, Managers and Executives."
See PepsiCo's EEO-1 report.
Percentages may not add up to 100% due to rounding. We round to the nearest whole number, but in instances where it rounds down to 0%, we have included a decimal point to illustrate our representation.
International is every country excluding U.S.
Ethnicity/Race categories use EEOC definitions, other than categories used for the Nasdaq Board Diversity Matrix, which uses Nasdaq definitions.
Person of Color combines all ethnicities except White and Non-disclosed.
5 employees accounted for in our total population are not included in subsequent breakouts due to missing data.
Percentages follow the legend going left to right and start at the top center.
Learn more about how we're
making a difference