A value chain is the collection of resources, activities, processes and people needed to sustain and operate a viable business.
PepsiCo's complex value chain begins with the sourcing of more than 30 agricultural crops and ingredients from our farmers and suppliers around the world. These crops and ingredients are made into beloved PepsiCo products at more than 1,000 manufacturing facilities, including 291 company-owned facilities. Products are packaged and then moved over approximately 1.3 billion miles worldwide by our company-owned fleet — and even more than that through third-party transportation providers — to be sold and enjoyed by our consumers more than one billion times a day. Once the product has been enjoyed, the packaging is generally either collected as waste or recycled for another use.
We are working to make every stage of our value chain more circular and inclusive and to help advance the systemic changes we believe are needed to tackle significant global challenges such as environmental degradation, social inequality and access to nutritious food. These changes are not only good for our business but also for the partners and people throughout our value chain, as well as the communities we serve.
We are taking bold action aimed to reduce our climate-related impacts, replenish watersheds and minimize water use, innovate more sustainable packaging and recapture packaging materials, but know there are many challenges to overcome.
We aim to keep pushing for better — particularly with respect to our GHG emissions and packaging goals — as growth in our business has impacted our progress against these pep+ goals. We know that achieving these ambitious goals will require further investment and innovation, and we face challenges from the limitations of existing technology and regulations. However, we understand the leadership role we need to play, the infrastructure and regulatory requirements, and the partnerships and scalable technologies needed to keep building momentum and we remain focused on advancing our agenda.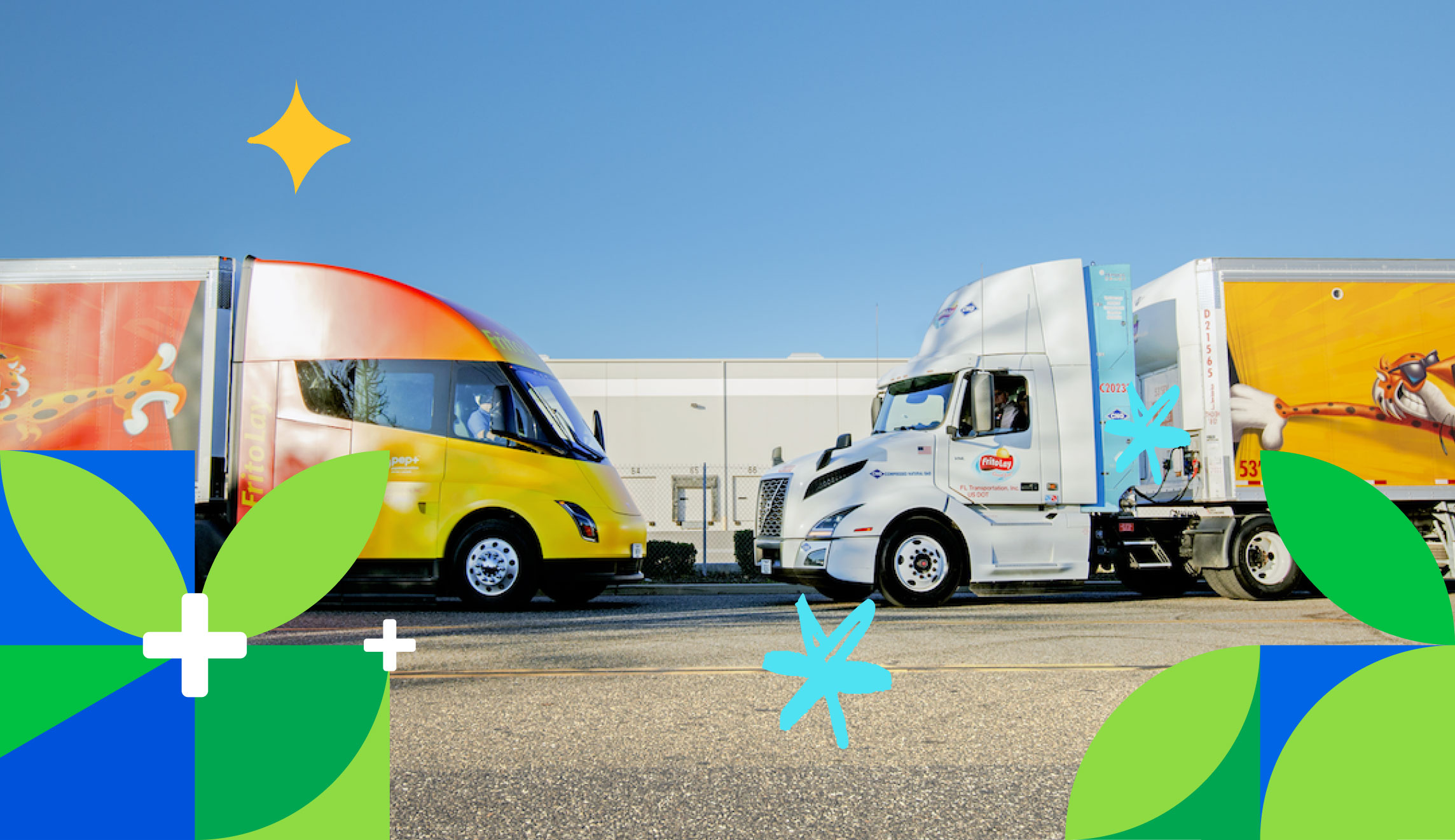 Climate
Our world is already feeling the effects of climate change and fast, bold action is needed. At PepsiCo, we are eager to help lead the way toward net-zero. Not only because we know climate change threatens the prosperity of people and communities, but also, because it challenges the long-term sustainability of companies like us, and the millions of jobs we collectively support.
To help mitigate these risks and adapt to new realities, it is essential for PepsiCo to build resilience to protect against climate change.
That means we need to reduce our dependence on fossil fuels, including by investing in sustainable solutions like renewable energy.
We have set an ambitious goal of achieving net-zero emissions across our entire value chain by 2040 and an interim goal to reduce absolute emissions (Scopes 1, 2 and 3) across our value chain by more than 40% by 2030, which includes a reduction of 75% in Scope 1 and 2 emissions (both goals against a 2015 baseline).
We always aim to do more to drive progress toward our climate goals, and we are focusing our climate strategy on the areas where we can have the biggest impact: manufacturing, agriculture, packaging, transportation and vending and cooling equipment.
Our climate action strategy

Approach
In addition to proven approaches to reducing internal carbon emissions, we are also seeking new ways to influence reductions at the individual farmer level, as well as among large-scale suppliers, and advocating for industry-wide change.
PepsiCo's Climate Action Strategy aims to reduce more than 26 million metric tons of GHG emissions, the equivalent of taking more than five million cars off the road for a year. Informed by science, our approach is built on mitigation to reduce GHG emissions to decarbonize our supply chain, and adaptation to reduce vulnerability by incorporating climate risk into our business continuity plans.
We know that turning the tide will take diligence and time, but we are laying the foundation by putting substantial influence and investment behind climate action and building resilience.

We are continuing to make investments that are designed to help advance our pep+ transformation, through decarbonization and climate resilience in our operations and value chain, among other ambitions. In 2022, we completed our second Green Bond issuance, with a 10-year, $1.25 billion1 senior notes offering. In addition to investments in regenerative agriculture, pursuing net water positive impact, circular economy and virgin plastic waste reduction, net proceeds are being allocated to investments in decarbonization and climate resilience within our operations and value chain. These include, for example, sustainable energy generation using solar installations and other means, greener buildings that receive third-party verifications, energy efficiency efforts and/or reducing GHG emissions at facilities, upgrading of vending and cooling equipment and the expansion of cleaner transportation, such as electric fleet vehicles. In 2022, we continued growing our industry-leading electric fleet by taking delivery of the first-ever Tesla Semis, and deploying electric trucks from several other manufacturers.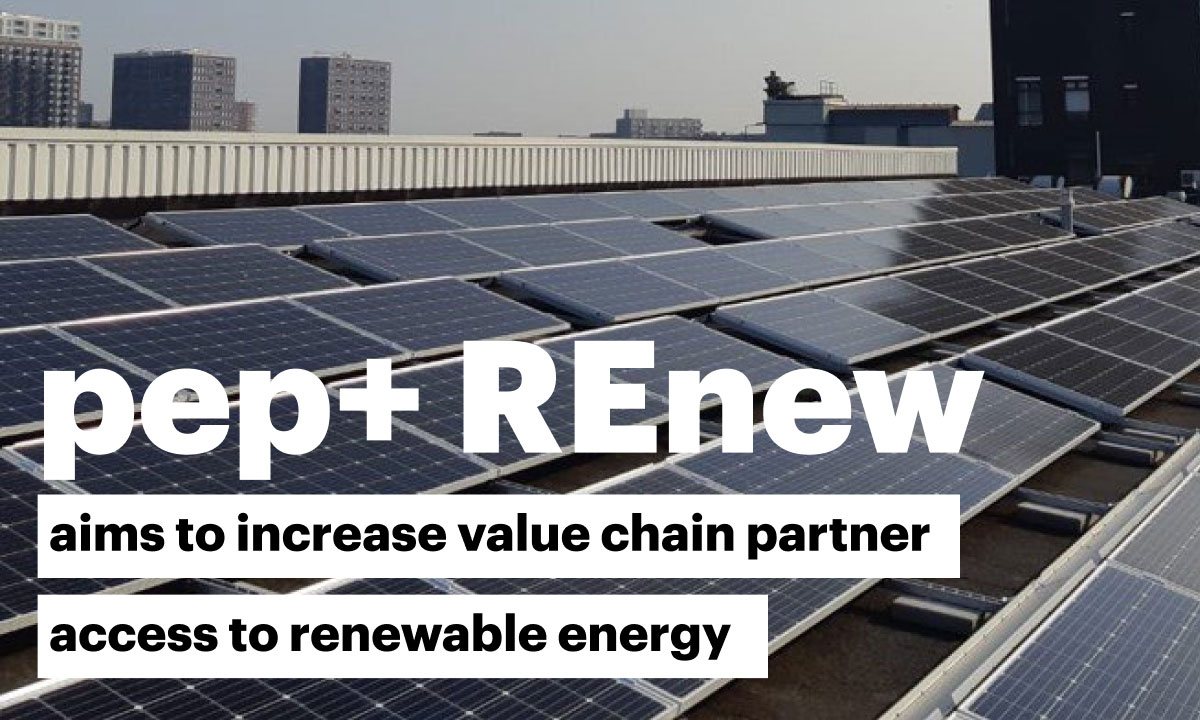 We aim to drive fundamental change by working toward our net-zero emissions goal and catalyzing industry-wide impact. We are developing and supporting solutions to decarbonize operations across our value chain, including a range of initiatives to increase zero- and near-zero emissions delivery vehicles for our company-owned fleets, improve energy-use efficiency and scale renewable fuel solutions at manufacturing sites. We aim to achieve 100% renewable electricity in our operations by 2030 and in all our franchise and third-party operations by 2040.2
We have launched innovative programs that hold the potential to become templates for decarbonizing operations. Where effective, they can be replicated at other PepsiCo facilities and become the building blocks for scaling impact.
In 2022, we continued to work toward our goal of 100% renewable electricity in our direct operations, and approximately 65% of our global electricity needs were met by renewable sources.

3



Our Frito-Lay facility in Modesto, California — one of the largest in the U.S. — is a role model for decarbonizing in one of the most challenging sectors: transportation. A major hub for delivery trucks, the plant is home to half of PepsiCo's new Tesla semi-trucks. To date, it has cut GHG emissions by 91% at its transportation center since 2019 through its transformation into a first-of-its-kind showcase of large-scale commercialization of near-zero and zero emission technologies in manufacturing, warehousing and distribution. It is the first Frito-Lay manufacturing facility to implement site-wide alternative fuel vehicles, on-site renewable energy generation, energy storage equipment and employee electric vehicle charging stations.

In 2022, we completed installation of a biogas pilot project at one of our facilities in China that collects organic waste such as potato peels and sludge from the wastewater treatment station and transfers it to an anaerobic tank to produce biogas. The biogas is used to generate electricity for production, and the residue can be repurposed as organic fertilizer on potato farms, a contribution to both our pep+ agriculture and climate goals. The pilot is designed to generate approximately 2.4 million kilowatts of electricity per year and will reduce GHG emissions by around 1,400 metric tons per year.

At a facility in the Netherlands, we have made initial investments to adopt a renewable electricity system and phase out the use of natural gas. This is expected to replace 4.5 million cubic meters of gas annually, saving 8,500 metric tons of GHG emissions. The Volt system turns electricity from nearby solar and wind farms into heat, and includes a heat storage and transfer system to circulate the thermal oil that powers the fryers to make Lay's and Cheetos.

We believe that effectively addressing climate change requires action throughout the value chain.
The biggest challenge in our journey to net-zero emissions is reducing Scope 3 emissions, which accounted for 93% of our global GHG emissions in 2022. Scope 3 emissions increased by 7% from a 2015 baseline, largely due to business growth. Our emissions intensity (calculated as million metric tons GHG emissions per $ billion net revenue) was 0.71 in 2022, down from 0.93 in 2015, reflecting net revenue growth that has outpaced our emissions increase, but work remains to reduce the linkage between business and emissions growth.
We expect all our value chain partners — including suppliers, contract manufacturers and franchise bottlers — to set science-based climate targets, and we are supporting them in this transition. In 2022, we hosted our first value-chain-wide global pep+ Sustainability Summit, bringing together suppliers to contribute to climate targets with four expectations:
Report Scope 1 & 2 emissions to us by the end of 2023;
Set, or commit to setting, a Science-Based Target (SBT) by the end of 2023;

Convert PepsiCo's portion of electrical load to renewable electricity, where available, by the end of 2023; and
For agricultural suppliers, collaborate with us to develop an action plan for sustainable ingredients and to build regenerative agriculture acres by the end 2023.
Urgent action to achieve net-zero emissions also requires working with strategic partners. We partnered with Schneider Electric in early 2022 to launch pep+ REnew, a new educational program designed to accelerate the adoption of renewable electricity in our supply chain. REnew educates supply chain partners on available procurement options and helps them to successfully and efficiently transition to renewable electricity by, for example, buying renewable electricity credits or entering into a power purchase agreement (PPA) for a solar or wind farm. PepsiCo is currently assembling an inaugural cohort to provide resources and guidance on joining and executing an aggregate PPA — a buying tool that allows multiple partners to jointly invest in a renewable electricity project.
In addition, through our demonstration farms and other investments, we work with our farmers and supply chain partners to scale regenerative agriculture practices that sequester carbon and reduce GHG emissions across seven million acres of land used across the world to grow our crops and ingredients for our products.
1. PepsiCo's 2022 Green Bond Framework defines eligible project categories as circular economy and virgin plastic waste reduction; decarbonization and climate resilience within our operations and value chain; pursuing net positive water impact; and regenerative agriculture.
2. To achieve 100% renewable electricity, PepsiCo has targeted a diversified portfolio of solutions. These include Power Purchase Agreements (PPAs), which finance the development of new renewable electricity projects such as solar and wind farms, as well as energy attribute certificates (EACs), known as renewable energy certificates (RECs) in the U.S., from existing wind or solar farms, which are credits certified by independent third-parties that support existing electricity generation from renewable sources.
3. The goal is being accomplished using a diversified portfolio of solutions, including RECs. Results reflect exclusion of Be & Cheery portfolio. Decrease from prior year is primarily due to the unavailability of renewable energy certificates in Russia.
Goals & progress
At the end of 2022 — just over one year since launching pep+ — we have made significant investments, piloted or adopted innovative technologies, launched groundbreaking programs and entered into strategic partnerships to reduce emissions throughout our value chain. While we did improve our GHG intensity, our 2022 emissions were up against baseline due to strong business growth since 2015. In 2022, PepsiCo's total GHG emissions across Scopes 1, 2 and 3 were approximately 61 million1 metric tons, which represents a 4% increase from our 2015 baseline. We have not yet made progress in line with our ambitions but we remain focused on achieving our goals.
Achieve net-zero emissions across our value chain by 2040.
GHG emissions reduction goal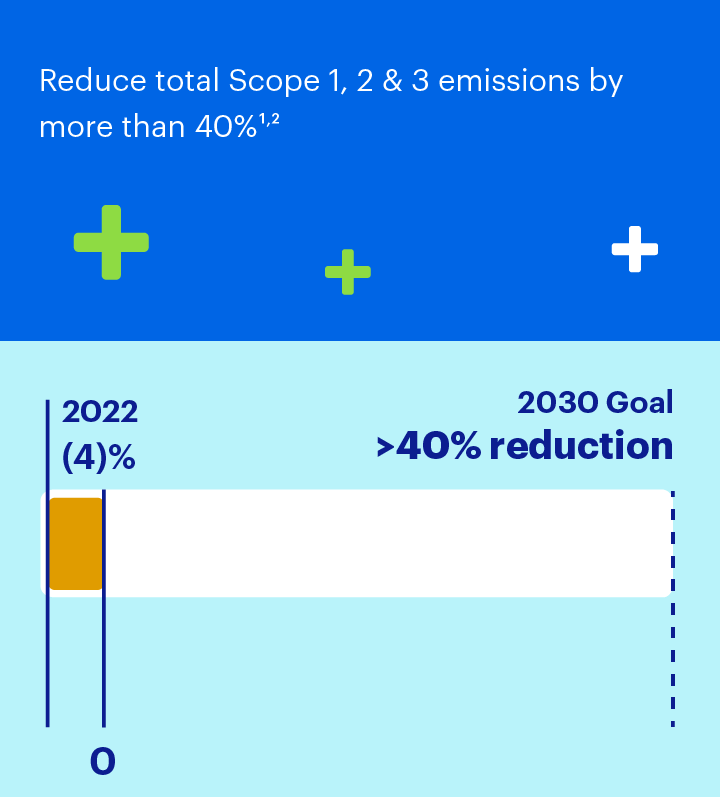 Scope 1 and 2 emissions reduction goal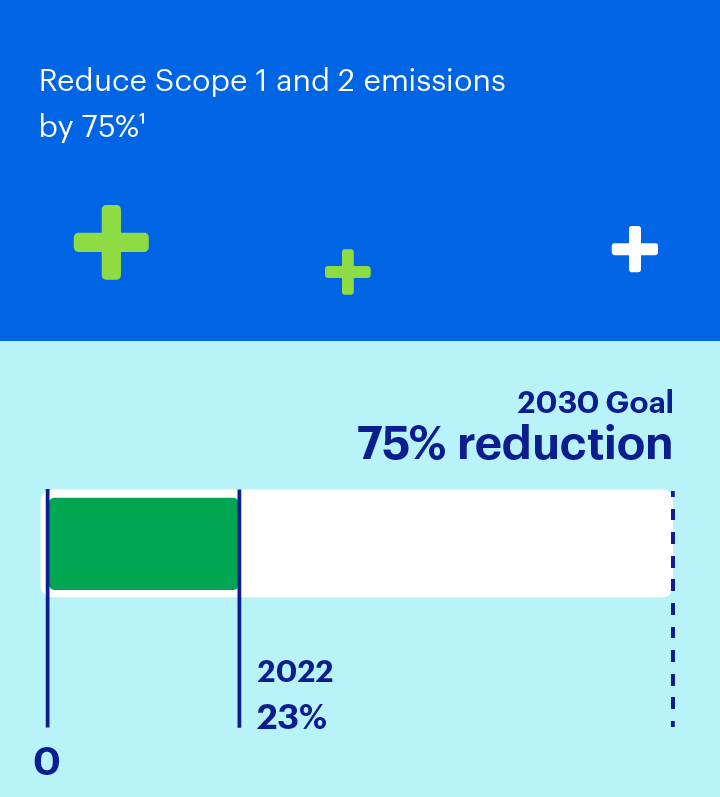 Scope 3 emissions reduction goal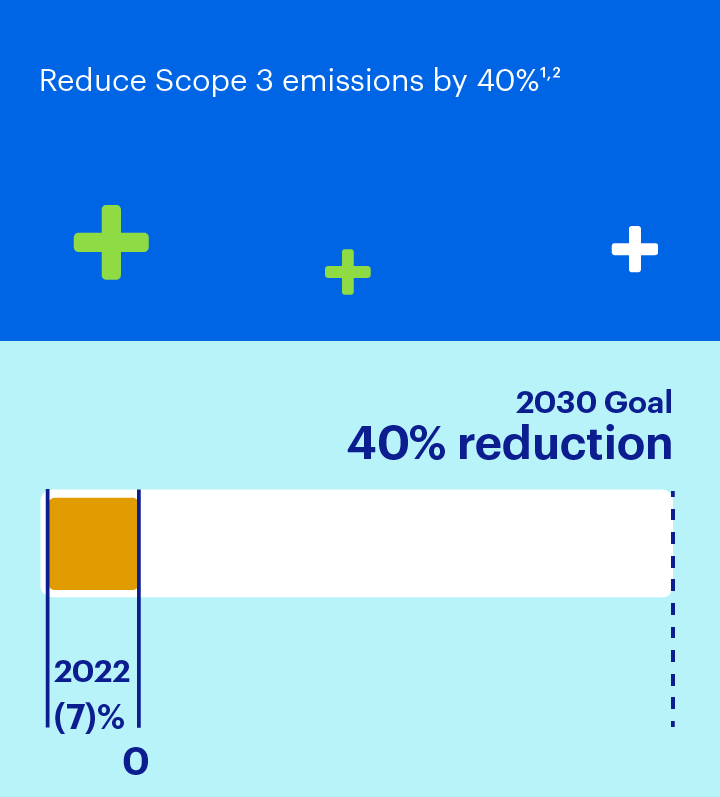 1. Measured versus a 2015 baseline. In 2022, we remeasured the 2015 baseline to reflect the divestiture of Tropicana, enhancements in our calculation methodology and the inclusion of additional data.
2. Where 2022 actual data was not available, estimated 2022 data was used. 2022 Scope 3 progress impacted by increased packaging use, transportation, third-party manufacturing and other purchased goods due to business growth.
Explore Climate topics in more depth
PepsiCo's ESG Topics A-Z provides detail on strategy, data, policy, progress and more on a wide range of subjects.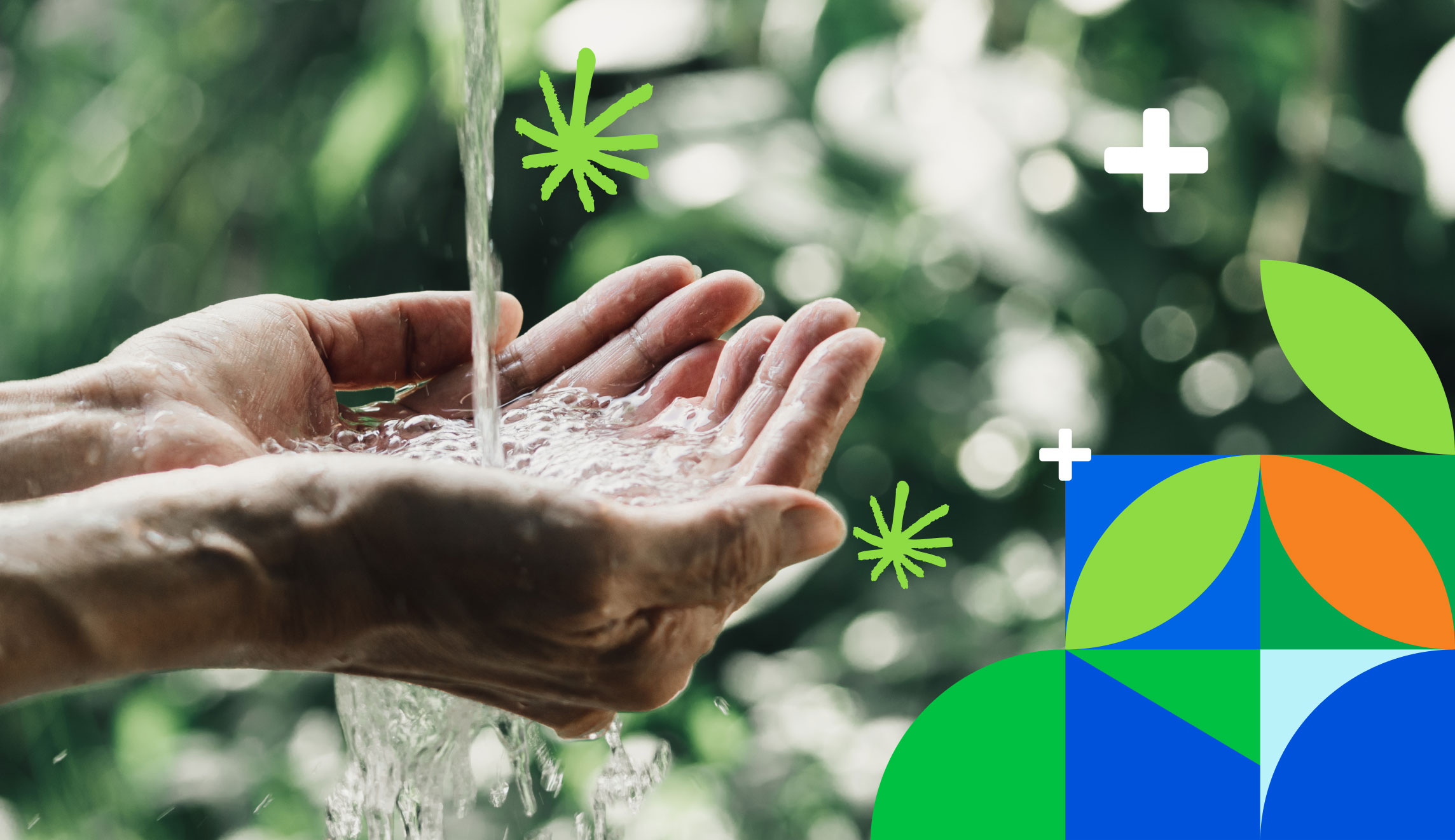 Water
Water is a precious resource, and we are working to make every drop we use go as far as possible and to strengthen local watersheds wherever we operate.
Not only does water scarcity threaten PepsiCo's ability to source ingredients and manufacture our products, it also has serious implications for the environment and the farmers and communities in our value chain.
Pressure on the world's water supply continues to grow and is exacerbated by climate change, drought, water pollution and growing demand. According to World Wildlife Fund (WWF), only 3% of the world's water is freshwater, and over two-thirds of that is frozen in glaciers or otherwise unavailable. ​
We are working to become net water positive by 2030. This means achieving best-in-class1 water-use efficiency in 100% of high water-risk PepsiCo and third-party manufacturing facilities and world-class1 water-use efficiency in all other PepsiCo and third-party manufacturing facilities; improving the health of high water-risk watersheds where we directly source our crops including an improvement in water-use efficiency; replenishing more water than we use from local watersheds; and delivering safe water access to those who need it most. Our vision is that, wherever in the world we operate, water resources will be in a better state because of our presence.
1. Best-in-class water-use efficiency for beverage facilities is defined as 1.2 liters of water (or less) per liter of beverage production. Best-in-class water-use efficiency for convenient foods facilities is defined as 0.4 liters of water (or less) per kg of convenient foods production. World-class water-use efficiency for beverage facilities is defined as 1.4 liters of water (or less) per liter of beverage production. World-class water-use efficiency for convenient foods facilities is defined as 4.4 liters of water (or less) per kg of convenient foods production.
Our path to net water positive


Approach
Our long-term water strategy aims to achieve sustainable water security for our business, natural ecosystems and local communities that depend on an accessible and reliable supply of clean, safe water.
Our net water positive ambition is to use water as efficiently as possible across our manufacturing operations and agriculture practices, replenish local watersheds by returning more than 100% of the water we use and deliver safe water access to those who need it most.
In support of our goal of being net water positive in 100% of high water-risk company-owned and third-party manufacturing facilities by 2030, we are driving progress and accountability on water-use efficiency in our own operations. We are scaling the installation of new water-efficient manufacturing processes and investment in technologies to make our operations among the most water-efficient in the world.
To reduce our freshwater consumption, we are piloting innovative water treatment technology in high water-stress areas to use as models for other PepsiCo sites around the world.
Vallejo, Mexico facility: At one of our largest foods manufacturing facilities in the world, PepsiCo has created its first truly circular water system. For more than 200 days in 2022, Vallejo achieved zero freshwater consumption (zero liter/kg), drawing zero water from the conventional supply during this period. By installing water-use efficiency technology to recycle water on-site, including a filtration and reverse osmosis system, low-water cooking processes and rainwater harvesting, and treating and reusing processed water from other nearby companies within our catchment areas, Vallejo has increased its water-use efficiency by 85% (compared to a 2015 baseline).
Funza, Colombia facility: For more than 200 days in 2022, this site operated using zero freshwater, with no burden on local municipalities, by capturing rainwater for use in its operations.
Kolkata, India facility: The average potato is made up of about 80% water. At our Kolkata plant, we developed a way to give the water naturally occurring in the potatoes a purpose by capturing it and cleaning it to safe drinking standards instead of letting it evaporate off as steam during cooking. The technology can recover more than 50% of the water used in the potato chip cooking process. Early results show the process can save each facility up to 60 million liters of water per year. PepsiCo has the potential to scale this application, where regulations permit, at up to 30 high water-risk areas by 2030.
We continue to expand internal partnership initiatives such as our Resource Conservation (ReCon) program, through which PepsiCo facilities across the globe work together to identify and share best practices in operational water-use efficiency. We are also making progress toward our goal of 100% adoption of the Alliance for Water Stewardship (AWS) Standard in high water-risk manufacturing areas by 2025. We have made strong progress over the year doubling the number of facilities implementing the AWS Standard driven largely by our high water-risk facilities in Africa, Middle East and South Asia (AMESA) and PepsiCo Beverages North America (PBNA). In addition, eight facilities in the PepsiCo AMESA sector completed adoption in 2022.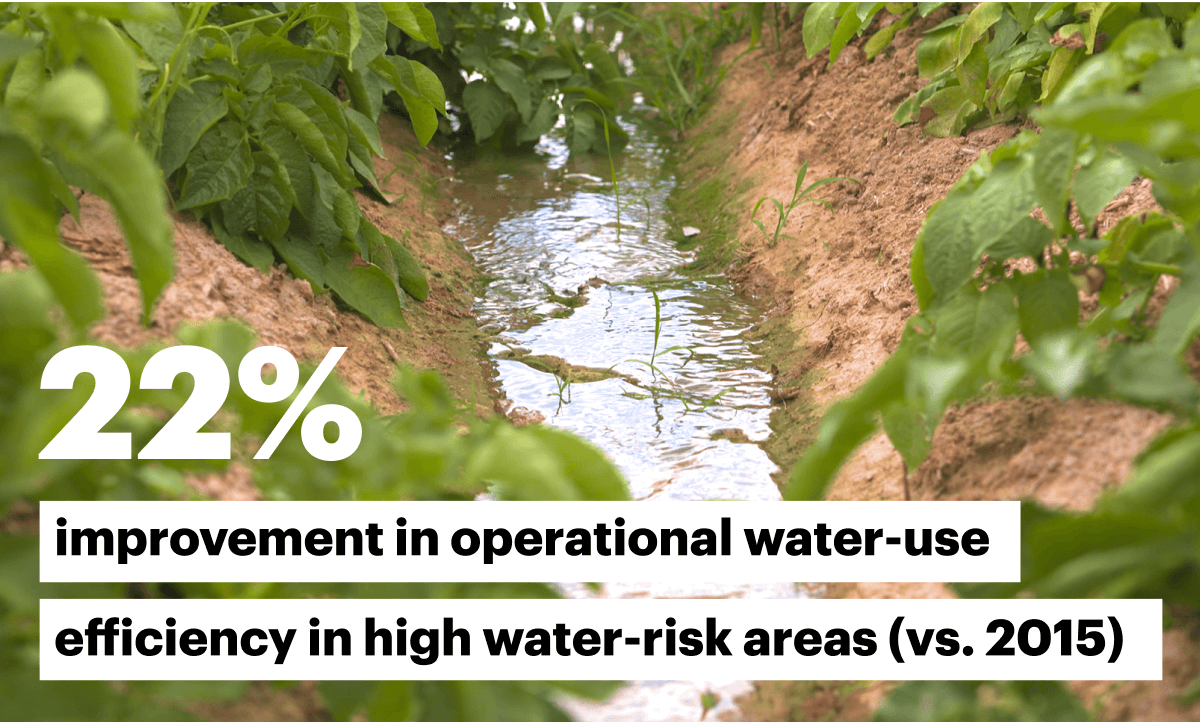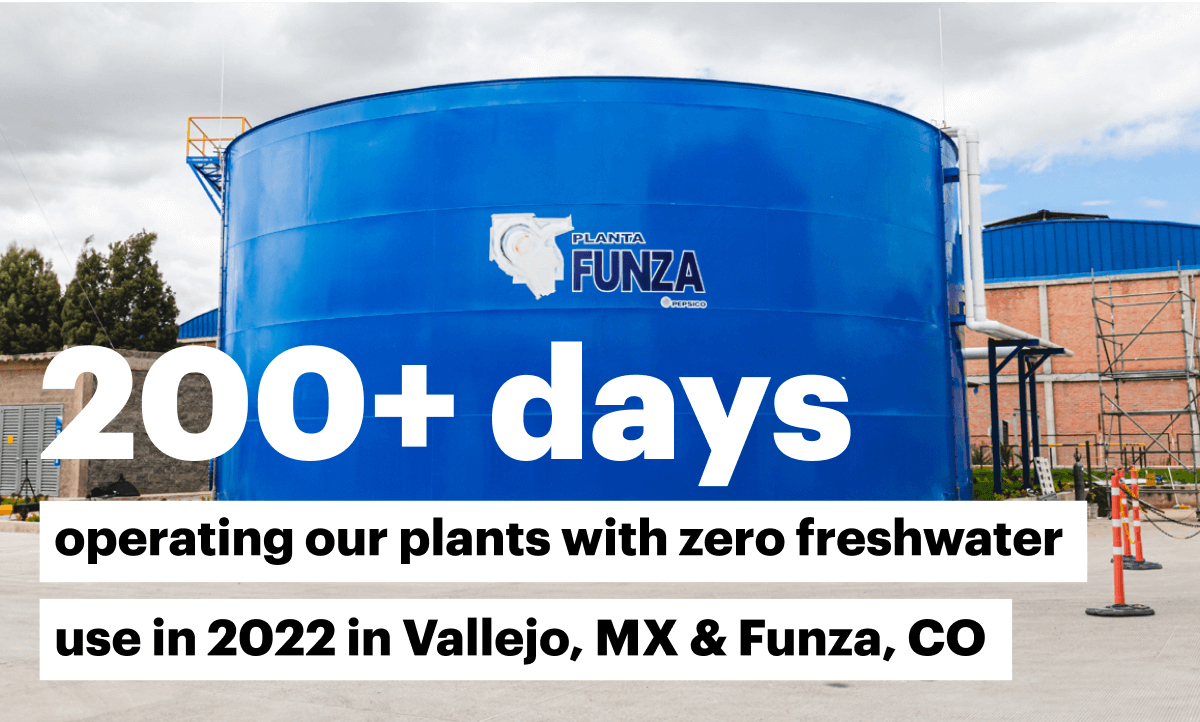 We believe the best way to tackle water stress at the watershed level is to engage all stakeholders and, through collective action, work toward a common goal of improving water governance and conservation. Our approach is to understand the water challenges at the local level and support collaborative solutions that drive equity and address the specific needs of each watershed.
In 2022, we continued our strategic relationships with The Nature Conservancy (TNC), WWF and others on a range of initiatives that seek to restore the health of high water-risk watersheds and increase their ability to absorb rainfall into their aquifers, rivers and reservoirs. In collaboration with farmers, landowners, local communities, state and federal agencies and NGOs, we support programs that are tailored to address the specific challenges of each local watershed.
Program highlights:
In 2022, our work with TNC delivered an impressive 25% increase in replenishment volume since 2021 (delivering approximately 5.5 billion liters in 2022 according to third-party calculations) through strong project implementation. For example, along the Verde River in Arizona, farmers have switched from growing corn or alfalfa to growing barley, a crop that requires less water. This change will not only make more water available in the local river for other uses, but also creates new market opportunities for local farmers.
In South Africa, PepsiCo has established a partnership with WWF to support watershed conservation in four of the country's 22 strategic water sourcing areas. Programmatic activity under this partnership includes landscape management interventions such as the clearing of invasive alien trees, the restoration of grasslands and improved agricultural practices, which has created economic opportunities and improved local livelihoods.
Learn more about our efforts to advocate for and contribute to a measurable improvement in water-use efficiency of farmers in high water-risk watersheds where we directly source our crops and our work to deliver safe water access to 100 million people by 2030.

Goals & progress
Water stewardship has long been one of PepsiCo's top priorities. In 2022, we recorded a 22% improvement in our water-use efficiency rate in our high water-risk locations when compared to our 2015 baseline; replenished approximately 45%1 of the water used in our company-owned manufacturing facilities in high-risk watersheds, or approximately 8.7 billion liters of water; and at the end of 2022, we had 61 facilities in the process of adopting, and eight facilities that completed adoption of, the AWS Standard.
2025 Operational water-use efficiency goal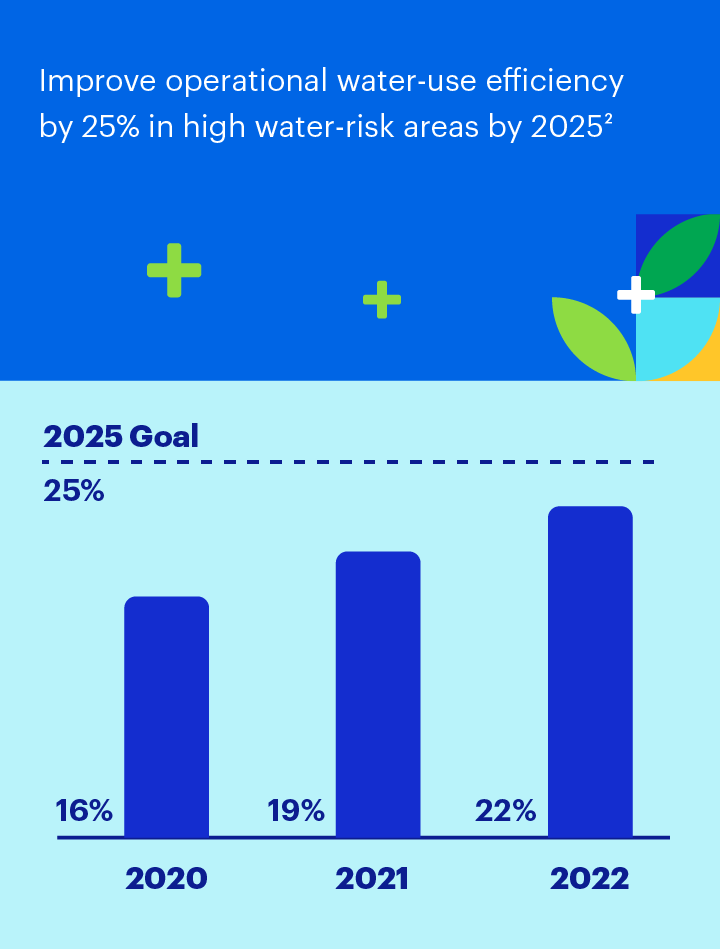 2030 Operational water-use efficiency goals

Local watershed replenishment goal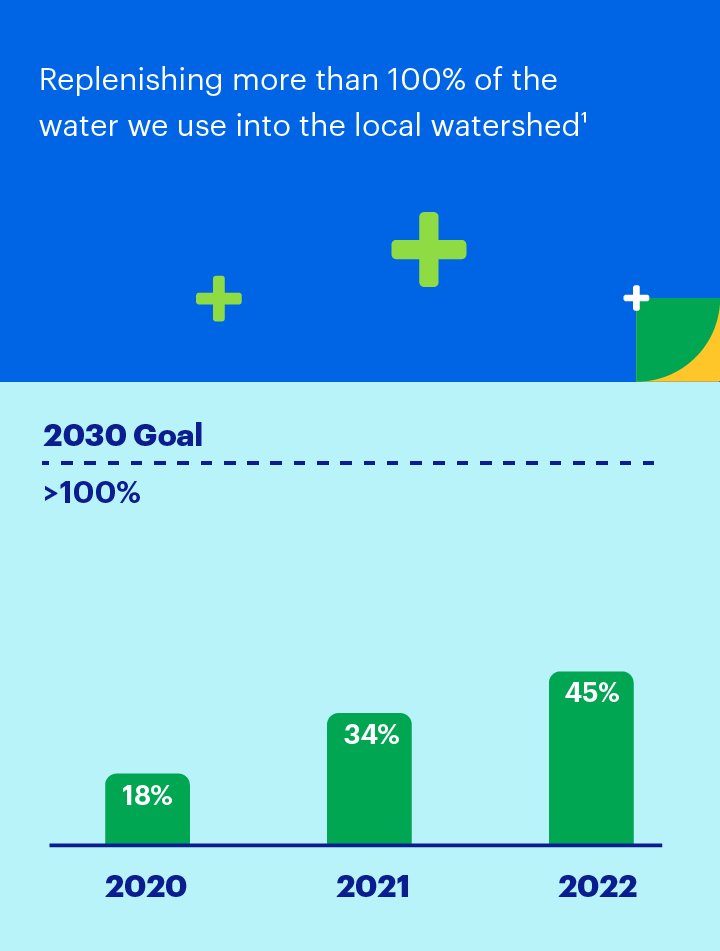 Water Stewardship Standard goal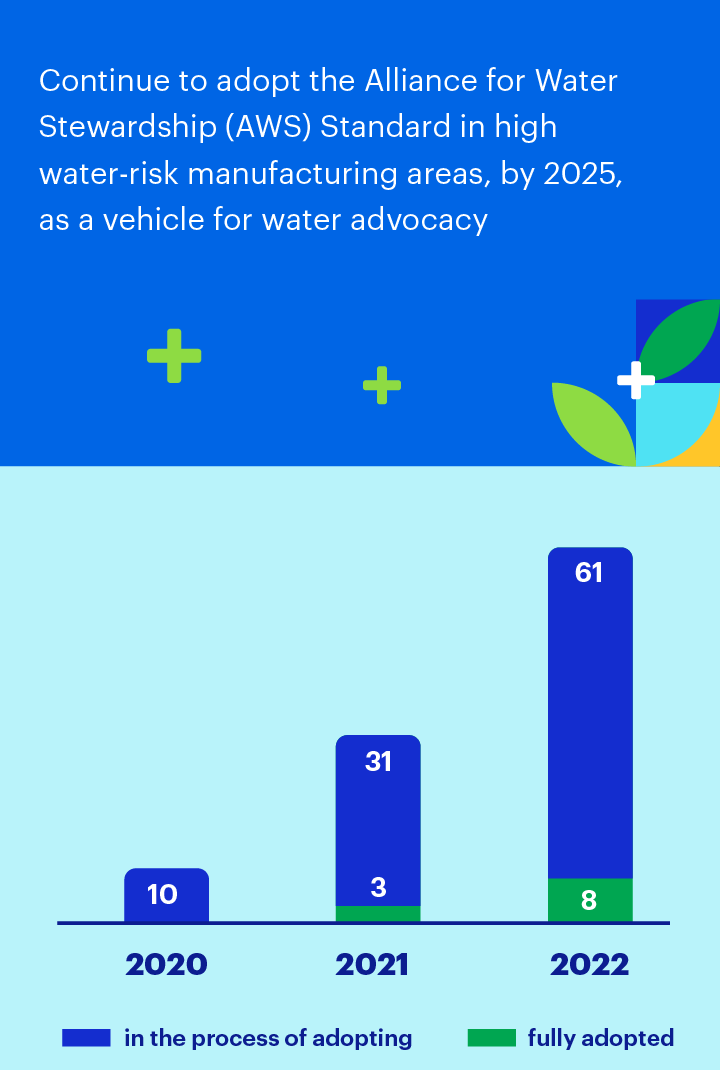 1. We continue to measure progress against our original 2025 goal and our extended 2030 goal. Third-party manufacturers are not yet included in our 2030 goal progress, but will be included in future calculations. In 2022, an updated water risk assessment identified additional company-owned high water-risk facilities, which are in-scope for calculating progress against our 2030 goal only. Excluding these additional company-owned facilities' water usage, we replenished 52% of water used in high water-risk facilities in 2022, representing progress against our original 2025 goal. See Calculation methodology for detail on how we measure progress against our pep+ goals.
2. 25% improvement goal measured versus a 2015 baseline; high water-risk locations defined by World Resources Institute's Aqueduct tool. In 2022, we remeasured the 2015 baseline and prior results to reflect the divestiture of Tropicana.

3. Best-in-class water-use efficiency for beverage facilities is defined as 1.2 liters of water (or less) per liter of beverage production. Best-in-class water-use efficiency for convenient foods facilities is defined as 0.4 liters of water (or less) per kg of convenient foods production. World-class water-use efficiency for beverage facilities is defined as 1.4 liters of water (or less) per liter of beverage production. World-class water-use efficiency for convenient foods facilities is defined as 4.4 liters of water (or less) per kg of convenient foods production.
4. World Resource Institute's Aqueduct water stress assessment tool is used to reconfirm high water-risk areas every three years. Results reflect the exclusion of third-party facilities.
5. 2022 results reflect reclassification of several non high-water risk facilities as well as the adverse impact of year-over-year change in production output.
Explore Water topics in more depth
PepsiCo's ESG Topics A-Z provides detail on strategy, data, policy, progress and more on a wide range of subjects.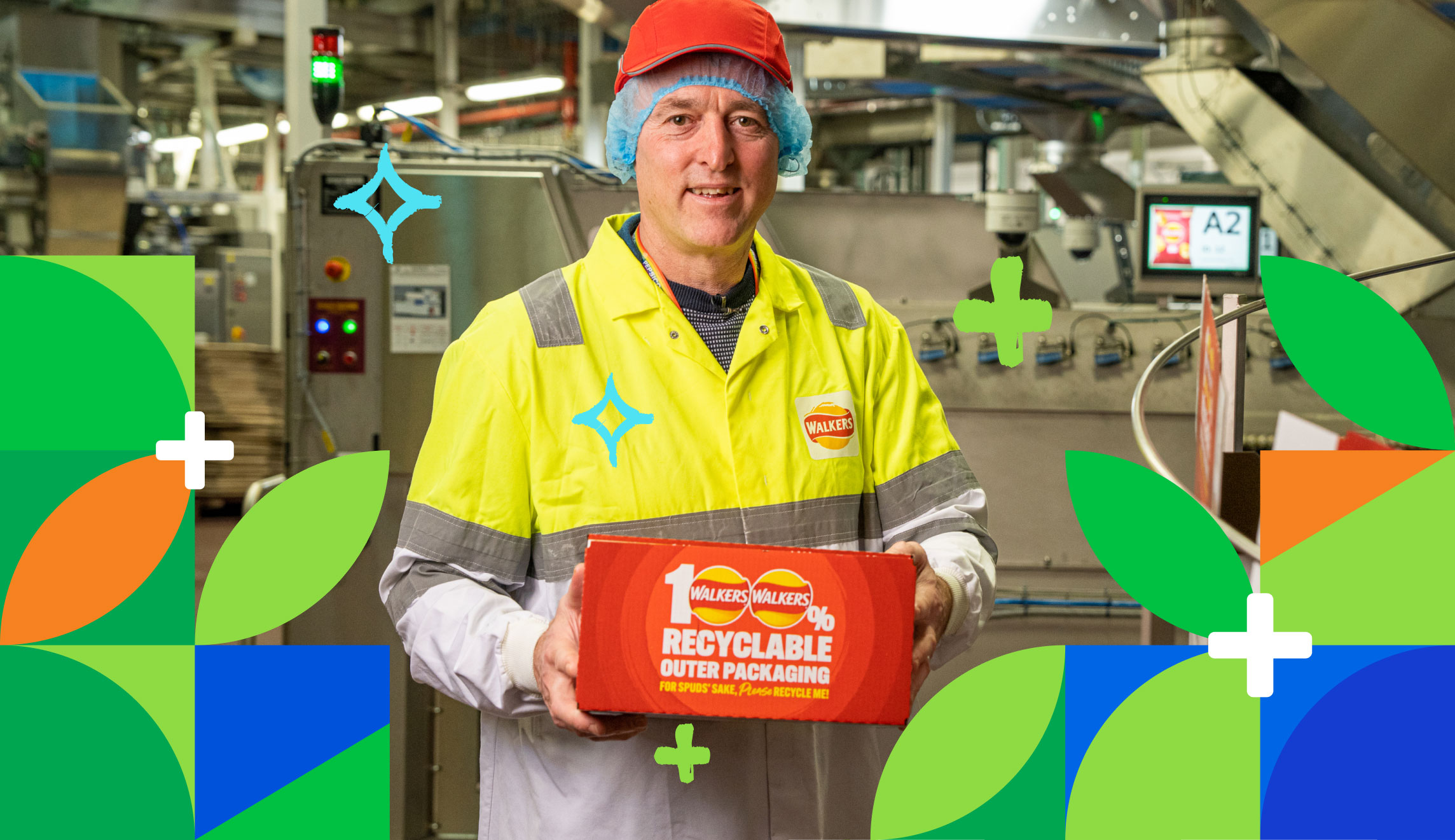 Packaging
PepsiCo envisions a world where packaging never becomes waste.
At PepsiCo, we design our packaging materials to balance several critical criteria, including compliance with food safety regulations, maintaining freshness and quality of the product, environmental sustainability, affordability and consumer preferences, including convenience.
That said, we recognize that packaging waste, when disposed of improperly, is a global problem and we know there is a significant role we can — and must — play to help address this challenge.
Our three-pronged strategy includes reinventing our packaging to use new renewable materials along with low- or no- packaging formats and scaling reusable models, reducing the amount of packaging we use, and driving recycling and a circular economy for recycled materials.

A circular economy for packaging can help ensure that the valuable materials that are used in packaging are recycled and reused, rather than becoming waste. These efforts also advance our goal to reduce GHG emissions across our value chain by more than 40% by the end of this decade.
As we look to achieve our ambitious packaging goals, we plan to take additional mitigating actions to reduce virgin plastic use. In 2022, our results did not reflect the intentions we have. We have more challenges to overcome to address packaging usage and those challenges are significant and complex. We believe we have the right strategy to address those within our value chain and seek to make the investments needed to deliver progress. However, regardless of our intentions, our actions alone will not be enough.
Unfortunately, there is no single solution that alone can solve the systemic challenges and diverse global dynamics that have the potential to enable success but, at this time, are contributing barriers to progress.
We are committed to working together with partners across the value chain to find scalable solutions — those that are economically viable, meet quality and safety standards, appeal to consumers and work within industry systems — such as innovative packaging designs, aligned policy principles and improved recycling infrastructure, that will help us achieve our sustainable packaging goals.
Our sustainable packaging vision
How we are working toward our vision of a world where packaging never becomes waste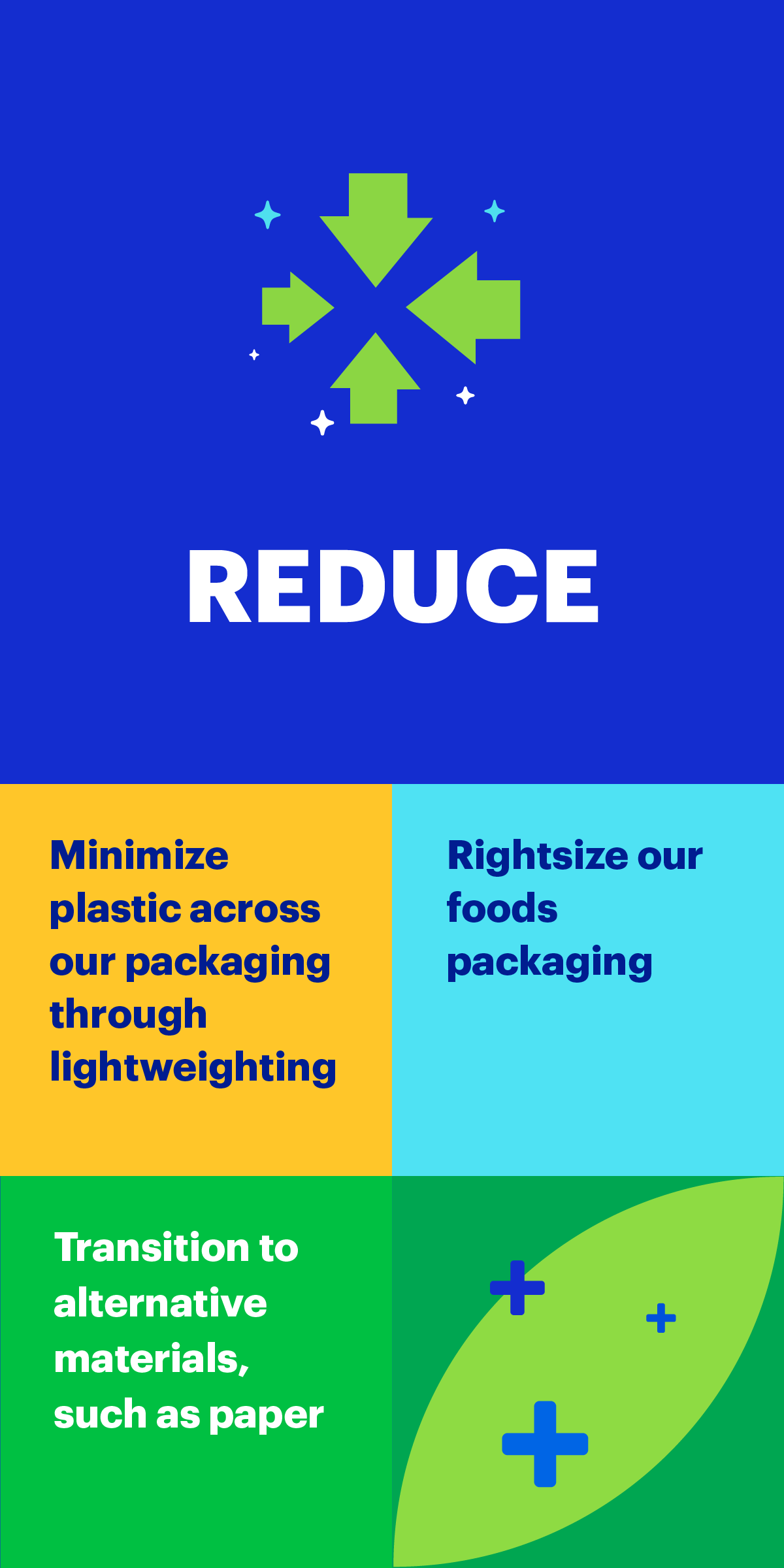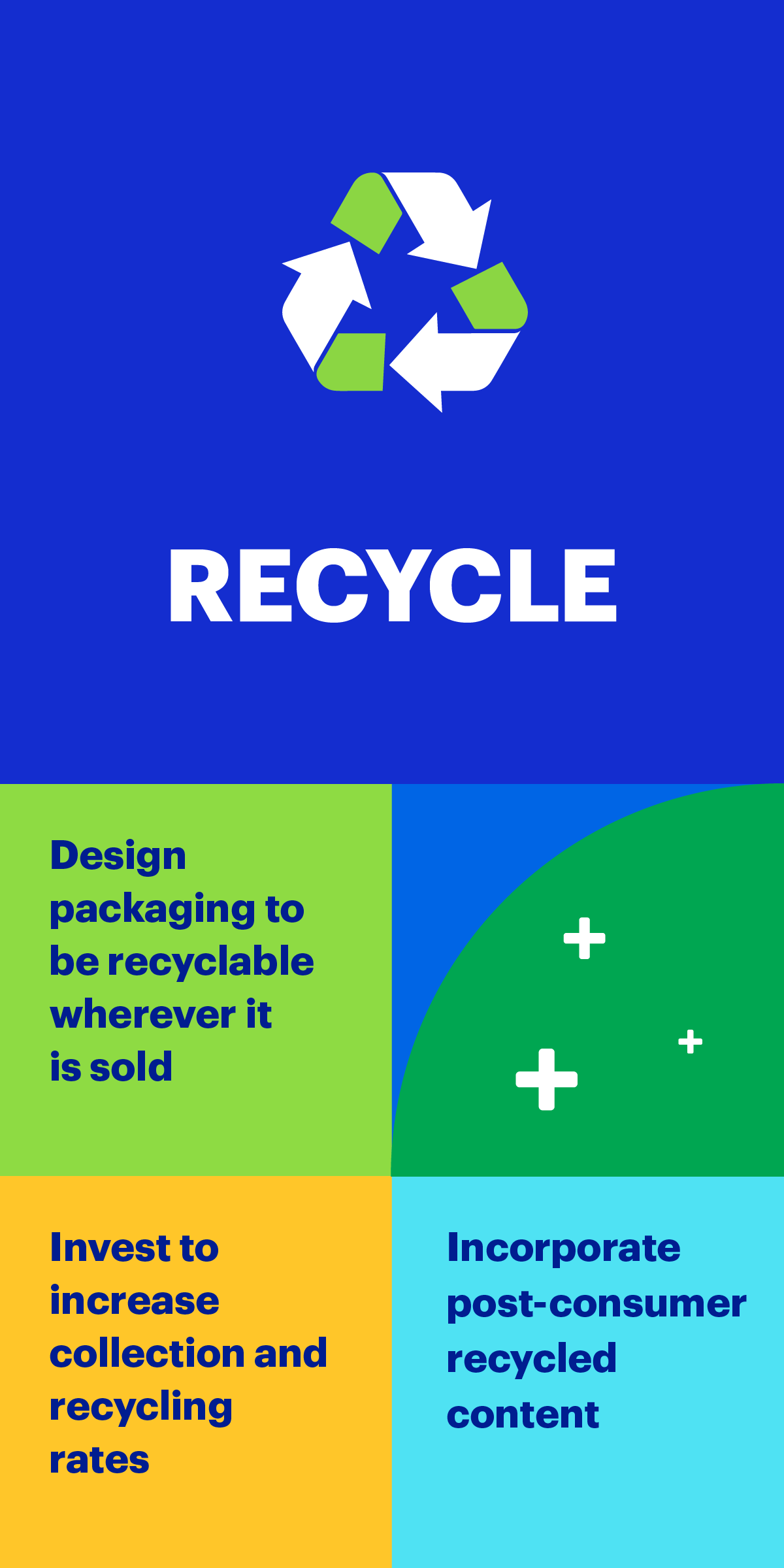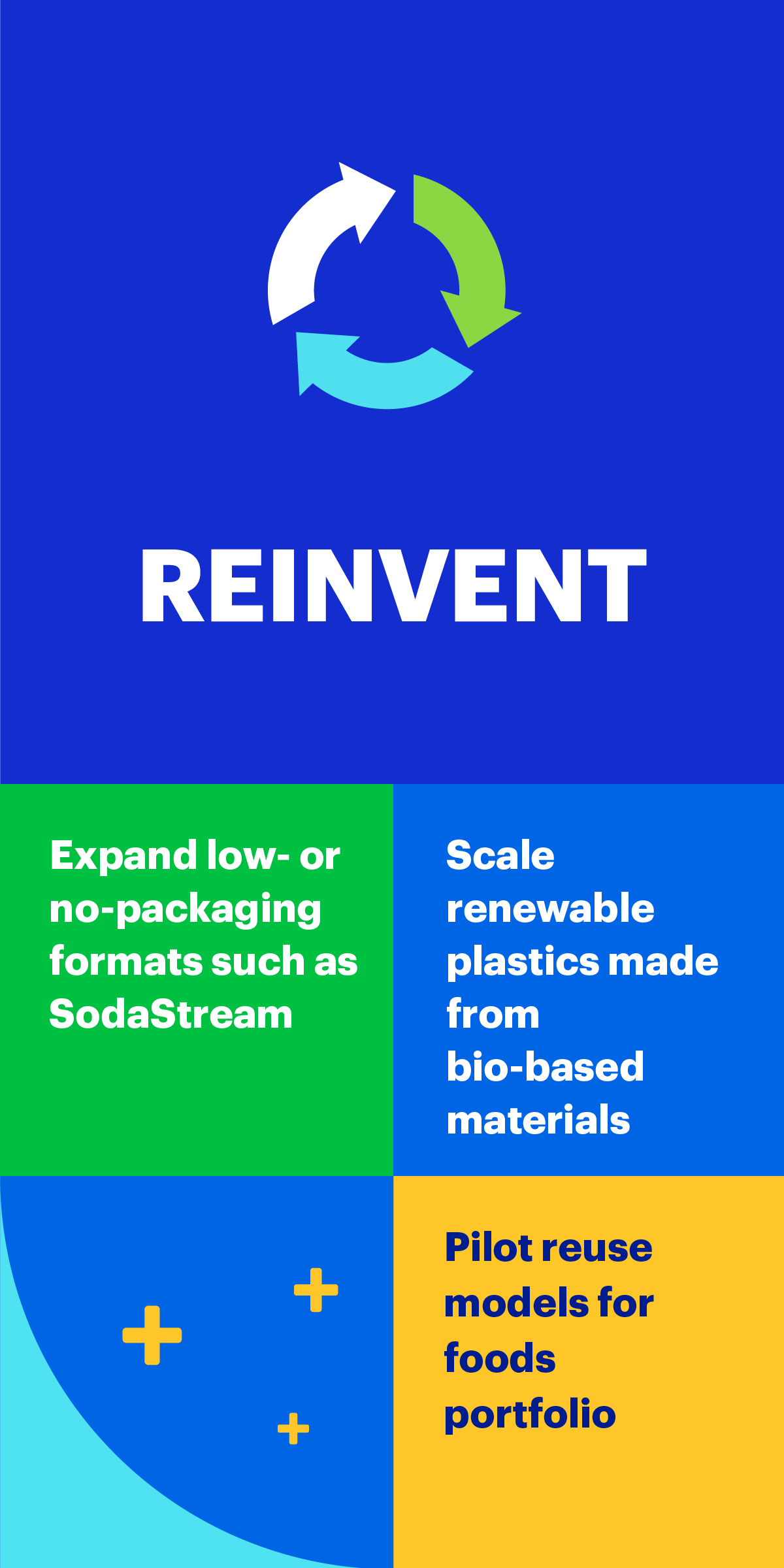 Approach

PepsiCo aims to create a circular economy for packaging, which requires a concerted effort of partnering with policymakers, NGOs, food and beverage industry participants, scientists, producer responsibility organizations, investors, trade associations, materials recovery facilities, waste collectors and consumers, among others.
We work closely with partners to promote sustainable practices and accelerate innovation throughout the packaging value chain. We are reinventing the packaging materials we use to reduce our environmental impact. Our efforts focus primarily on using packaging materials that are recyclable, compostable, biodegradable, or reusable (RCBR) not only by design but also taking into account end-of-life management, incorporating recycled content into our plastic packaging, and developing renewable alternatives to fossil-fuel-based materials, including plant-based plastics.


As we work to achieve our goals, we are also supporting the development of collection, sortation and recycling infrastructure to process the materials we put in market and we are working to help increase consumer education and acceptance; however, challenges remain.
The lack of sufficient collection, sortation and waste management infrastructure and well-designed policies to support the development of a more circular plastics supply chain through recycling, composting and reuse, as well as varying consumer behavior across markets are some of the key challenges we face in making progress on achieving a packaging portfolio that is fully RCBR.
In order to address these current global infrastructure and other challenges, we are leveraging partnerships to identify solutions across the value chain and advocate for smart policies.
In support of our goal to invest to increase recycling rates in key markets, PepsiCo collaborates with organizations globally. We do this through multi-stakeholder partnership platforms such as the Consumer Goods Forum (CGF) Plastic Waste Coalition of Action, the World Economic Forum (WEF), the Ellen MacArthur Foundation (EMF) and The Recycling Partnership (TRP). These pre-competitive collaborations focus on aligning global standards and practices and advocating policies and regulations that properly incentivize circular solutions.
Through our partnerships with several consortia, we cofounded the Composting Consortium in 2022. The group is managed by the investment firm Closed Loop Partners (CLP) and aims to define best practices across the compostable packaging value chain, test various composting technologies, identify enabling environment factors that support the industry's development and outline the business case for greater investment in this emerging space.
In 2022, we committed $35 million to help create the Closed Loop Local Recycling Fund to advance new small-scale, modular recycling systems in U.S. communities. We are also a founding member of the Closed Loop Infrastructure Fund and have invested in the Closed Loop Beverage Fund through American Beverage Association's Every Bottle Back Initiative.
Alongside industry peers, in 2023, we invested in Circular Services, a developer launched by CLP and Brookfield Renewable, whose goal is to build recycling facilities that will enable U.S. cities to abandon the costly practice of dumping waste in landfills by ensuring that valuable commodities are recycled and reused in domestic supply chains. Since 2018, PepsiCo and PepsiCo Foundation have committed to invest more than $100 million in global recycling partnership initiatives to help elevate recycling rates and waste collection.
In addition to investments in recycling, we have taken steps to light-weight bottles, reduce film thickness, minimize packaging materials, incorporate recycled content and bio-based materials and transition from plastic to alternative materials such as paper.

To further our recycled content objectives, we:
In 2022, entered into an agreement with Eastman to supply us with recycled polyethylene terephthalate (rPET) made from non-bottle feedstock that would otherwise go to landfill, including volume that will come from a new plant that Eastman will build in the next few years which, once online, is expected to have an annual output capacity of more than 150,000 tons of rPET.
Made progress on transitioning to rPET bottles across several markets:

Through advocacy and partnerships, in 2022, PepsiCo AMESA launched multiple brands, such as Aquafina and Pepsi, in rPET across six markets (South Africa, Bangladesh, Pakistan, Egypt, Kuwait and Qatar), with plans to expand modestly in 2023.
In 13 European markets, key Pepsi-branded

1

products have transitioned to 100% rPET bottles.
In the U.S., we sell LIFEWTR in 100% rPET bottles and as of 2022, have begun to convert all 20oz bottles of Pepsi, including Pepsi Zero Sugar to 100% rPET (we plan to convert all Pepsi-branded products in the U.S. to 100% rPET bottles by 2030).
In 2021 and 2022, PepsiCo Asia Pacific, Australia, New Zealand and China (APAC) launched 100% rPET beverage products in Australia, New Zealand and Vietnam.
PepsiCo Latin America launched 100% rPET for Pepsi and Pepsi Black in Argentina.
In early 2022, PepsiCo Europe set a new ambition to use 100% recycled or renewable plastic in all crisp and chip packets by 2030, which is projected to reduce GHG emissions in Europe from film food packaging by up to 40%.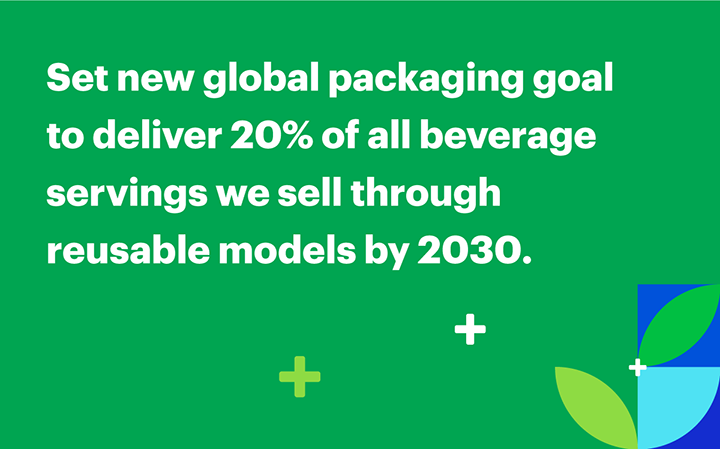 Aligned with the Ellen MacArthur Foundation's Reuse – Rethinking Packaging framework, our four-part strategy to achieve this goal includes expanding our SodaStream business at home and in workplaces through SodaStream Professional; building out our refillable plastic and glass bottle offerings in partnership with PepsiCo bottlers; expanding reusable cups for our growing fountain drinks business; and accelerating growth in powders and concentrates. We currently offer beverages in reusable or returnable containers in more than 80 markets around the world.
We joined four pre-competitive industry working groups to accelerate learnings on scaling and measuring reuse in packaging: the Ellen MacArthur Foundation's Scaling Reusable Packaging project; World Economic Forum's Consumers Beyond Waste initiative; CLP NextGen Cup Consortium; and the Consumer Goods Forum Reuse/Refill Workstream.
1. Includes Pepsi, Pepsi MAX, Pepsi MAX Lime, Pepsi MAX without caffeine, Pepsi Light, Pepsi Light without caffeine.
Goals & progress
Greater than anticipated business growth, as well as external factors such as the limited availability and high cost of recycled content, and a need for regulatory unlocks in some markets, contributed to a 2% increase in virgin plastic use per serving and an 11% increase in our absolute plastics tonnage compared to baseline.
We remain focused on the targets we have set and aim to continue making the decisions and new investments needed to help accelerate our efforts. We will take the lessons learned this year to inform our strategy so that as our business grows, we do so sustainably.
Recyclable, compostable, biodegradable or reusable goal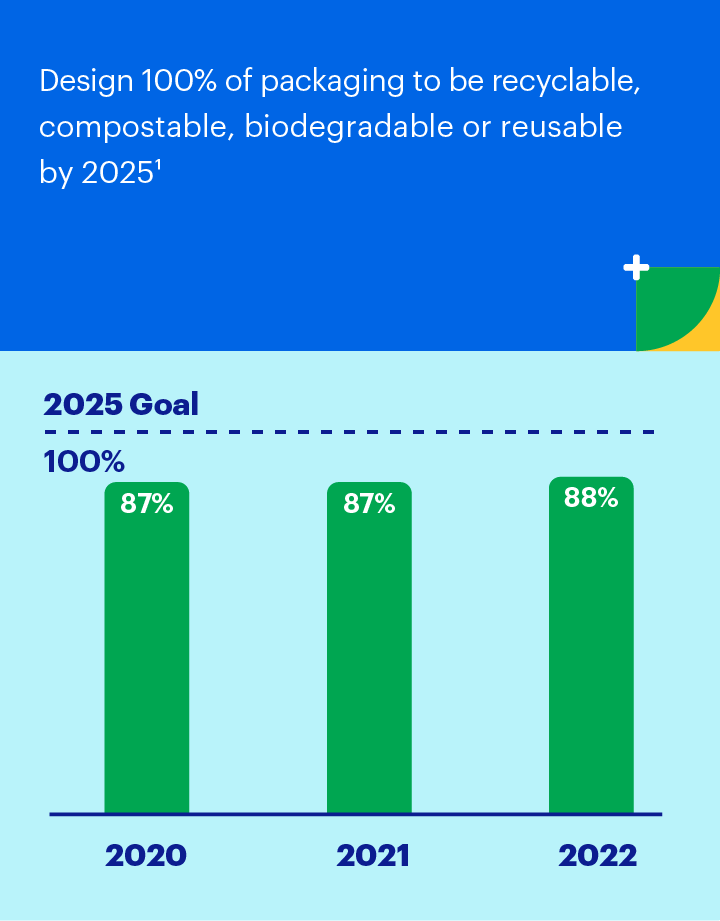 Recycling rate goal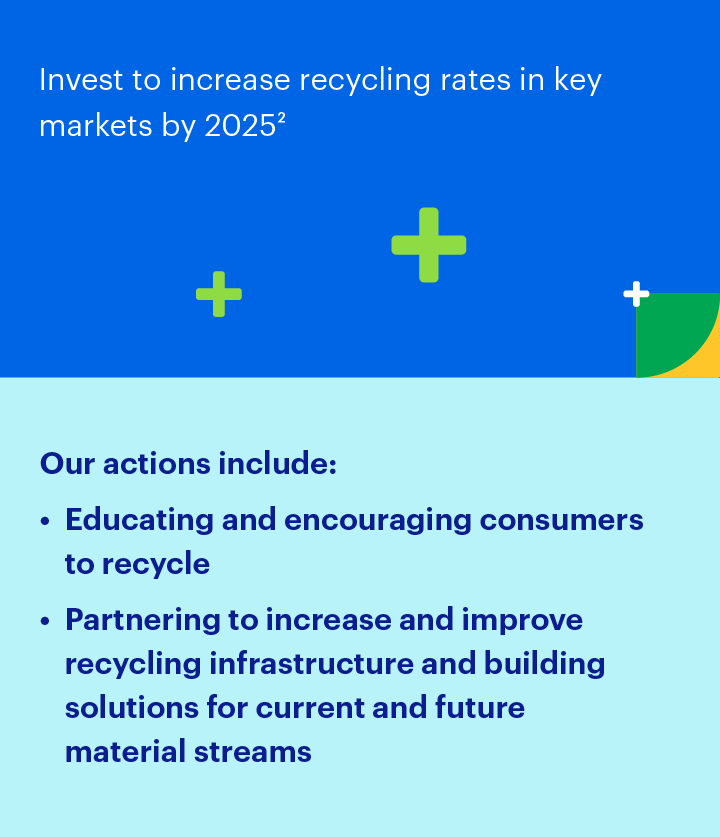 Per serving non-renewable virgin plastic reduction goal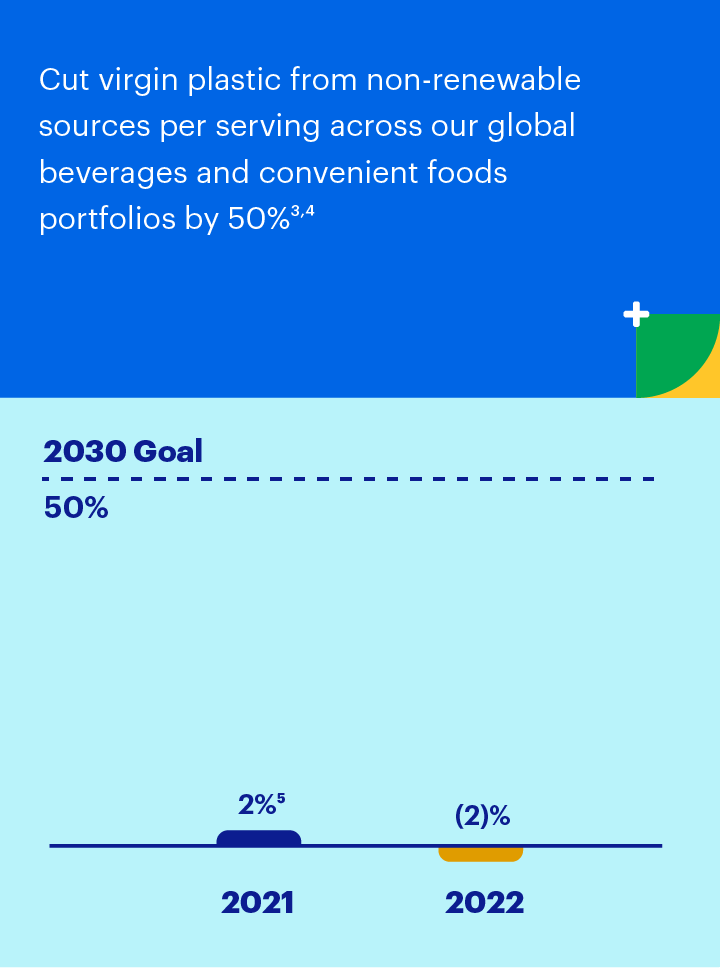 Scaling new business models goal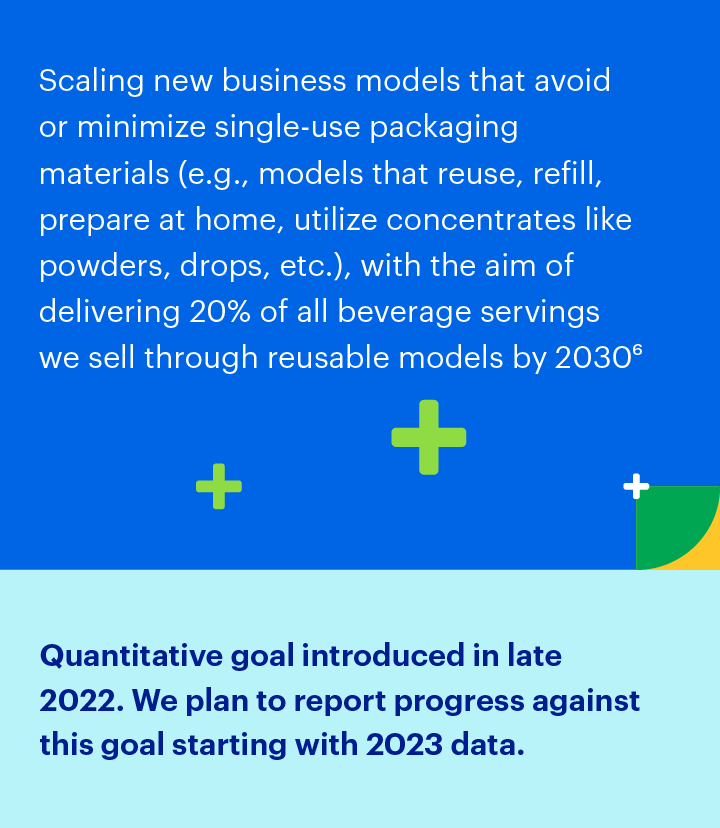 Absolute non-renewable virgin plastic reduction goal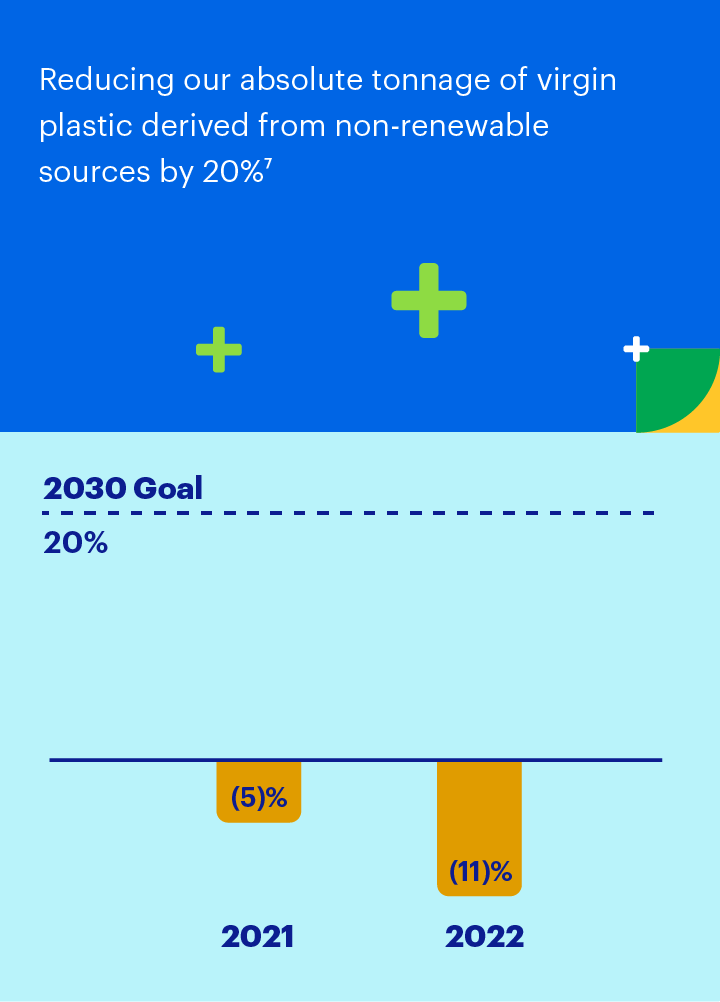 Alternative materials goal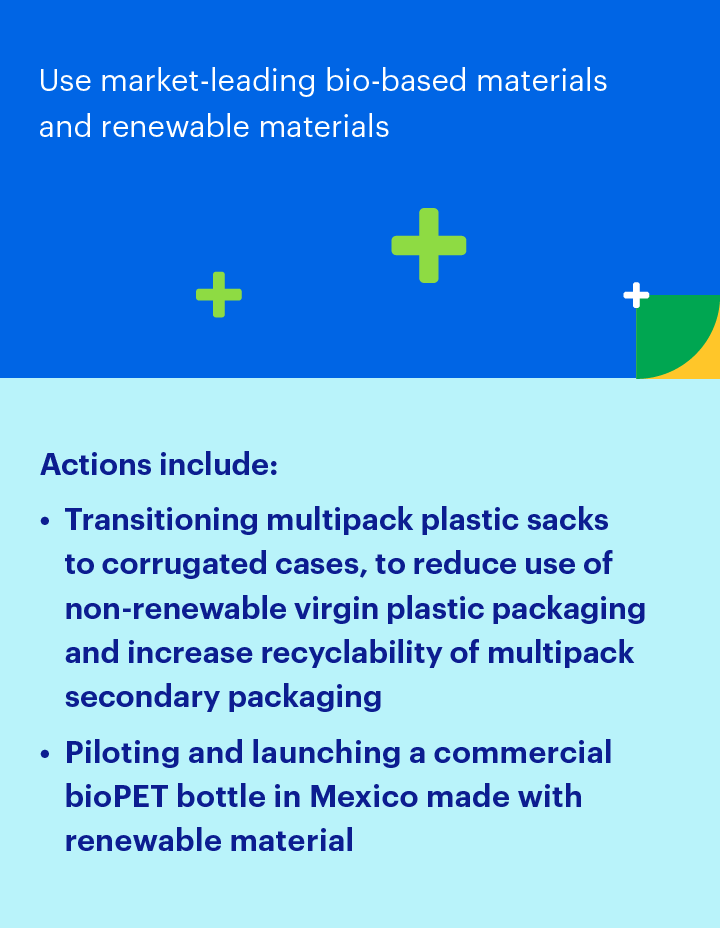 Increase recycled content goal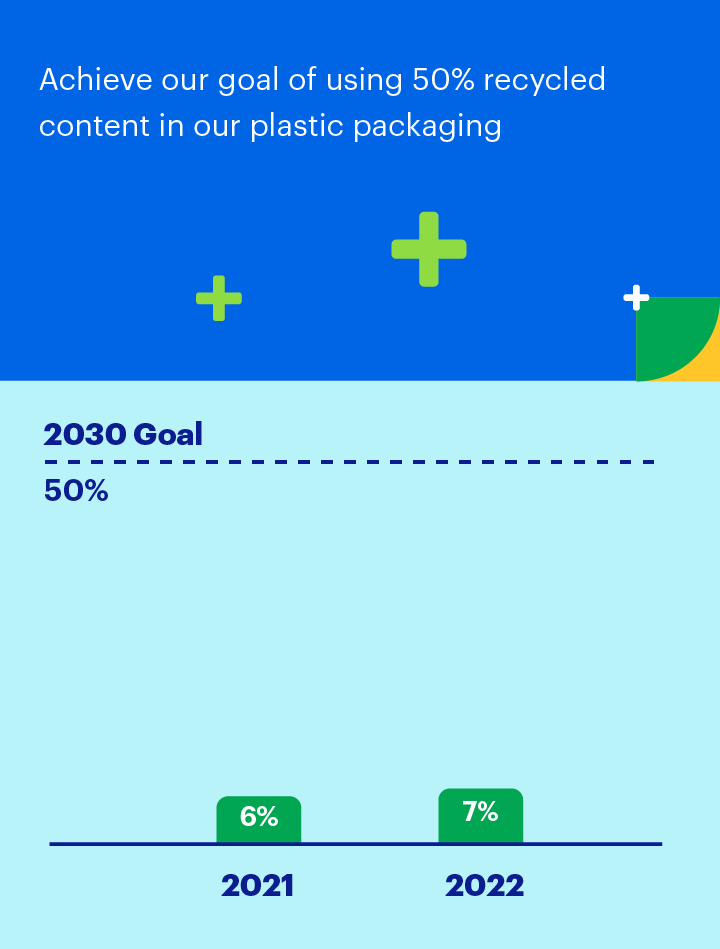 1. PepsiCo considers packaging to be recyclable, compostable, biodegradable or reusable (RCBR) if certain end-of-life waste management criteria is achieved. See "Calculation methodology" in our ESG Topics A-Z for an explanation of how we calculate the percentage of our packaging that is RCBR. Goal expanded in 2021 to include reusable packaging, updated metric not measured in prior years.
2. Further information on our partnerships, including with Closed Loop Partners, the Alliance to End Plastic Waste and Circulate Capital, can be found on the Packaging page in our ESG Topics A-Z.
3. Measured versus a 2020 baseline.
4. We remeasured the 2020 baseline to reflect the divestiture of Tropicana and to include additional data.
5. In 2022, we restated 2021 results due to remeasurement of 2020 baseline.
6. Our total beverage servings account for all beverage sales volume. Reuse models include, but are not limited to, SodaStream, SodaStream Professional, fountain beverages, returnable glass and plastic bottles, and concentrates and powders.
7. Measured versus a 2020 baseline. 2022 performance impacted by increased virgin plastic use due to business growth.
Explore Packaging topics in more depth
PepsiCo's ESG Topics A-Z provides detail on strategy, data, policy, progress and more on a wide range of subjects.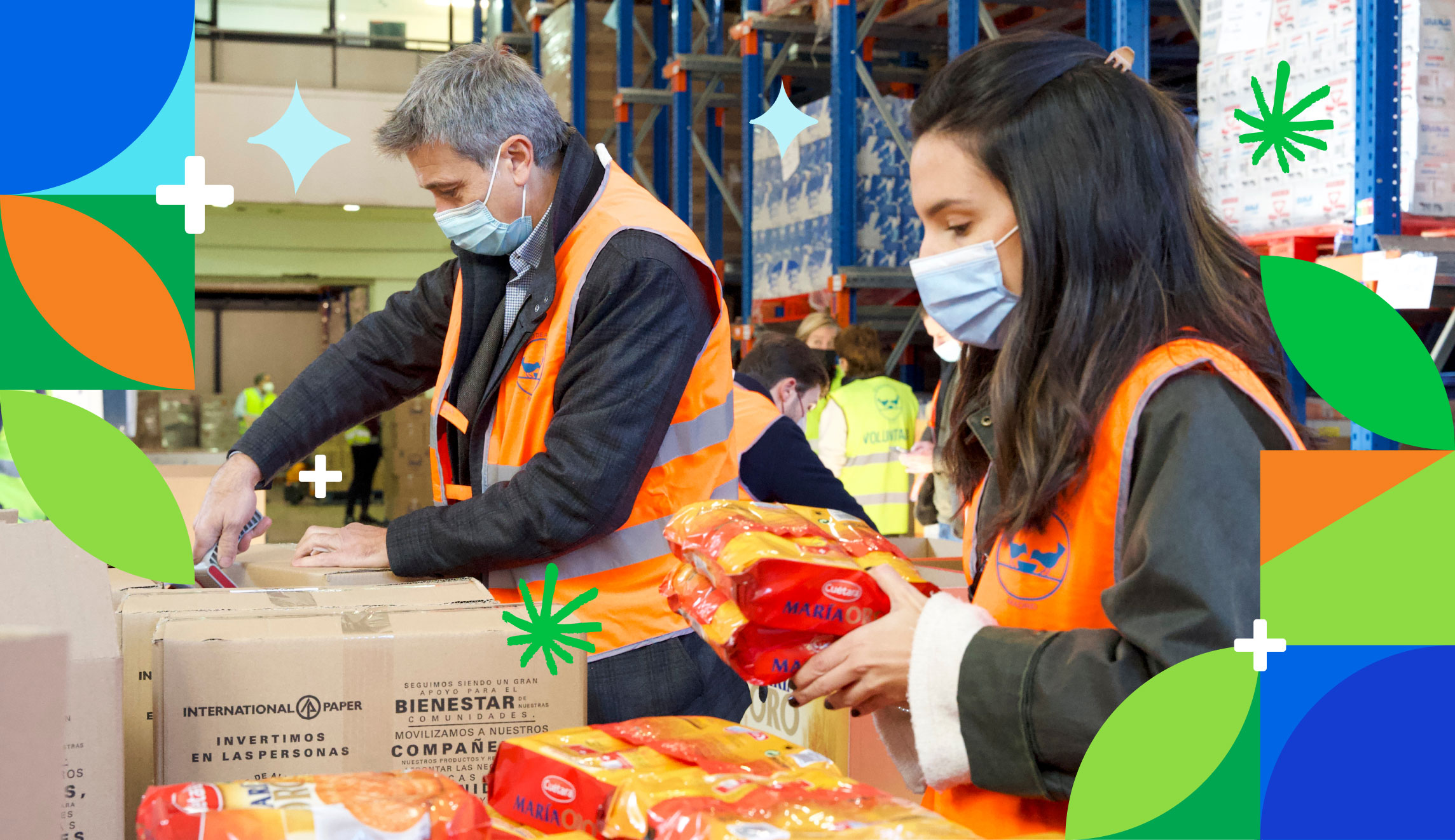 People
Helping to create a safer, more diverse, equitable and inclusive workplace and world is the right thing to do. It is also a business imperative.
Our scale and influence as a leading global company puts us in a unique position to elevate people's lives and advance principled business practices around the world. We strive to create and maintain a diverse, equitable and inclusive workplace and world and a safe environment within our company, our supply chain and our communities. This means that championing safety, dignity and human rights is foundational to the way we do business.
Our positive impact on people

Approach, goals & progress

Provide meaningful jobs and growth opportunities for our people and empower them to make a positive impact at work, at home and in their local communities.
Approach to job and volunteer growth opportunities
PepsiCo has a tradition of investing in programs and initiatives to help our approximately 315,000 employees grow and develop their careers and personal lives. We are building on that history with three programs that focus on career enhancement and community involvement.
PEP U Degreed, a PepsiCo University offering, and myeducation are programs with distinct approaches to building job skills. PEP U Degreed, an online, self-service platform launched in 2020, leverages artificial intelligence and machine learning to suggest personalized learning resources based on people's skills, interests and connections with colleagues and individual learning habits.
Launched in 2022, myeducation helps frontline and professional U.S.-based employees develop fresh skills in a classroom setting. It offers access to more than 100 flexible education and upskilling programs from reputable schools and universities — with PepsiCo covering 100% of the cost of tuition, books and fees for selected education programs. Since launch, more than 360 employees have completed a degree or a school program, and more than 1,600 U.S.-based employees have enrolled. According to our internal data, myeducation participants are 1.5 times more likely to experience a job level change.
One Smile at a Time, PepsiCo's first global volunteer initiative, provides resources and support to encourage and empower employees to cultivate prosperity in their communities. In 2022, One Smile at a Time delivered on that aim as employees volunteered more than 290,000 hours of their time to assist local communities in more than 25 countries. In the process, we developed digital assets and issued a playbook in 16 languages to help facilitate greater engagement and support the reach of our employees in their local communities.
In 2023, we will continue to nurture engagement and empower employees to volunteer. We already stepped up activities during Global Volunteering Month in April 2023. We further plan to integrate One Smile at a Time into our Employee Resource Group programs and launch a content series to highlight employees' volunteer work and elevate the program's impact.
Job growth goal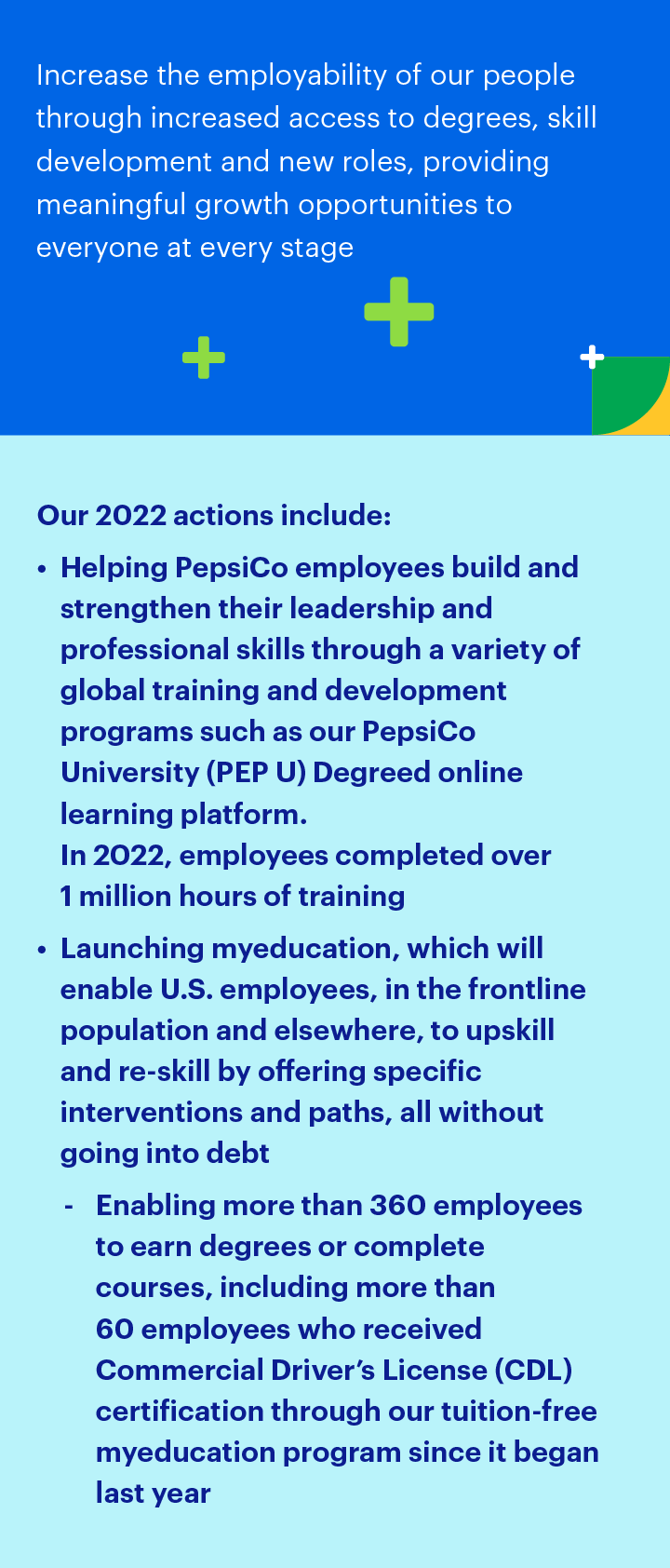 Volunteer growth goal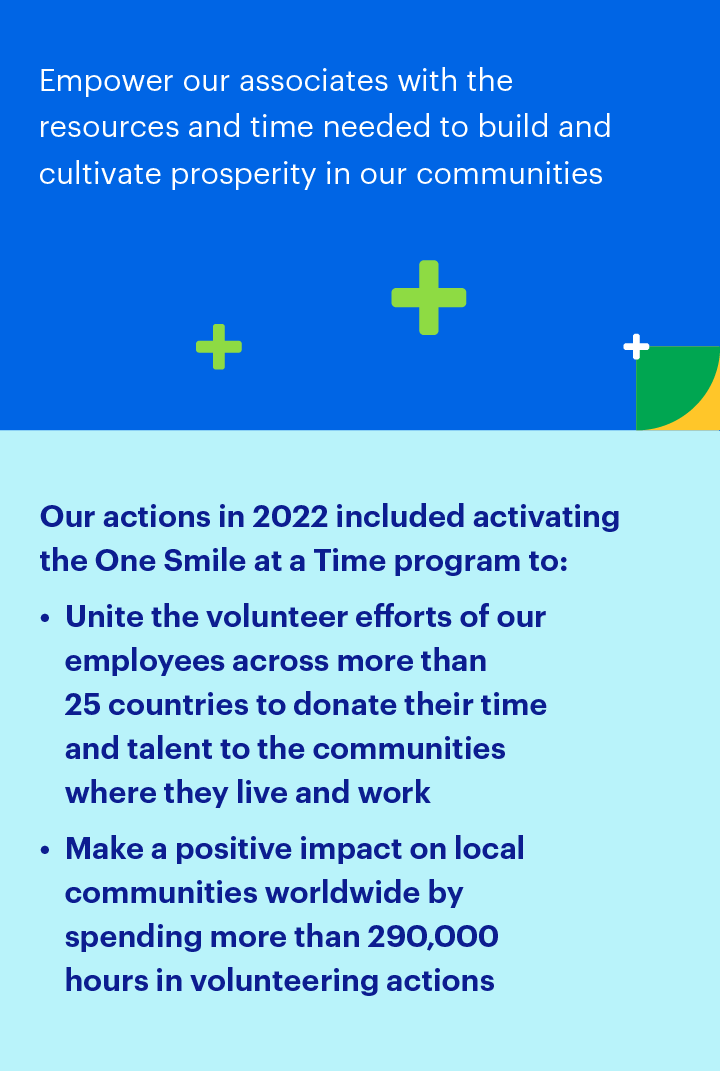 Build a better workplace and world by advancing human rights and diversity, equity and inclusion (DE&I) for our people, in our business partnerships and our communities.
Approach to Racial Equality Journey managerial representation
We are making progress against our U.S. Racial Equality Journey goals. In 2022, we continued monitoring data across our internal working councils for our Racial Equality Journey (REJ) to help ensure we can sustain our progress well beyond 2025. Launched in 2020, REJ is comprised of a five-year set of goals with a focus on three pillars: People, Business and Communities. Within our company, we focus on increasing the representation of Black and Hispanic employees at the manager level at PepsiCo to mirror the workforce availability in the communities where we operate. Outside our walls, we are using our scale and influence to increase Black and Hispanic representation among our suppliers and partners. We are also striving to drive long-term change across our communities by addressing systemic barriers to economic opportunity and advancing economic empowerment for Black and Hispanic Americans.
We have continued advancing our goals with respect to Black and Hispanic representation among PepsiCo managers. Two leadership development programs we have created for Black and Hispanic employees have helped to fuel this progress. More than 82 Black managers and more than 68 Hispanic managers, along with their direct supervisors, have completed our six-month Breakthrough Organizational Leadership Development (BOLD) program, which instills leadership skills. We also implemented mandatory Unconscious Bias and Inclusive Leadership Training for our U.S. executives; 100% of the required population completed the training.
Racial Equality Journey managerial representation goals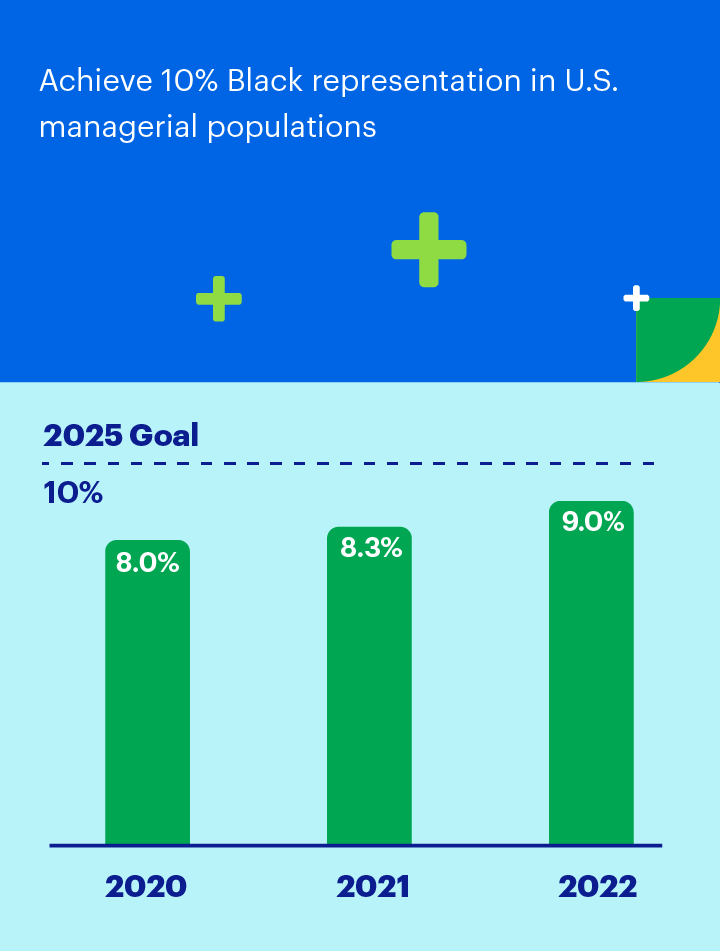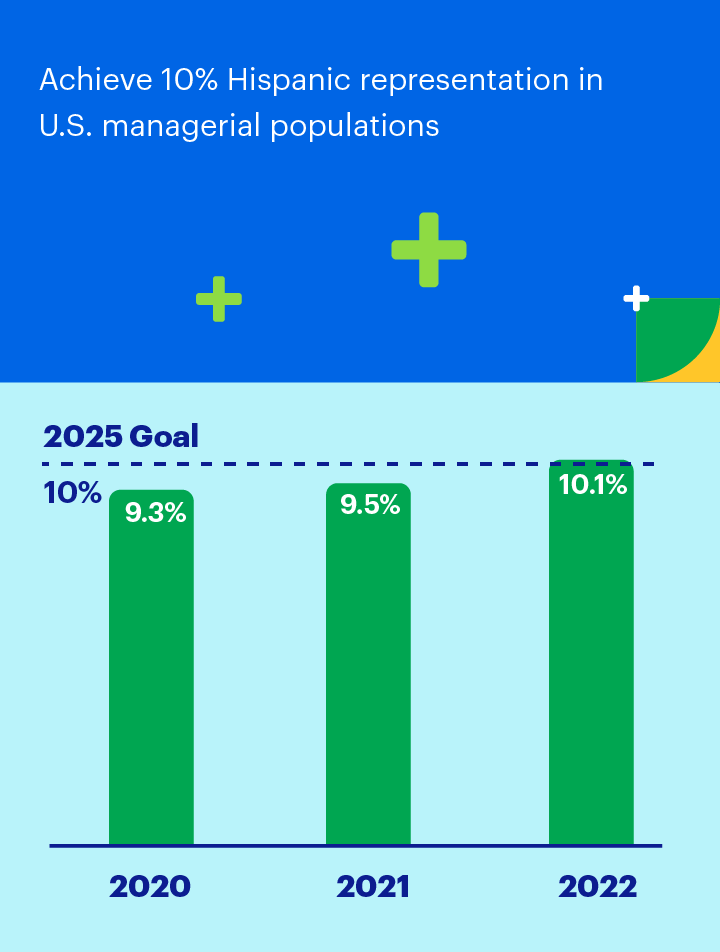 Approach to helping address inequalities
Last year marked the 40th anniversary of our Supplier Diversity program. Since 1982 when the program began, our annual volume of business with U.S.-based certified, diverse suppliers – those whose owners are Women, Black, Hispanic, Asian, LGBTQ+, Native American, Individuals with Disabilities and U.S. Veterans — has risen from $5 million to more than $1 billion. In furtherance of our REJ goals, we pledged to spend more than $400 million annually with Black and Hispanic-owned suppliers — a figure we surpassed by more than $30 million in 2022. We estimate this investment will unlock over $600 million in Gross Domestic Product impact and employ over 6,000 people.
Now in its second year, our $50 million Juntos Crecemos (Together We Grow) platform supports small Hispanic-owned businesses, including restaurants, bodegas and meat markets across the U.S. To date, the program has helped more than 500 enterprises with marketing and safety essentials. Pepsi Dig In, a similar-sized program to strengthen Black-owned restaurants, has provided more than $22 million to date to Black restaurateurs since its inception in 2020.
In 2021, PepsiCo and the PepsiCo Foundation launched a two-part scholarship program to support 4,000 Black and Hispanic collegians over five years. In 2022, we expanded the program's Uplift Scholarships for students attending community colleges to 20 U.S. cities. Additionally, the S.M.I.L.E. (Success Matters in Life & Education) program provides scholarships to talented students transferring from two-year to four-year schools. Collectively, in 2022, the PepsiCo Foundation provided nearly 1,800 scholarships to students across the United States.
Reduced inequalities goal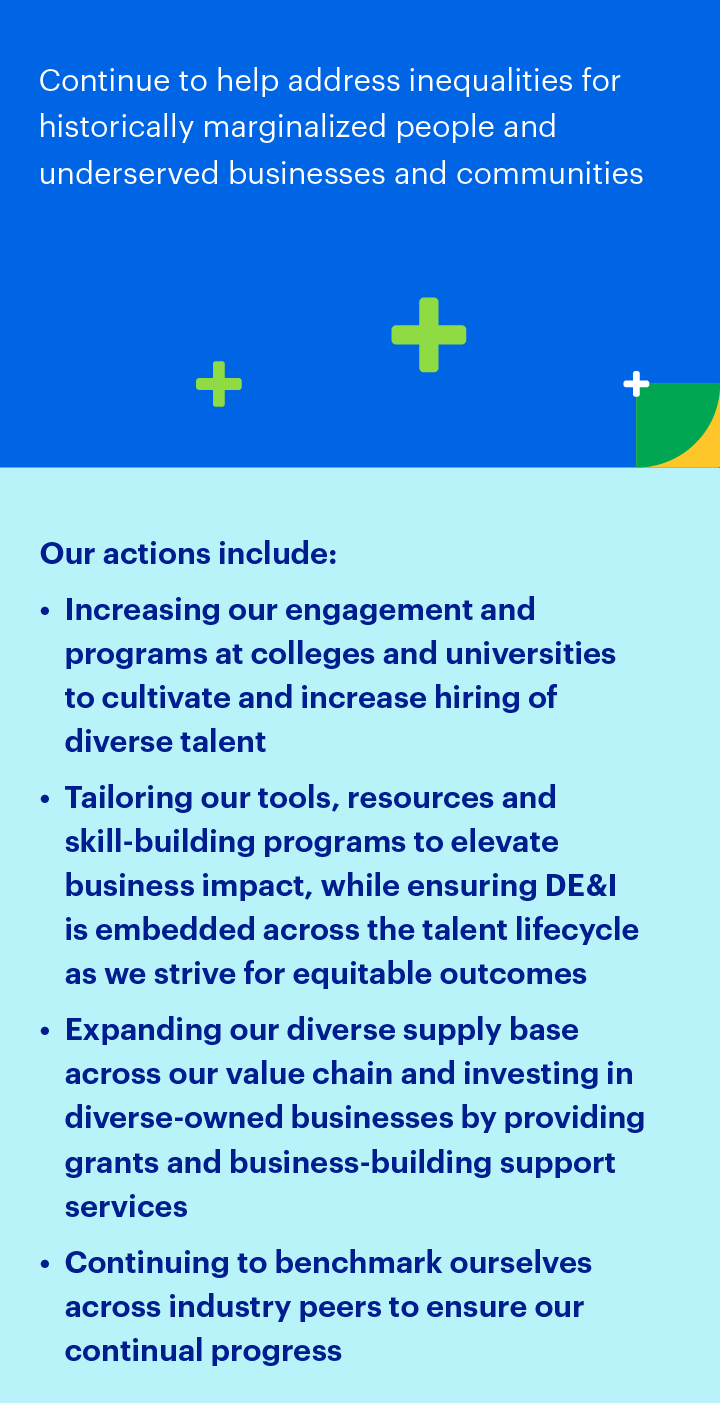 Approach to women in management
PepsiCo believes that ensuring women have equal access to hiring and advancement opportunities and strong representation in our management ranks makes us a more innovative and competitive company. We remain focused on our goal of 50% women in management roles around the world by 2025.
As part of our efforts to cultivate women's talents, we provide a range of mentoring, coaching and development programs for women at different career stages. They include our Transformational Leadership Program (TLP) for Women, a global mentoring program designed to equip women with the tools they need to elevate their business impact and achieve their professional goals within a large and complex organization.
In our Pinnacle Group program, senior sales managers teach leadership skills to top-performing women sales associates. The program was created to increase retention of PepsiCo female sales talent, while strengthening and diversifying our future leadership pipeline. The 10-year-old program has a retention rate of 70%.
In Latin America, our INSPIRA multi-year program aims to accelerate career growth for female managers and executives and establish a strong bench of women leaders. In PepsiCo AMESA, our Tamakani program has proudly empowered Saudi women since its inception. We have set out to equip women with the necessary tools, knowledge and networks to become impactful leaders. We have done so through relevant partnerships with associations dedicated to empowering women and who share our vision and values as a brand.
Women in management goal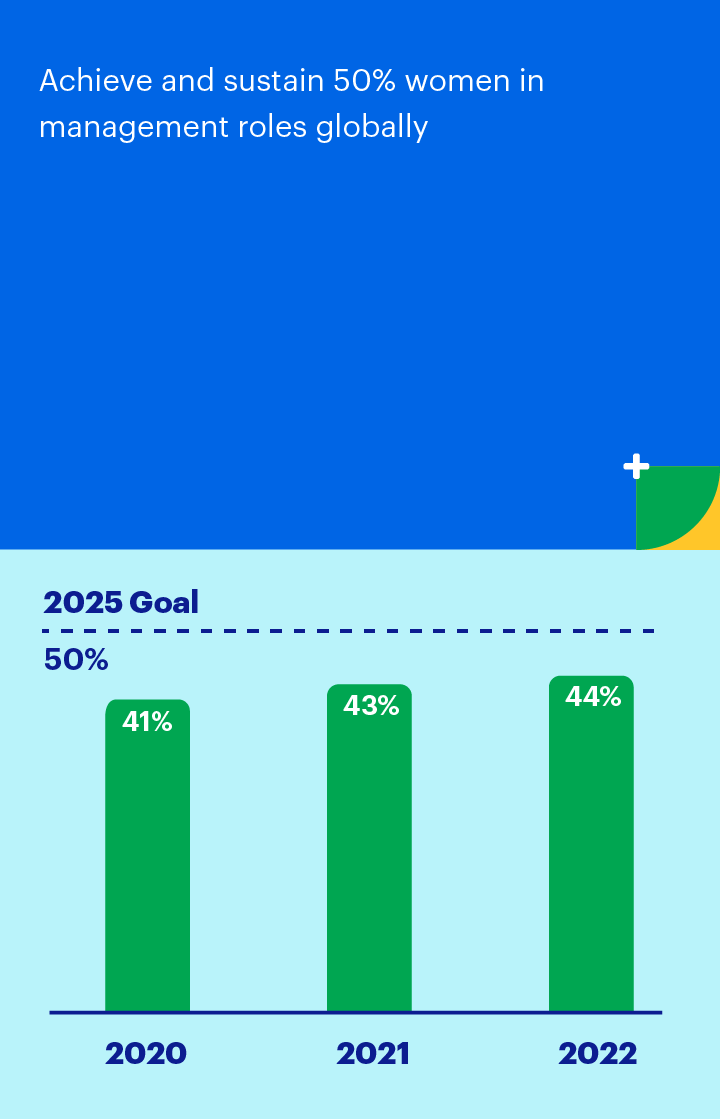 Approach to pay equity
Ensuring pay equity across employee groups has been the aim of our review process since 2016. We apply a comprehensive global pay equity review process to 72 countries that collectively make up more than 99% of our salaried employee population. Our results show that among this population, women and men are paid within 1% of each other.

Pay equity goal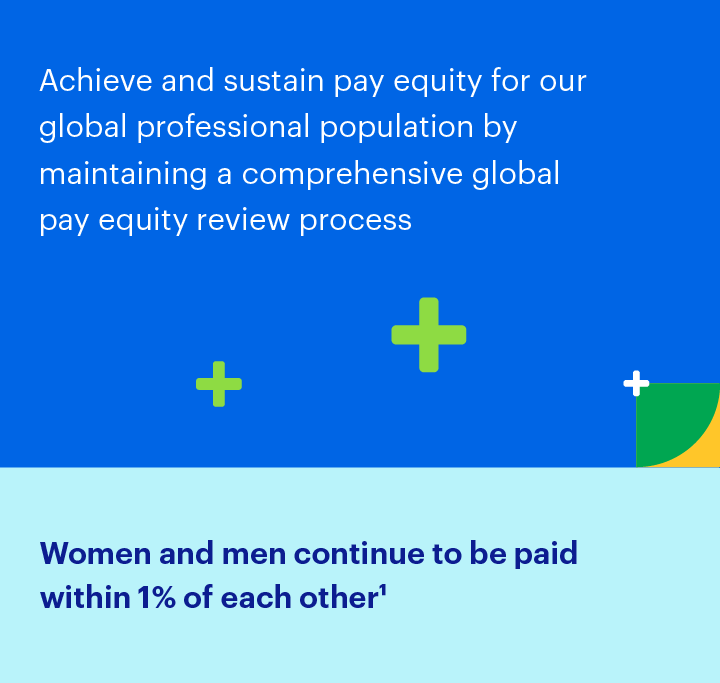 1. After controlling for legitimate drivers of pay such as job level, geographic location and performance ratings; based on base compensation. 71 countries included in 2020 analysis, 72 countries included in 2021 and 2022 analysis, representing more than 99% of salaried population.
Approach to our Supplier Code of Conduct
We expect that all our suppliers, vendors, contractors and consultants meet the same high standards of responsible business behavior that PepsiCo embraces — standards enumerated in our Global Supplier Code of Conduct regarding ethics, labor practices, health and safety and environmental management. PepsiCo has set a goal of extending the principles of the Global Supplier Code to all our franchisees and joint venture partners by 2025.
Supplier Code of Conduct goal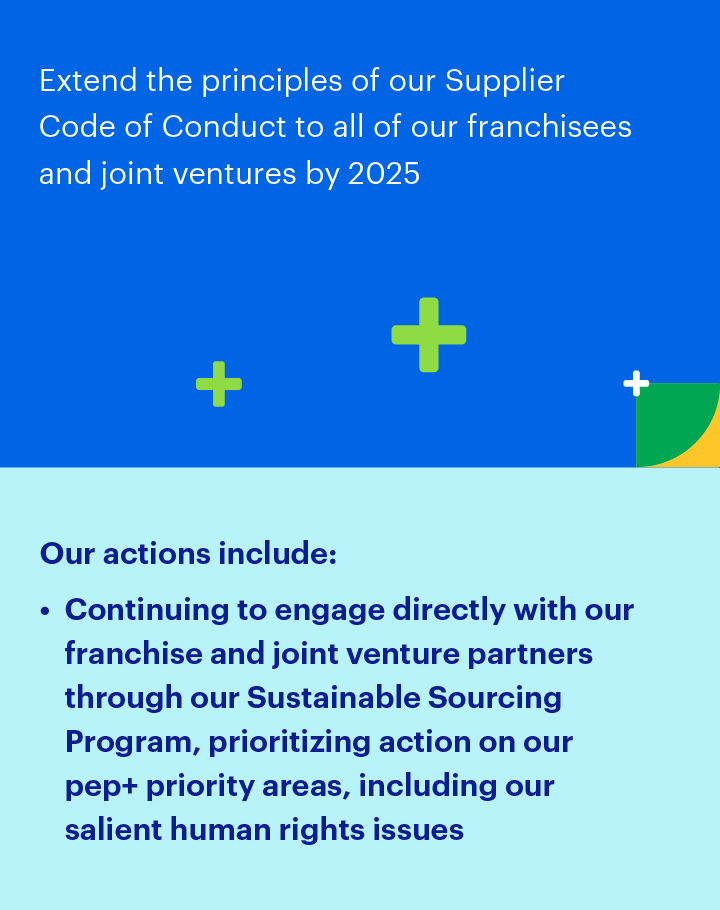 Approach to human rights
PepsiCo is committed to respecting the fundamental human rights of all workers and communities throughout our value chain. To help ensure we are in the best position to prevent, identify and address potential impacts, we established a global human rights approach that is guided by the United Nations Guiding Principles on Business and Human Rights.
As part of this approach, we focus our efforts on our most salient human rights issues, including those that pose the greatest risk of severe negative impacts through our company's activities and business relationships. We identified six salient human rights issues during our initial assessment in 2017.
As a result of the reassessment performed in 2022, we added climate change as a salient issue due to the severe challenges it poses for human rights. We know that the physical effects of climate change impede the exercise of universal human rights — the right to food, water, sanitation and housing — and worsen inequities in living conditions across the world. We will continue to embed human rights risk management into our climate mitigation and resilience efforts to more fully address climate-related human rights impacts.
We also expanded the salient issue of vulnerable workers into a cross-cutting lens that is applied across all salient issues to help ensure that vulnerability is effectively considered in the approach for each salient issue. For instance, we have identified worker groups that are especially vulnerable to exploitation and forced-labor related impacts — migrant workers, women, young workers and temporary/contract workers — and focused our efforts on addressing the impacts most commonly faced by these groups such as bonded labor and recruitment fees. PepsiCo is collaborating with other global brands to advocate for fair pay, conditions and protections for workers throughout our value chain.
Additionally, we use a risk-based human rights due diligence approach as part of our Sustainable Sourcing Program, which encourages our business-critical, first-tier ingredient suppliers to adhere to sustainable sourcing practices and apply these principles across their respective supply chains. This approach aims to mitigate adverse impacts on the workers throughout our supply chain and prioritize areas where the risks to rights holders are highest. The process monitors and assesses potential impacts, integrates findings into our internal systems, remediates impacts and tracks the effectiveness of our actions.
Human rights goal
2. In late 2021, we initiated a strategic review of the most salient human rights issues for our value chain to ensure that we focus on the most urgent human rights concerns. We concluded this review and provided a more detailed update in late 2022.
Approach to striving for an injury-free work environment
We are committed to respecting human rights and driving fair and safe working conditions throughout our value chain, including maintaining high safety standards and striving for an injury-free work environment.
Injury-free work environment goal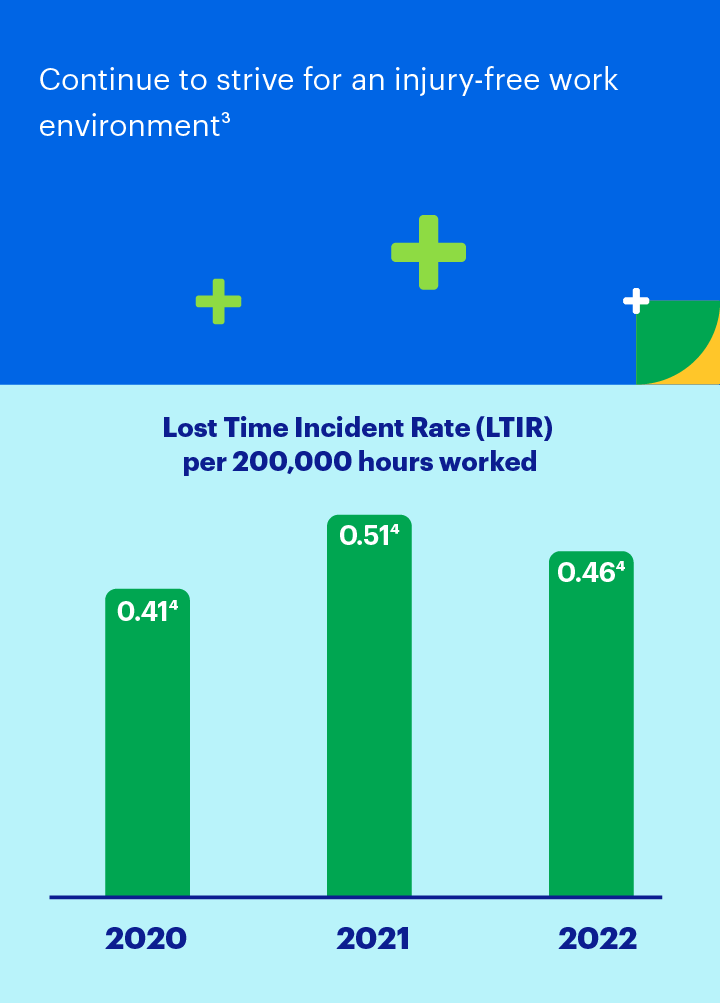 3. To align with U.S. Occupational Safety and Health Administration calculation methodology, PepsiCo now reports Lost Time Incident Rate (LTIR) as Lost Time incidents per 200,000 hours worked. For comparison purposes, we re-calculated prior years' performance data previously reported per 1,000,000 hours.
4. 2022 results reflect the exclusion of SodaStream. 2021 and 2020 results reflect the exclusion of SodaStream and Pioneer Foods.
Approach to providing safe water access
Access to clean, safe water is a human right that the UN reports two billion people, a quarter of the human population, currently lack. Climate change and environmental degradation have aggravated the shortage of access to clean, safe water, which could displace 700 million people by 2030. Water stewardship has long been a priority at PepsiCo, and we were one of the first companies to recognize water as a human right. Over the past 15 years, PepsiCo and the PepsiCo Foundation have invested more than $53 million and committed other resources to help ensure that more people can realize that right.
In partnership with NGOs including WaterAid, Water.org, Safe Water Network and the National Business Initiative, along with local organizations, we have driven improvements in watershed management, agricultural technologies, distribution, purification and conservation that have a real impact on people's daily lives.
As of 2022, we were closing in on our goal to provide safe water access to 100 million people by 2030. At the end of 2022, the PepsiCo Foundation had ensured access to clean, safe water for more than 80 million people worldwide since 2006. This includes 12 million people in 2022 alone.
Safe water access goal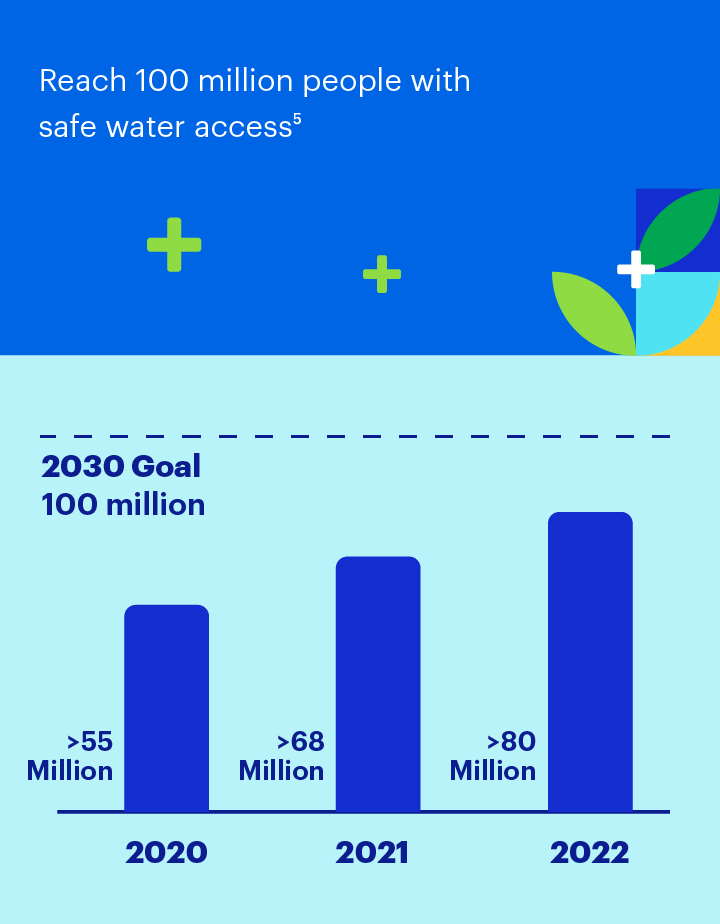 5. Metric counts the cumulative number of people provided with access to safe water since 2006. Goal increased to 100 million by 2030, having achieved more than 50 million in 2020.
Approach to advancing food security
Food security is essential to thriving communities. When people get the nutrition they need, children are better educated, economies grow and people live healthier, longer lives. Yet access to nutritious food is another vital need that much of humanity lacks. Climate change, rising costs and conflicts across various regions have amplified a hunger crisis affecting approximately 828 million people.
For more than a decade, PepsiCo and the PepsiCo Foundation have worked with more than 60 nonprofits, industry peers, local and international organizations and our employees across 28 countries to expand access to nutritious food. We are using our global scale to create local impact and help realize zero hunger in the communities where we live and work.
Through our Food for Good program, we have leveraged our resources to deliver more than 270 million meals to underserved communities since 2009. We began tracking beneficiaries in 2016 and since then, have delivered food to more than 47 million people through the program. In addition to distributing food, Food for Good will help us toward our goal of improving the livelihoods of more than 250,000 people in the agricultural supply chain by 2030, with a focus on economically empowering women and making farming more diverse.
We aim to meet three global goals through a combination of philanthropic initiatives, such as our Food for Good program, and commercial initiatives:
Invest $100 million through 2030 as part of the Zero Hunger Private Sector Pledge.
Make nutritious food accessible to 50 million people by 2030 (progress tracked starting in 2021).
Provide training in sustainable agriculture and economic support to five million female farmers and members of their communities by 2025, to help them increase their crop yields, incomes and access to nutrition.
Food security goal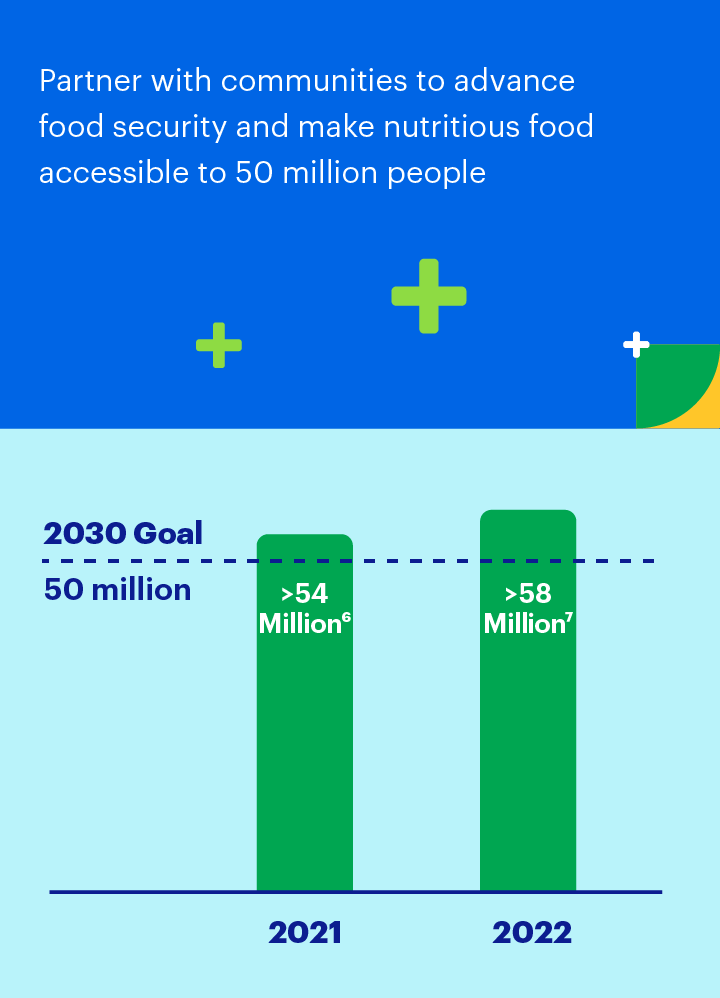 6. Initial target setting for this metric did not include Pioneer Foods, which delivered accessibility for over 20 million people in 2021. Progress results include programs funded by the PepsiCo Foundation that are intended to provide nutritious meals, utilizing external standards established by the Global Alliance for Improved Nutrition (GAIN) and the Food and Agriculture Organization of the United Nations (FAO).
7. The food security target will be reassessed in 2023 to fully account for both commercial and charitable efforts. Progress results represent the cumulative sum of people reached with nutritious meals per annual reporting period through programs funded by the PepsiCo Foundation, as well as through commercial efforts.
Explore People topics in more depth
PepsiCo's ESG Topics A-Z provides detail on strategy, data, policy, progress and more on a wide range of subjects.

Positive Value Chain stories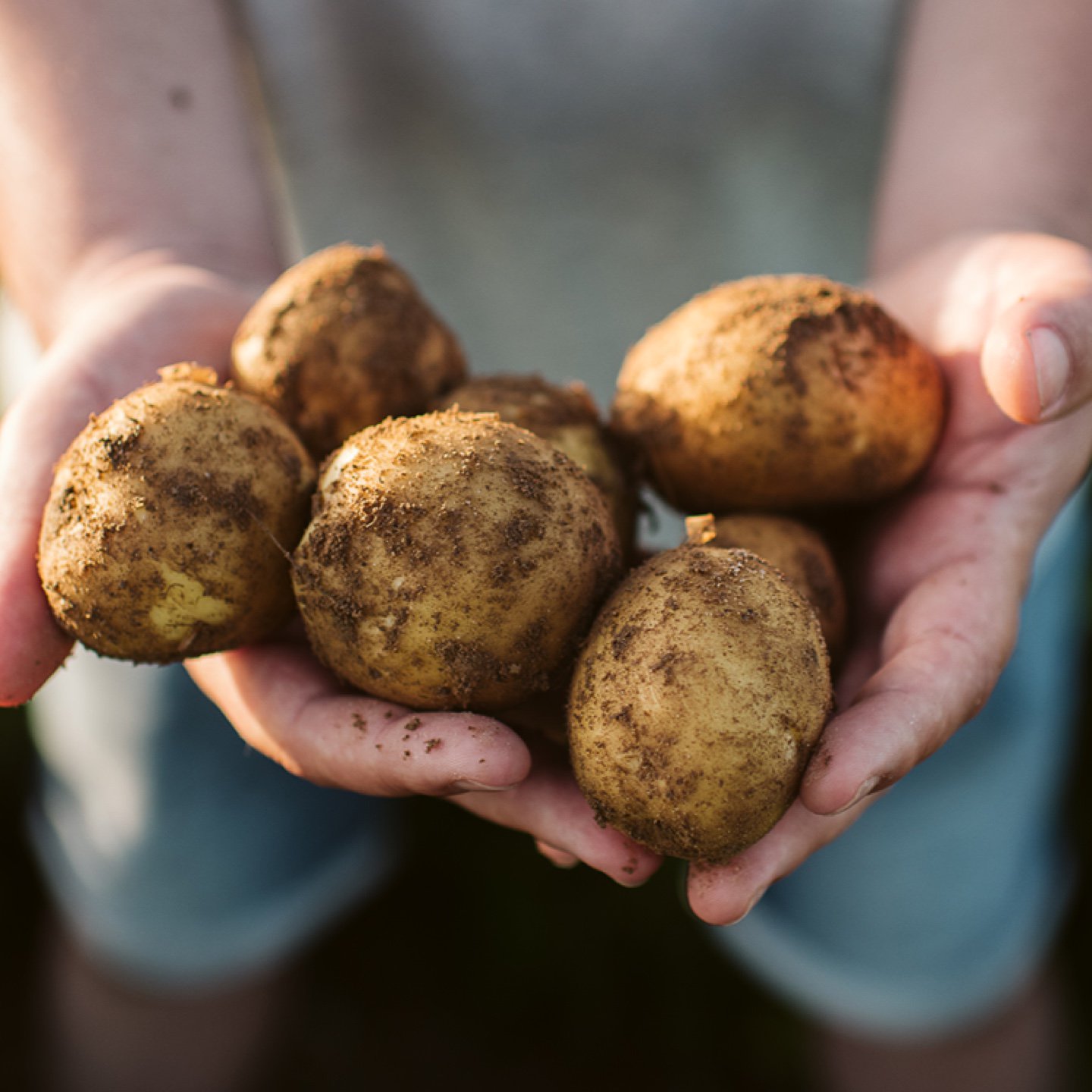 Learn more about how we're making a difference