Why it matters
To PepsiCo:
Agriculture is core to PepsiCo's business. We source ingredients from approximately 60 countries supporting over 100,000 agricultural jobs. Creating a more sustainable agricultural system will protect our continued business growth from disruption due to climate change, water scarcity, and other environmental and social risks. More sustainable agriculture will also enhance the lives of agricultural workers and their communities.
To the World:
Agriculture is central to both global challenges and solutions related to nutrition, the environment, and economic well-being. PepsiCo believes that sustainable agricultural practices will be pivotal in meeting the increasing demand for food as the global population grows, while also addressing the need to protect and enhance our natural resources.
Approach
Under PepsiCo's Positive Agriculture agenda, we're working to source crops and ingredients in a way that accelerates regenerative agriculture and strengthens farming communities. We're supporting the advancement of farming practices to optimize crop yields, respect human rights, improve farmer livelihoods, and secure supply. We do this because, simply put, without embracing regenerative agriculture, our ability to source the necessary ingredients for our products is in jeopardy, as is the world's ability to reliably access safe and healthy foods. A key aspect of Positive Agriculture is extending regenerative farming practices — a set of techniques that improve and restore ecosystems with a focus on building soil health and fertility, reducing carbon emissions, enhancing watershed management, increasing biodiversity and improving farmer livelihoods.
As of the end of 2021, around half of the volume of our key ingredients were bought directly from farmers through a grower group ("grower-sourced"), while there were multiple tiers between the farmer and PepsiCo for the other half ("supplier-sourced").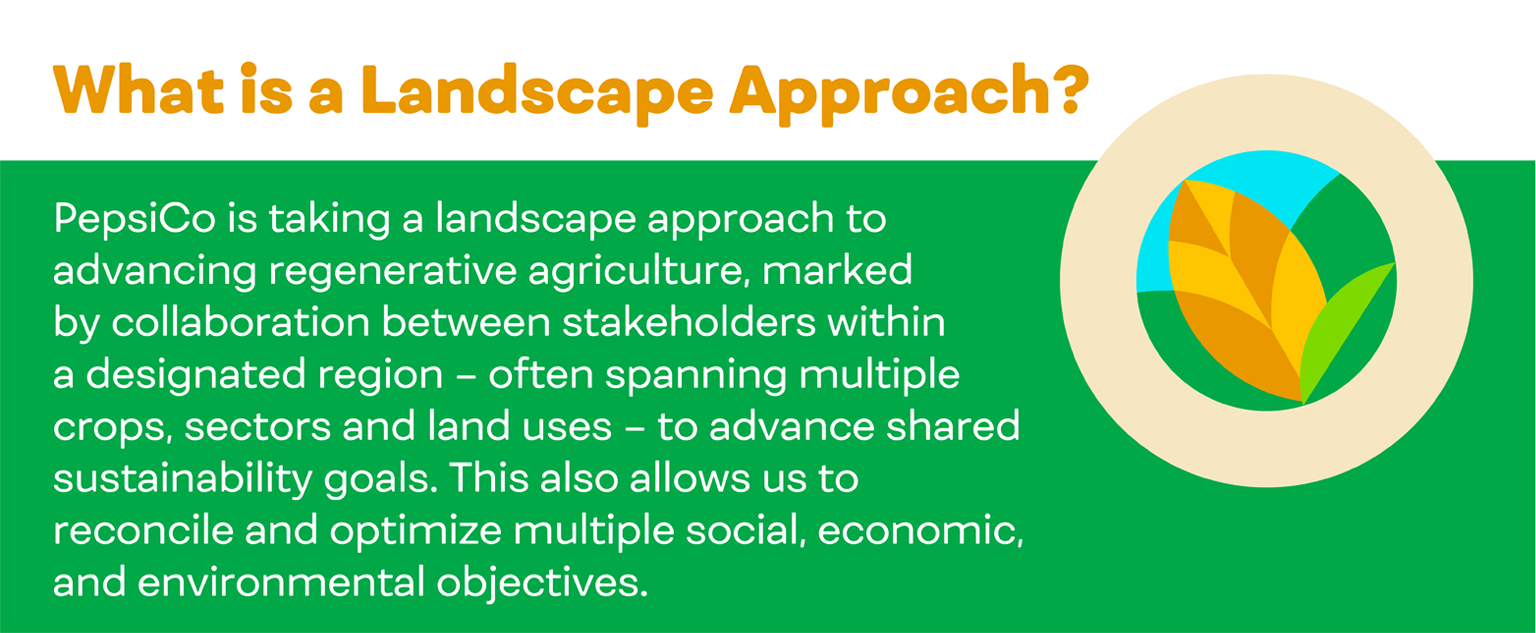 We recognize that real change requires long-term, consistent effort, and have launched landscape initiatives tackling some of our key commodities with this approach in the Midwest U.S., Mexico, and Southeast Asia, and will expand into new priority landscapes as we progress on our Positive Agriculture journey.
Making our products requires a wide variety of crops and ingredients and we believe that regenerative agricultural practices will be pivotal in meeting the increasing demand for food, while also addressing some of the key risks that can be associated with agriculture, such as freshwater scarcity, deforestation, biodiversity loss, soil degradation, and human rights. At the end of 2021, we sourced approximately 40% of our direct grower-sourced key ingredients – those considered the building blocks of our convenient foods and beverages – from areas of high water-risk.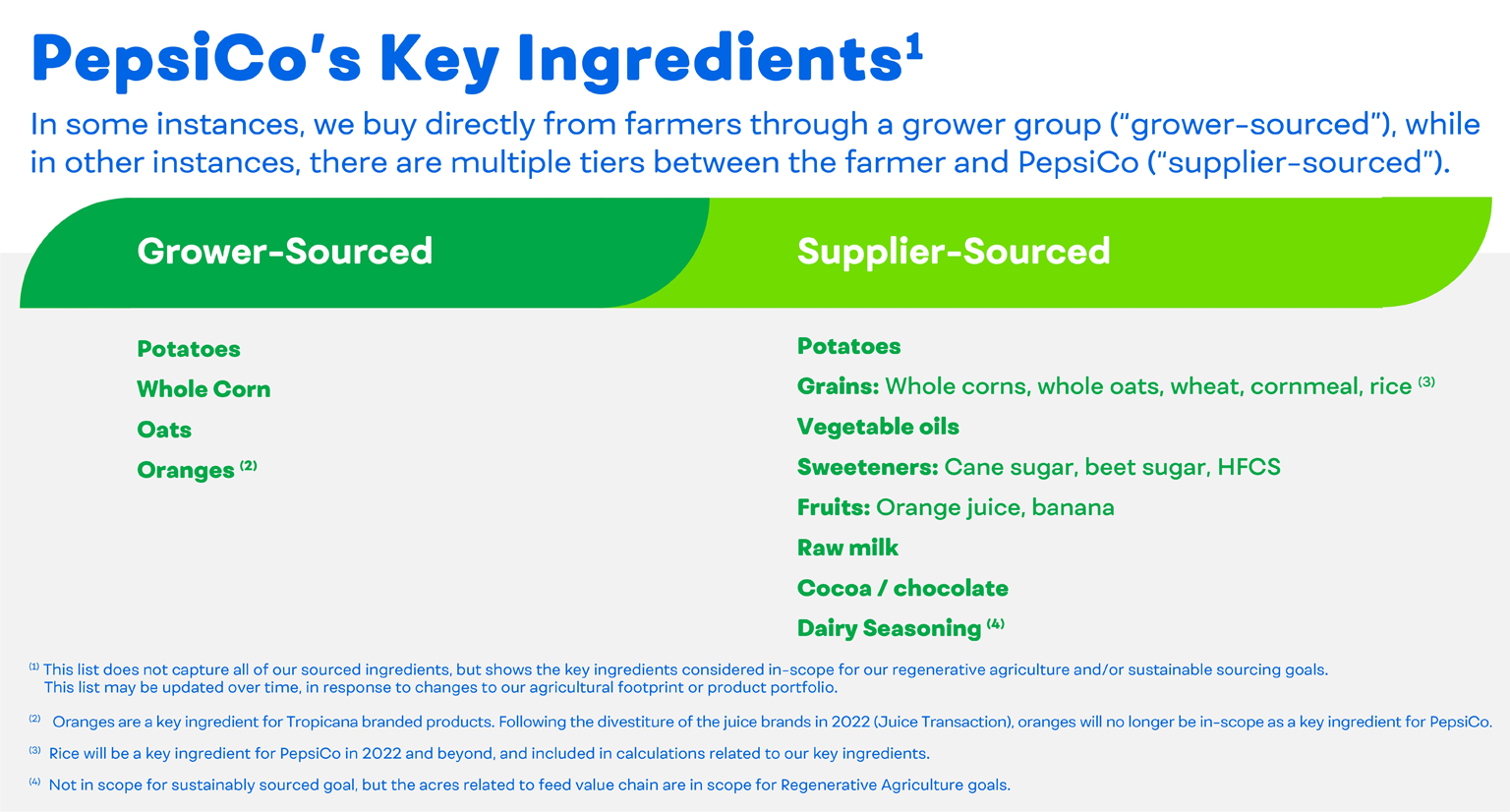 Positive Agriculture Goals
We have set standards for ourselves and our supply chain that match our ambition for a sustainable agricultural supply chain over the long term. In 2015, we publicly announced our goal to sustainably source potatoes, whole corn, oats, oranges, palm oil, and cane sugar for our business by 2020, and other key crops, vegetable oils, for example, that we don't source directly from farmers by 2025. Building on the progress made, in 2021 we announced a new, impact-driven Positive Agriculture ambition, setting 2030 goals to source crops and ingredients in a way that accelerates regenerative agriculture and strengthens farming communities. This 2030 agenda is part of our broader pep+ (PepsiCo Positive) ambition, and includes a specific focus on:
Spreading the adoption of regenerative farming practices across 7 million acres1 – approximately equal to 100% of the land used around the world to grow key crops and ingredients for our products. These efforts are estimated to lead to a net-reduction of at least 3 million tons of greenhouse gas (GHG) emissions by 2030. Furthering nearly a decade of progress with the Sustainable Farming Program (SFP), we will continue to collaborate with farmers to adopt practices that build resilience and improve and restore ecosystems.
Sustainably sourcing2 100% of key ingredients, expanding to include not only our grower-sourced crops (potatoes, whole corn, and oats), but also key crops from third parties, such as vegetable oils and grains.
Improving the livelihoods of more than 250,000 people in our agricultural supply chain and communities, including economically empowering women. We will focus our work on the most vulnerable farming communities linked to our global value chain, including smallholder farmers and farm workers, women and minority farmers. We will continue to advance this goal through diverse partnerships, including U.S. Agency for International Development, Inter- American Development Bank, CARE, National FFA Organization, and the German Agency for International Cooperation (GIZ).
Governance
A dedicated team led by our Vice President of Global Sustainable Agriculture manages PepsiCo's sustainable agriculture programs. This global team within PepsiCo's Sustainability Office partners closely with many internal functions including Global Procurement, Public Policy & Government Affairs, Communications, and our Human Rights Operating Council. The team reports up to the PepsiCo Executive Committee through our Chief Sustainability Officer. Progress is reviewed by our PepsiCo Executive Committee as well as the Sustainability, Diversity and Public Policy Committee of our Board of Directors on at least an annual basis.
Sourcing directly from growers through our Sustainable Farming Program
Through our SFP, we champion and advance positive social, environmental, and economic outcomes among the farmers from which we directly source crops. The SFP is designed to help boost agricultural productivity and extend availability of sustainably sourced crops today, while contributing to long-term transformation across the agricultural system. The program is based on self-assessment, capacity building, and verification. We work with farmers around the world to provide training for on-field agronomy, resource-efficient use of fertilizers and irrigation, plant protection techniques, workers' rights, pest management and other issues. Once a farmer meets the independently verified Social, Environmental and Economic principles of our SFP, they will be classified as sustainable for three years from the date of the verification assessment results. For more detail on the SFP, including a comprehensive list of the specific principles we work with farmers to implement, see the SFP Scheme Rules and the SFP Fundamental Principles.
To leverage the expertise and local influence of farmers, we're growing a network of demonstration farms where locally-relevant best practices can be put into action and where local farmers can observe and learn from their peers.
Supplier-Sourced Priority Raw Materials
Our supplier-sourced key ingredients include raw milk and others derived from crops such as corn, wheat, beet sugar, orange, banana, cocoa, sunflower, soya, and canola. Our approach to sustainably sourcing these materials reflects our sourcing relationships, the risk profile of each raw material, and opportunities to drive meaningful impacts at the farm level. Through partnership and collaboration with suppliers, industry groups, and NGOs, we leverage two models to make progress toward our goal — verified volumes and continuous improvement:
For crops on a verified volumes pathway, we use an equivalency framework to recognize crop volumes that are verified to a sustainability standard benchmarked by a third party, as equivalent to our SFP. For example, the Sustainable Agriculture Initiative (SAI) Platform's Farm Sustainability Assessment (FSA) is recognized by our program. This equivalency approach is used for several key raw materials, including our supplier-sourced orange juice, banana, and beet sugar.
In limited regions we consider key ingredients to be sustainably-sourced when a supplier can credibly demonstrate continuous improvement in the main environmental and social risks associated with growing the relevant crop. We are aligning our sustainable sourcing work with our greenhouse gas emissions reduction goal, reducing farm-level climate impact by improving soil health and promoting regenerative agriculture. Currently we only apply this methodology in the U.S. Midwest sourcing regions that are part of our regenerative agriculture landscape programs.
Palm Oil and Cane Sugar
PepsiCo set a goal to sustainably source 100% of the palm oil and cane sugar for our business by 2020 through Roundtable on Sustainable Palm Oil (RSPO) and Bonsucro certifications, respectively. Going forward, this commitment will continue as part of our broader goal to sustainably source 100% of our key ingredients. Palm oil and cane sugar have long and complex supply chains, with farmers operating in challenging conditions. While these crops provide many benefits to people who enjoy our products, to growers and local communities, they are also sometimes associated with social and environmental challenges. Our approach for high-risk commodities such as these is based on:
Building traceability through our supply chain to the mill and farm level;
Assessing risk to our business, to people, and the planet in order to focus our efforts;
Verifying compliance through credible third-party standards (primarily RSPO and Bonsucro sugar cane standards);
Engaging suppliers to build the capacity of our direct suppliers and those further down the supply chain;
Investing and supporting on-the-ground projects to ensure farmers, including smallholders and communities, benefit from our actions; and
Partnering and collaborating with peer companies, suppliers, civil society, and others to address long-term, systemic issues that cannot be tackled alone.
For more information, see Palm Oil.
PepsiCo Livelihoods Implementation Framework for Engagement (LIFE)
PepsiCo seeks to build more healthy, sustainable, and inclusive food systems by sourcing crops and ingredients in a way that restores the earth and strengthens farming communities. Livelihoods, and the food systems on which they depend, are being threatened by multiple shocks today – including COVID-19 related disruptions, extreme weather, pests, and conflict. Participants in rural agricultural communities are among the most vulnerable to these shocks— which includes smallholder farmers, farm workers, temporary or migrant workers, and women producers.
To support our goal of improving the livelihoods of 250,000 people by 2030, we developed the PepsiCo Livelihoods Implementation Framework for Engagement (LIFE) to credibly measure the impact of our efforts to improve the livelihoods of the most vulnerable people and communities in our global value chain. The Livelihoods Framework will help us measure and drive outcomes across three pillars:
Economic prosperity: Supporting long-term farm profitability and productivity with an emphasis on regenerative agriculture and environmentally sustainable farming practices
Farmer and farm worker security: Addressing issues of food security, labor conditions, and land rights, and enabling access to resources
Women's economic empowerment: Improving women's access, agency, and use of resources, decreasing legal and institutional barriers, and reducing women's time poverty
We developed the Framework and accompanying Guidance Note (link) in collaboration with COSA (the Committee on Sustainability Assessment) and incorporated feedback from 20+ peer organizations, suppliers, partners, and external stakeholders, including IDH, Oxfam, Shift, and Verité. The framework also leverages existing measurement systems already in place by Livelihood program partners including CARE, IDB, and USAID.
The Framework advances a set of common indicators and metrics that reflect industry best practice and global norms and standards. The consistent metrics, methods, and other resources offered are designed to help guide the practical implementation of the framework for our partners working with PepsiCo towards our Livelihoods improvement goal with vulnerable producers and communities in our supply chain.
PepsiCo offers this framework as a resource for others seeking to positively impact livelihoods and anticipates continuing to work with other organizations to further improve the measurement system and protocols. We expect the framework to evolve in response to learnings from implementation, emerging good practice, and partner feedback.
Sustainable Sourcing Program (SSP)
We purchase many ingredients that have been milled, crushed, or refined at our supplier's processing facilities. Through the SSP, we engage our most business-critical ingredient suppliers, empowering them to introduce sustainable agriculture to their suppliers and support our goal of a sustainable extended supply chain. For more detail on the SSP, see Sustainable Sourcing.
Grievance Processes
While our policies and programs may not prevent all adverse impacts in our value chain, we aim to provide an effective remedy wherever possible. This may include using our influence to encourage our suppliers or partners to in turn provide an effective remedy where we find impacts directly linked to our business operations, goods, or services. We are committed to providing channels for affected stakeholders, their representatives, and civil society to raise concerns related to the social and environmental standards in our agricultural supply chain. In July 2017, we formalized a grievance mechanism for our agricultural supply chain. Our approach is set out here. Information about the grievances addressed through our mechanism and the review of our grievance process, which we are undertaking with the help of an expert third party organization, is set out in our Palm Oil page.
Our Speak Up hotline is an important component of our governance of culture, ethics and integrity. We encourage our suppliers and business partners to establish their own grievance mechanisms and we also make the PepsiCo Speak Up hotline available for their use through our Global Supplier Code of Conduct (SCoC). We regularly publish information on the usage of our Speak Up hotline, including the number of reports and the categories raised. See our latest report here. More information on our grievance mechanisms is available on our Human Rights page.
Policies
Our goals are supported by a set of policies and commitments that underpin our agricultural activities, many of which we expect our suppliers to adhere to as well.
These include:
Many of these policies and commitments are based on international conventions including the Universal Declaration of Human Rights; the International Covenant on Civil and Political Rights; the International Covenant on Economic, Social and Cultural Rights; and the ILO Declaration on Fundamental Principles and Rights at Work.
Progress
As we strived to spread regenerative agricultural practices throughout our value chain in 2021, we worked with 20 different partners from different areas such as nutrients, water use efficiency and precision farming to share best practices with our demonstration farms. By the end of the year, we had 72 regenerative demonstration farms in the program and over 600 farmers transitioned from demonstration into broader "landscape" impact programs to scale up proven innovation. We have also worked with farmers across the globe to plant cover crops on over 85,000 acres of land, resulting in up to a 38% net reduction in on-farm greenhouse gas emissions, including soil carbon sequestration.
In 2021, we launched an internal co-investment fund to incentivize our local teams to design and scale innovative solutions that contribute to our Positive Agriculture agenda. Now in its second year, the Positive Agriculture Outcomes Fund provides a unique mechanism that reduces the risk and cost of projects with long-term sustainable business potential. To date, nearly $2 million has been granted through the Fund.
We need all our suppliers working with us to achieve our Positive Agriculture ambitions. In 2022, we launched a Positive Agriculture Playbook to guide agricultural suppliers through the suggested steps of implementing and measuring the impact of regenerative farming in their value chain and to provide resources to help them along the way. A Regenerative Agriculture Practice Bank, published at the same time, helps partners to explore the best practices to implement given their areas of focus.
In 2022, we also launched our Livelihoods Implementation Framework for Engagement (LIFE) to establish our methodology for calculating progress towards our improved livelihoods goal and anticipate that we will be able to report progress in 2023.
PepsiCo has a strict commitment to no deforestation, no development on peat, and no exploitation of indigenous people, workers and local communities, and recently published its strengthened Global Strategy on Sustainable Palm Oil, with an increased focus on landscape programs and transformation of the palm oil sector.
Progress and Challenges
As we pursue Positive Agriculture, we have made progress but faced challenges along the way.
Progress
Approximately 50% of our key ingredients were sustainably-sourced, including more than 90% of grower-sourced crops.
We helped to spread the adoption of regenerative agriculture in more than 345,000 acres

3

.
Challenges
The complexity of our global supply chains means making an impact in upstream farming communities requires partnership and collaboration with other stakeholders.
Strategic Partnerships
The complexity of our global supply chains means making an impact in upstream farming communities requires partnership and collaboration with other stakeholders.
PepsiCo focuses its work on designing, launching and scaling holistic solutions to complex challenges, investing alongside key stakeholders across all levels of the food system to maximize impact. This includes supporting and engaging with smallholder farmers, demonstrating the sustainable business impact of women's economic empowerment solutions along our supply chains, and leveraging external technical and financial resources to deliver the Positive Agriculture outcomes that enhance food system resilience and long-term sustainability. For more detail on a selection of these partnerships, see PepsiCo Key Agricultural Partnerships.
What's Next?
We expect to drive our Positive Agriculture ambition forward through collaboration with industry-leading partners and aim to expand regenerative agriculture programs, reduce GHG emissions, sustainably source ingredients and improve the livelihoods of our communities.
We will continue to work with suppliers to adopt regenerative agricultural practices, providing training and information through the SFP and tools like our Positive Agriculture Playbook and Regenerative Agriculture Practice Bank.
In pursuit of our Positive Agriculture ambitions, we expect to continue encountering systemic barriers related to cultural norms, sociopolitical disruption, infrastructure deficiencies and, in some cases, lack of well-established legal systems, driven by the pandemic. We also anticipate that the deadly conflict in Ukraine will result in further disruption to our supply chain and SFP in Eastern Europe. Despite this, we remain resolute in our commitment to regenerative agriculture and will continue work to advance sustainable practices in line with our pep+ strategy.
1Regenerative acres reported for 2021 include U.S. and Canada only. Regenerative acre demonstrate measured improvement in sequestering carbon to reduce GHG emissions and at least one other of the following: improved soil health, watershed health, improved biodiversity or improved livelihoods Regenerative practices target at least two of the following outcomes: improved soil health, climate mitigation and adaptation, watershed health, improved biodiversity, or improved livelihoods.

2For grower-sourced crops, sustainable sourcing refers to meeting the independently verified environmental, social and economic principles of PepsiCo's Sustainable Farming Program (SFP). For supplier-sourced crops, sustainable sourcing is achieved through a third party standard that has been benchmarked as equivalent to the SFP or, in limited regions, a continuous improvement program addressing the main environmental and social risks with growing the relevant crop.

3PepsiCo introduced - and began to measure - its new regenerative agriculture metric in 2021. Progress presented here reflects our first year tracking this metric and builds on years of partnership and investment in sustainable agriculture.

4We increased our sourcing through the RSPO Mass Balance physically certified supply chain model and procured de minimis Independent Smallholder Credits to achieve 100% RSPO certification in 2021.

5Results reflect exclusion of SodaStream and Pioneer Foods portfolios and include a combined approach of procuring Bonsucro credits and verifying our supply chain.