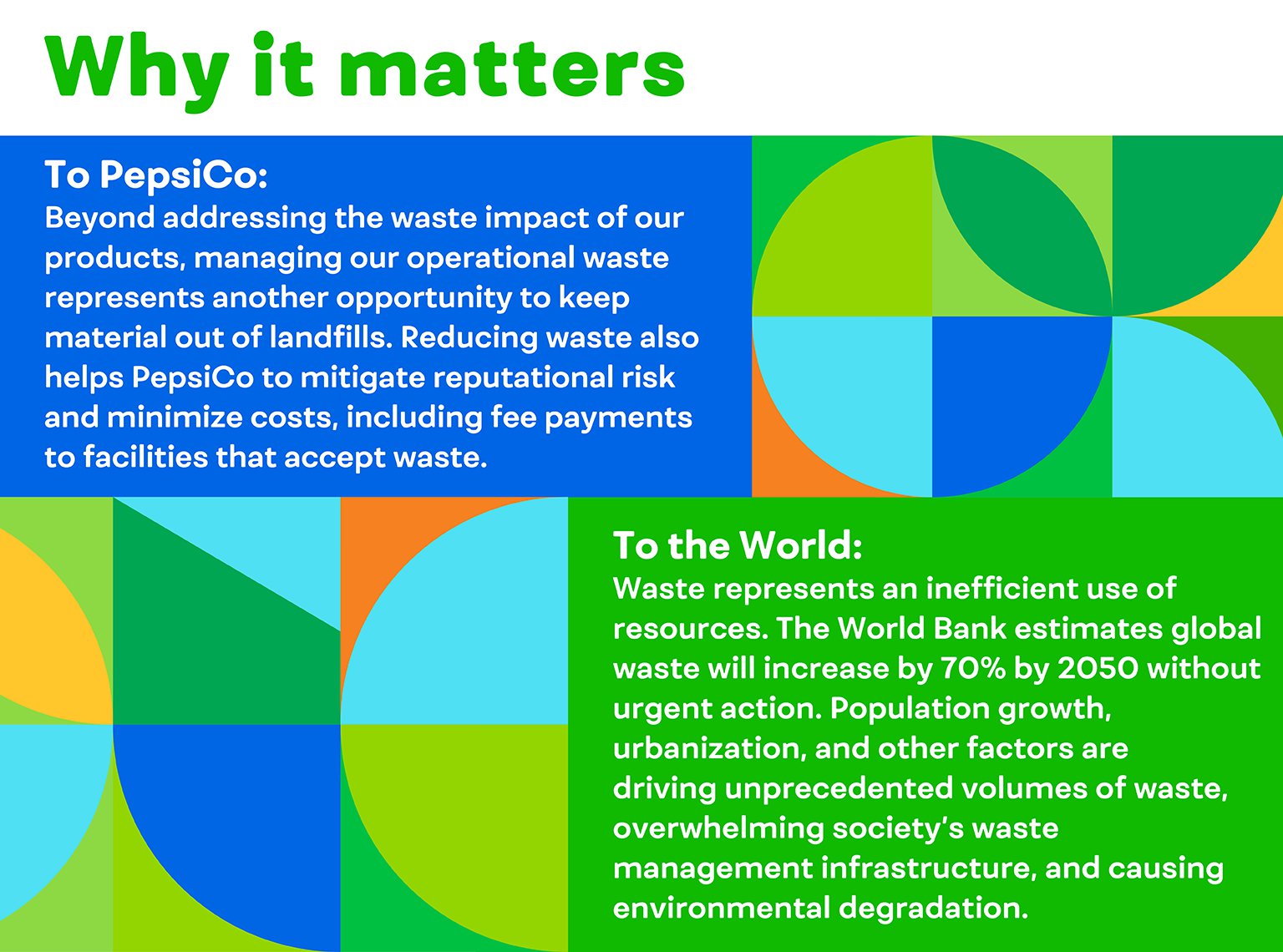 Approach
Waste reduction, in all its forms and across our value chain, is a strategic imperative for PepsiCo and a key tenet of our pep+ (PepsiCo Positive) ambition. It not only provides benefit to our business in the form of cost savings and efficiencies gained, but is also inherent to being a good citizen of the communities where we operate.
We are committed to achieving virtually zero waste to landfill in our direct operations. Our commitment is a global one, but we approach each site with a tailored approach that takes into account local infrastructure and the greatest opportunities for improvement.
Our operational waste is comprised primarily of packaging from manufacturing inputs and the remnants of our manufacturing process. Our offices generate a far smaller proportion of our waste, primarily from paper and other office supplies. We encourage associates to reduce and re-use as much as possible and are transitioning toward a paperless environment. Any remaining waste such as paper and ink cartridges is sorted and recycled as much as possible taking into account the local recycling infrastructure.
As a global food and beverage company, we have a role to play in addressing the issue of food waste. Globally, approximately one-third of the food produced for human consumption is wasted each year, and that waste is a significant contributor to greenhouse gas (GHG) emissions. Reducing food waste within our direct operations supports our virtually zero waste to landfill goal while also making a meaningful impact in reducing our GHG emissions. This work also directly supports the United Nations Sustainable Development Goal (12.3) which aims to "halve per capita global food waste at the retail and consumer levels and reduce food losses along production and supply chains."
Our efforts to reduce food waste focus on using agricultural inputs as efficiently as possible in our manufacturing processes and finding innovative solutions for using the organic material that remains. We are continuously improving our equipment and manufacturing processes to ensure an optimal use of the raw material.
Operational waste reduction is managed at the plant level, and aggregated globally by PepsiCo's Sustainability Office. The total volume of waste generated from our company-owned manufacturing and warehouse operations is independently assured on an annual basis.
Progress
Waste to Landfill
In every community where we operate, we are working to minimize the amount of waste that we send to landfill through our direct operations. PepsiCo has been on this journey for many years and is approaching virtually zero waste to landfill. In 2020, we generated approximately 2.4 million metric tons of waste in our manufacturing and warehouse operations, of which we recycled approximately 2.3 million metric tons, or nearly 98 percent of total waste (up from 97 percent in 2019).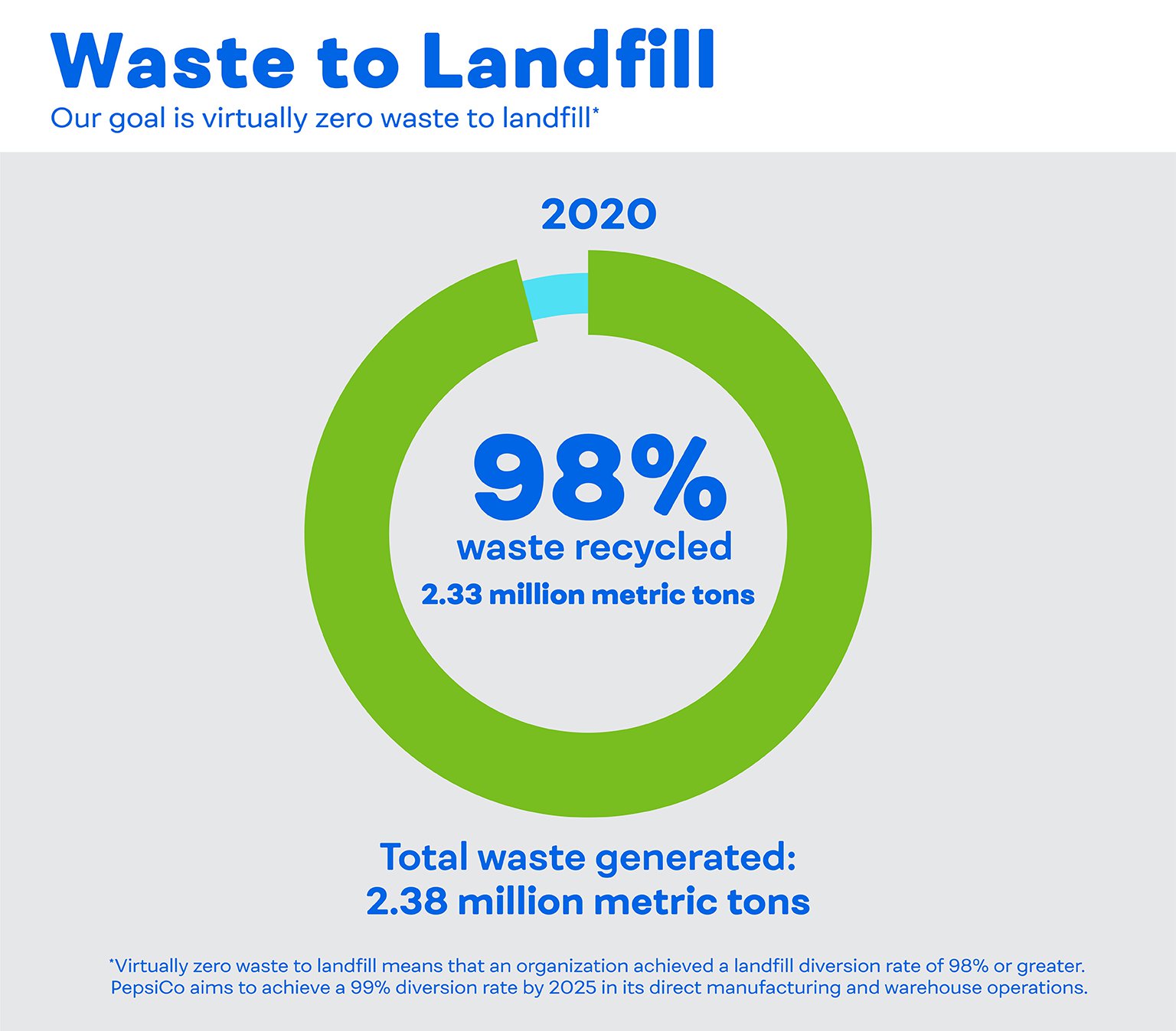 Reduce Food Waste
We make every effort to reuse materials in productive ways. PepsiCo collaborates with its partners to identify beneficial uses for the processing residue that remains from manufacturing. For example, our Leicester plant in the U.K. is rolling out a plan to convert leftover potato peelings from making Walkers Crisps into low-carbon fertilizer that will be returned to farms where potatoes for the crisps are grown. Once supplied at scale, this fertilizer is expected to reduce Walkers' potato-based carbon emissions by an estimated 70 percent from 2019.
Hazardous Waste
PepsiCo tracks and manages hazardous waste created in our company-owned manufacturing and warehouse operations. The precise definition of hazardous waste differs regionally, but can include lab materials and maintenance residue such as gearbox oil, lights and batteries. In total, hazardous waste comprises less than 1 percent of our total waste stream. Our global and regional Environmental, Health and Safety teams oversee this waste to assure we are fully compliant with local and governmental polices.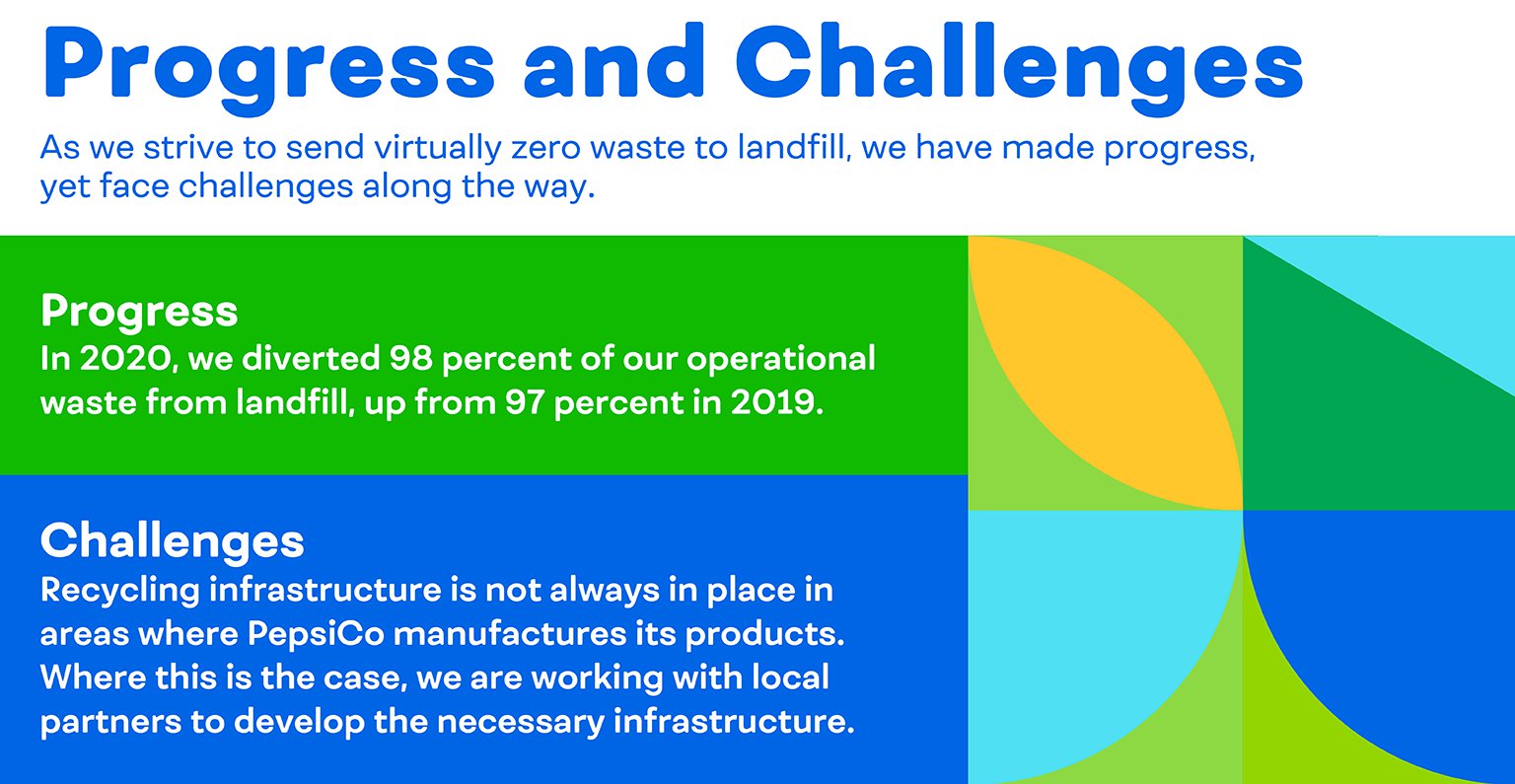 Strategic Partnerships
PepsiCo maintains partnerships with organizations that help us to reduce the waste we send to landfill. These include recycling, composting and waste-to-energy businesses. Building a strong local infrastructure for these activities helps us to meet our commitments while also strengthening local economies and reducing waste beyond our own operations.
What's Next
We will remain focused in the coming years on achieving virtually zero waste to landfill, particularly in the developing markets, where we are building recycling infrastructure in our operations and embedding a culture of recycling.
Last Updated
September 15, 2021