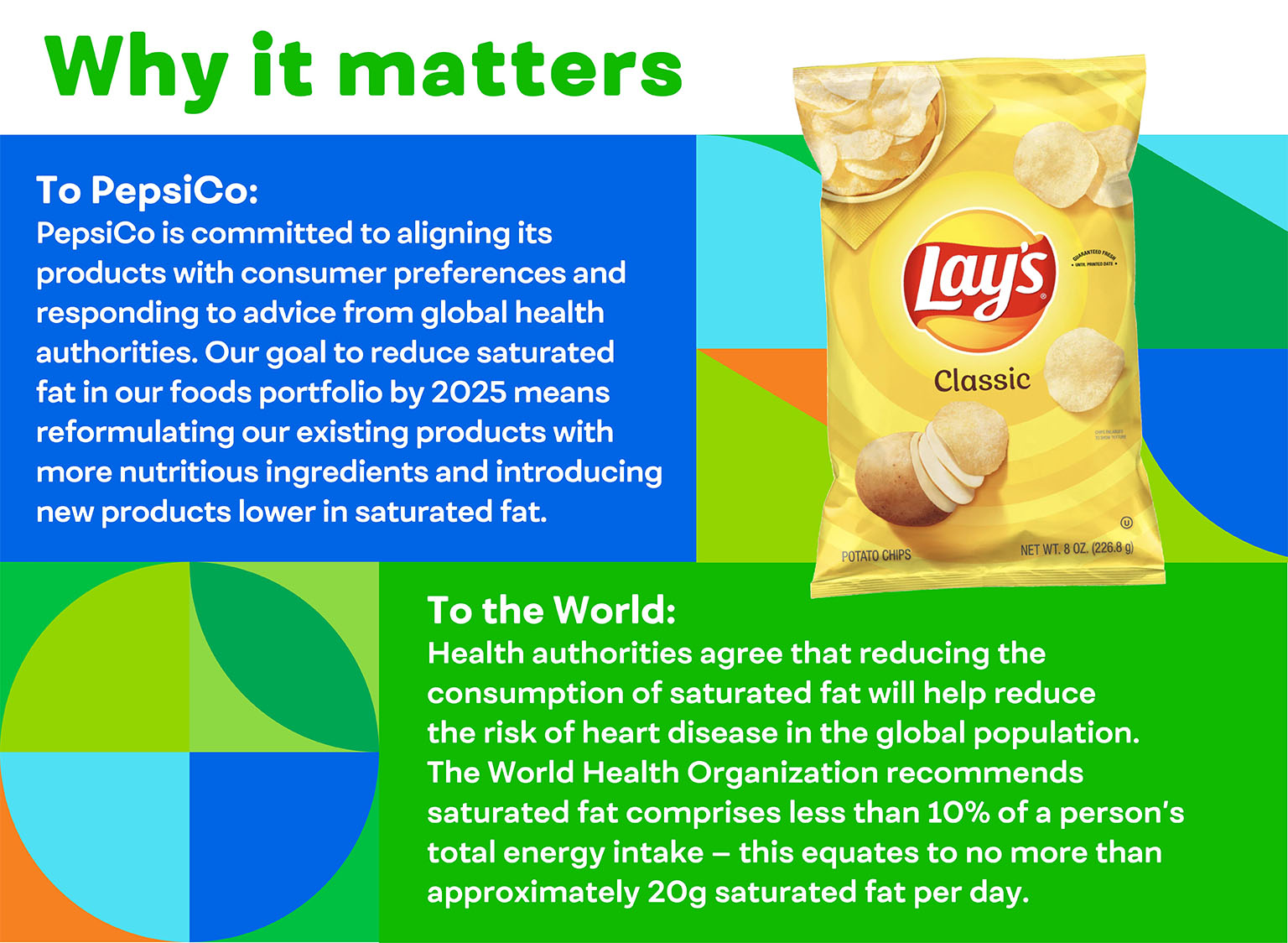 Approach
Saturated fatty acids, a type of fat in which the fatty acid chains have all single bonds, occur naturally in many foods. While the main dietary sources are meat and dairy products, all fats and oils in the diet will contain a mixture of fatty acids including a proportion of saturated fatty acids. The current World Health Organization (WHO) dietary guidelines recommend that no more than 10% of total dietary energy intake be derived from saturated fat. For an average adult consuming 2000 kcal per day, this equates to a maximum of approximately 20g of saturated fat per day, or approximately 1.1 grams of saturated fat per 100 Calories.
Informed by these international guidelines and those of national health authorities, we have set a goal designed to help consumers reduce the amount of saturated fat in their diets. As we strive to reach our pep+ (PepsiCo Positive) ambitions, our goal is that by 2025, at least three quarters of our global foods portfolio sales volume will not exceed 1.1 grams of saturated fat per 100 Calories. Our goal is designed to shift a significant portion of our food portfolio towards lower saturated fat levels to make it easier for our consumers to follow WHO's recommendation by offering more Positive Choices.
Our approach to managing saturated fat within our foods portfolio is guided by PepsiCo's Nutrition Criteria. These science-based category-specific criteria are based on recommendations for food and nutrient intake from leading global and national nutrition authorities including the WHO, the U.S. Department of Agriculture (USDA), the National Academy of Medicine, and national public health authorities. For more on these criteria, click here.
To better meet both consumer needs and policy and regulatory requirements, we are applying saturated fat reduction and reformulation strategies to our foods portfolio.
We are continually exploring different oils to enable us to reduce the level of saturated fat, while also allowing us to maintain our products' great taste without compromising our product quality.
In addition to reformulation of existing products, we are also introducing new products with less saturated fat to support our delivery against our global goal.
Progress
By the end of 2021, 75% of our convenient foods sales volume in our Top 23 markets (representing 86% of our global convenient foods sales volume) was in line with our goal of saturated fat levels that do not exceed 1.1g/100 Calories, up from 71% in 2020. Reaching our goal in advance of the 2025 target year is an exciting milestone, but we recognize that our work isn't done. The deadly conflict in Ukraine has led to global shortages of healthier oils, and we will need to continue working to find solutions to maintain the nutritional composition of our convenient foods. Additionally, changes to our portfolio resulting from acquisitions and divestitures may continue to impact our progress.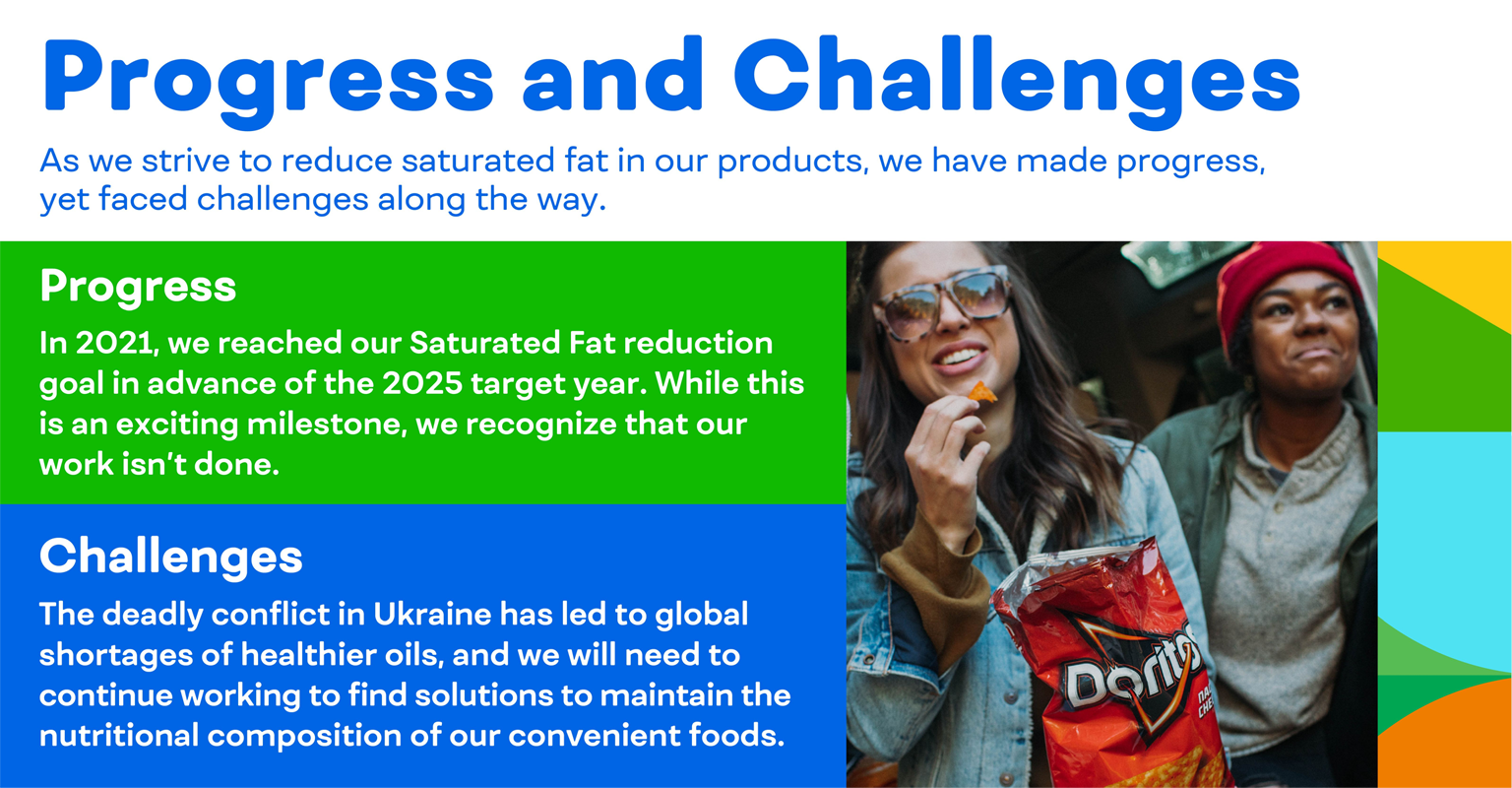 PepsiCo's 2020 acquisition of Pioneer Foods brought approximately 15 new food brands into the PepsiCo portfolio. In doing so, progress against our product goals was impacted – for saturated fat, this had the effect of positively contributing to our 2020 and 2021 progress.
Mexico has continued its journey to further improve the Saturated Fat nutritional profile of products through 2021, introducing healthier oil blends into additional production facilities converting iconic savory brands like Doritos, Sabritas, Ruffles, Fritos and other local brands
Significant reductions in saturated fat (approximately 80%) were also achieved by the end of 2021 on the Doritos brand across Turkey in line with our global goal to reach saturated fat levels that do not exceed 1.1g/100 Calories.
Strategic Partnerships
We have also formed an agreement with Partnership for a Healthier America (PHA), an organization that works with the private sector to help improve the health of youth in the United States by addressing childhood obesity, to conduct an independent review of our progress against our saturated fat goal. The first year of this review was conducted in relation to 2016 data. In the most recent review, covering then current 2020 SKU level data of products in our Top 23 global convenient foods markets, PHA confirmed the accuracy of our calculations and the reliability of the methodology we use to make those calculations. We plan to continue conducting independent reviews of the data and methodology, in order to continue to drive transparency around this important goal.
What's Next?
The impact of the COVID-19 pandemic, paired with the deadly conflict in Ukraine, may increase pressure on food poverty and diet quality. Additionally, the conflict is expected to continue to impact the availability of healthier oils produced from commodities sourced from Russia and/or Ukraine. PepsiCo anticipates that efforts will continue unabated within the food industry to improve the nutritional quality of products and support consumers in making Positive Choices.
Last Updated
June 24, 2022