To PepsiCo:
As a global company with brands that reach consumers more than a billion times every day, we must ensure the safety and quality of the products our consumers enjoy. This is essential to maintaining a transparent relationship with regulators and customers and continuing to be a trusted choice for our consumers.
To the World:
Consumers must be able to rely on the quality and safety of the food and beverages they buy. This responsibility falls to the companies who make, move and sell food products and depends on compliance with internal and industry standards as well as government requirements.
Approach
Food safety is a top priority for PepsiCo. Our products are sold in many countries around the world and we have the responsibility to ensure their safety and quality. Fundamental to our mission is a promise to manufacture products that are both safe and delicious for our consumers to enjoy every day. The PepsiCo Global Food Safety Policy outlines our commitments to deliver on this promise.
Product safety and quality compliance is at the heart of the PepsiCo growth strategy. PepsiCo has deployed actionable global programs and quality management systems that monitor performance against compliance targets set in each sector. These programs include internal and third-party audits and verification systems, providing checks and balances across the end-to-end operations of the company.
Compliance programs and quality management systems are housed within the Research and Development (R&D) function. Specifically, the compliance team includes Food Safety, Quality Assurance, Scientific Affairs, and Regulatory Affairs, supported with input from many other functions within PepsiCo. Food safety and quality performance, including recalls and regulatory inspections, are reviewed in sector and global PepsiCo Executive Product Integrity Council (EPIC) meetings on a quarterly and annual basis, respectively. In addition, PepsiCo tracks and reviews food safety information with its Board of Directors at least annually.
PepsiCo has strong global quality and food safety standards. We use qualified ingredients, approved suppliers and follow all applicable regulations issued by regulatory authorities. Our products are traceable, which enables us to quickly investigate and address any potential concerns in the marketplace. Our facilities conduct mock recalls on at least an annual basis to ensure readiness to respond to any incident. On the rare occasions when incidents occur, we take quick action, conduct robust investigations, implement corrective actions and share learnings across the system.
Product development follows our technical stage-gate process to ensure that the design is rigorously vetted, and products are made and sold in compliance to our standards.
Our PepsiCo Quality & Food Safety College delivers capability building solutions in support of our organization's strategies and objectives. These tailored training sessions are available to all workers whose roles impact the safety and quality of our products, including the R&D function, plant managers, quality and food safety managers, lab personnel, and frontline associates. They are delivered through both virtual and in-person platforms and are available to employees of company-owned, franchise-owned, joint venture and independent manufacturing facilities.
Our compliance team is leading efforts to address an increasingly challenging and dynamic external environment, with increased consumer and regulatory expectations. Our Smart Compliance framework enables us to navigate this environment while ensuring compliance across our large, diverse, and ever-changing portfolio.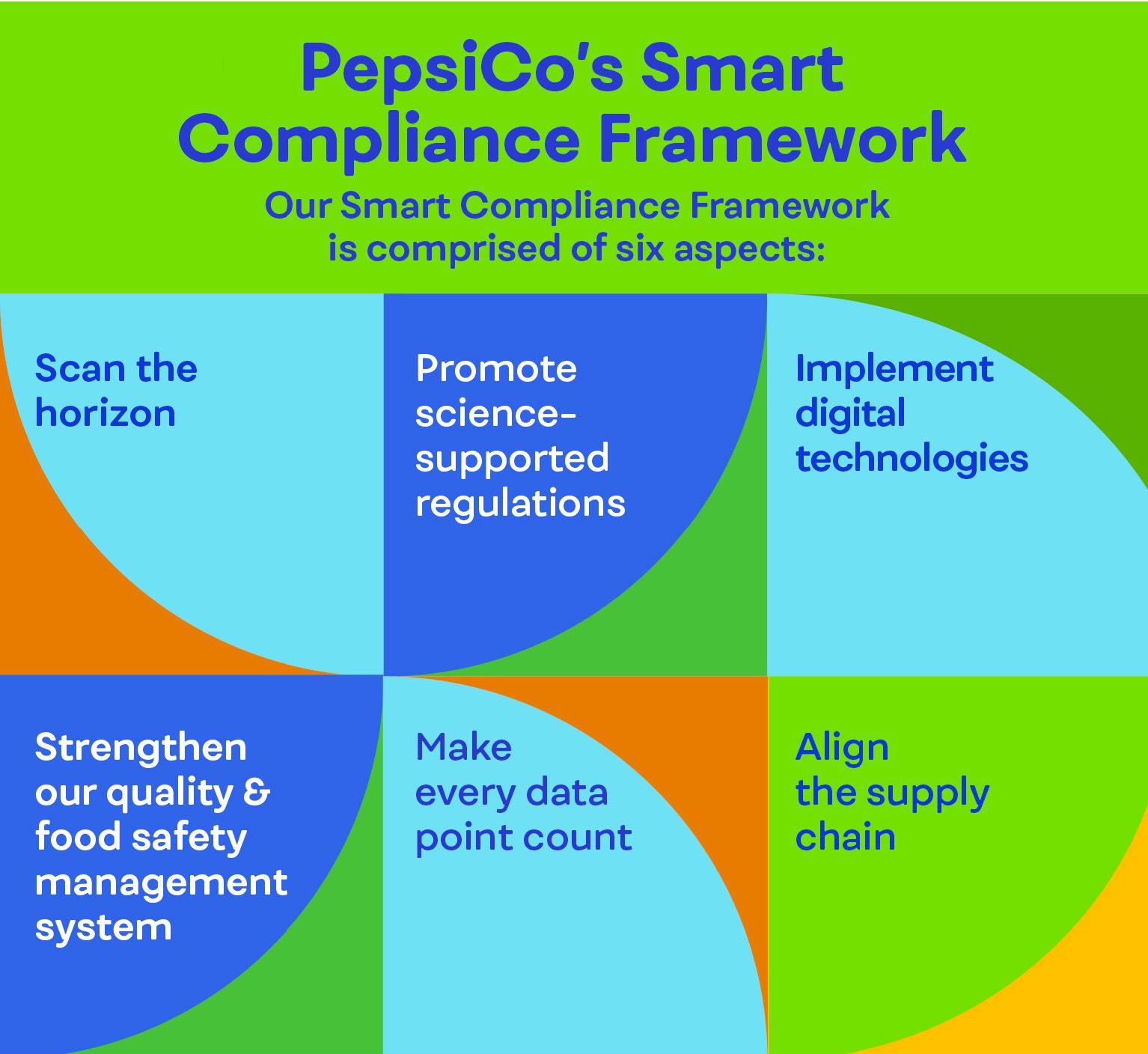 Progress
In 2021, we continued to deliver strongly against our Smart Compliance framework as follows:
Scan the horizon: PepsiCo has established a diverse cross functional team that provides formal governance to assess and escalate new science and potential regulations that should be acted upon.
Promote science-supported regulations: Engagement with external organizations has helped define new and enhance existing food safety regulations and standards. PepsiCo is committed to learning from the U.S. Food Safety Modernization Act (FSMA) and EU Official Control Requirements (EU OCR) and we have incorporated these best practices into our global standards, where appropriate.
Implement digital technologies: We continue to invest in new IT systems to connect ingredient and product specifications across our system, enhancing product traceability. We have implemented a robust centralized digital system that details past and current results in recalls, regulatory violations, Global Food Safety Initiative (GFSI) performance and other quality and food safety programs. This system enables us to deliver proactive insights and targeted actions to minimize risk across our entire organization.
Strengthen our quality & food safety management system: We have applied new tools to assess product and process risk on an increased range of food safety and quality dimensions and implemented tailored mitigation strategies. This has improved speed to market while enhancing diligence across our auditing and verification programs. We have also aligned our Product Incident Program and Global Food Safety Policy and updated critical food safety standards to assure the safety of incoming ingredients and manufacturing of our products.
Make every data point count: We continue to assess new opportunities to enhance testing capability and efficiency such as rapid allergen and microbiological testing.
Align the supply chain: Through external industry partnerships such as GFSI and AIB International certifications, we have aligned food safety content, enhanced audit outputs, and reduced the need for re-auditing.
It is our policy for PepsiCo-owned manufacturing facilities globally to achieve GFSI-recognized certification. As of the end of 2021, 99% of company-owned facilities achieved certification from a GFSI-recognized certification program owner such as Food Safety System Certification (FSSC) 22000. Most were to a GFSI benchmarked standard, however due to COVID-19 some were conducted remotely.
In addition, it is our policy for suppliers of ingredients to achieve certification to a GFSI recognized standard, including Good Agricultural Practices (GAP) for agricultural commodities, or to demonstrate equivalence through a PepsiCo pre-approval audit scheme. We continue to work with suppliers to increase the proportion of GFSI certifications worldwide.
PepsiCo has established systems and processes to effectively manage and track food safety related regulatory inspections activities globally. In 2021, zero facilities globally had regulatory violations defined as U.S. FDA warning letter or equivalent.
During the same period, we produced more than 90 million metric tons of food and beverage, of which we recalled 20 metric tons, all voluntarily. None of the recalls were classified as notable as defined in the SASB Processed Food standard.
In 2021, PepsiCo's quality & food safety learning solutions were delivered to our associates across all sectors to build the knowledge and skills they require. Training modules were provided to both company-owned and third-party partners at different levels and details reflecting the various training needs of our associates. Due to COVID-19 constraints, instructor-led training solutions were delivered in virtual forms.
In ensuring the safety and quality of our products, we celebrate our progress while remaining focused on overcoming the challenges we face.
Progress
At the end of 2021, 99% of our company-owned facilities had achieved certification from a GFSI-recognized certification program owner.
Challenges
The dynamic regulatory environment, acquisition and integration of existing businesses, acceleration of innovation, regionally-driven consumer products and increasing sensitivity of analytical techniques requires constant horizon scanning and proactive quality and food safety.
What's next?
We continue to work with third-party manufacturers and suppliers to expand the use of GFSI recognized certifications. We are also increasing our focus on food safety culture and engagement from the executive to the front line. In 2022, food safety will be a specific feature in our company wide code of conduct training.
In addition, we will continue to refine and improve our Smart Compliance framework, making further investments in information and communications technology, strategic external partnerships, and active engagement with regulators, NGOs and other bodies to enable science and risk-based regulation. Our enterprise-wide systems investments must meet future requirements by our regulators and customers for accuracy and speed.
Last updated
November 22, 2022