To PepsiCo:
Conducting materiality assessments keeps us focused on issues that are important for our business and stakeholders. This ensures we stay abreast of the rapidly-evolving sustainability landscape, affirms our priorities and helps us to focus resources where they will have the greatest impact as we work to produce consistent, comparable and reliable sustainability disclosures.
To the World:
A materiality assessment identifies the social and environmental issues that are most important to a business and its stakeholders such as investors and customers. The Global Reporting Initiative (GRI) Standards provide a framework for assessing material issues and defining boundaries. Transparency around companies' materiality approach and results can give stakeholders confidence in the robustness of their sustainability programs.
Approach
In 2021, we announced and began to execute our new pep+ (PepsiCo Positive) strategy. It encompasses three pillars — Positive Agriculture, Positive Value Chain, and Positive Choices — spanning our value chain, end-to-end. This ambition includes sourcing crops and ingredients in a way that restores the earth, making our products in a way that's sustainable and fair, and inspiring people to make positive choices for themselves and for the planet.
The design and launch of pep+ required that we critically re-evaluate and prioritize the set of sustainability issues that we consider most material to our business. These are the ones most relevant to PepsiCo, both through the impact they have on our business and, conversely, through the impact our business has on them.
Ultimately, our aim was to establish a framework for addressing material issues that is inspiring and systemic in nature; clear and coherent; market-leading; credible and grounded in science; and built to last. Our updated material issues framework was developed based on multiple inputs and activities, including:
Hotspot analysis to understand and establish baseline impact
Impact mapping to identify the most important impacts that different stakeholders may experience as a result of PepsiCo's business activities
Working sessions with internal and external experts to assess hotspot assessment and impact mapping
Peer benchmarking to identify industry trends
Recognized measurement frameworks, methodologies, and approaches to ensure our framework is credible and comparable. These included the Global Reporting Initiative (GRI) and the Science Based Targets Initiative (SBTi)
This process was undertaken by a cross-functional team led by PepsiCo's senior leadership and supported by external sustainability experts. The outcome – our pep+ strategy and the set of material issues it addresses – was confirmed in 2021 by PepsiCo's Chief Sustainability Officer, and ultimately approved by our CEO and Executive Committee.
Progress
pep+ represents a strategic end-to-end transformation of how the company will create value by operating within planetary boundaries and inspiring positive change for the planet and people. It does not, however, trigger a significant departure from the specific issues that we have long considered to be most material for our business. Through the lens of our new framework, these are illustrated below.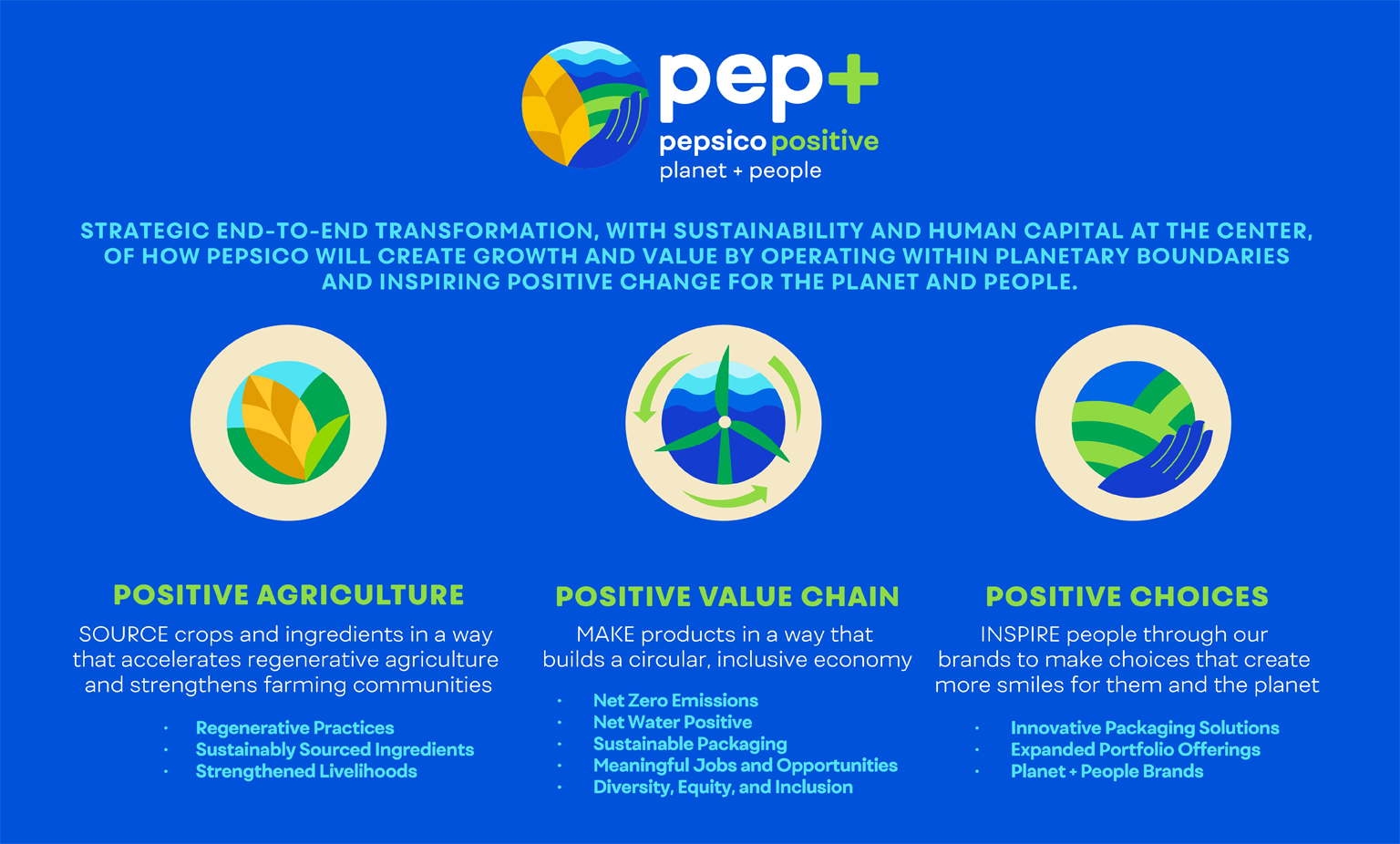 What's next?
Ensuring our focus remains on the most material topics requires continual evaluation and, when necessary, adjustment. While we are confident that our chosen priorities are enduring and essential to our business and stakeholders, we recognize the ever-changing nature of our operating environment.
*In this communication and in our other sustainability reports and statements, when we use the terms "material," "materiality," and similar terms, we are using such terms to refer to topics that reflect PepsiCo's significant economic, environmental and social impacts or to topics that substantially influence the assessments and decisions of stakeholders in what the GRI Sustainability Reporting Guidelines define as "material topics." We are not using these terms as they have been defined by or construed in accordance with the securities laws or any other laws of the U.S. or any other jurisdiction, or as these terms are used in the context of financial statements and financial reporting, and nothing in this communication or other sustainability reports and statements should be construed to indicate otherwise.