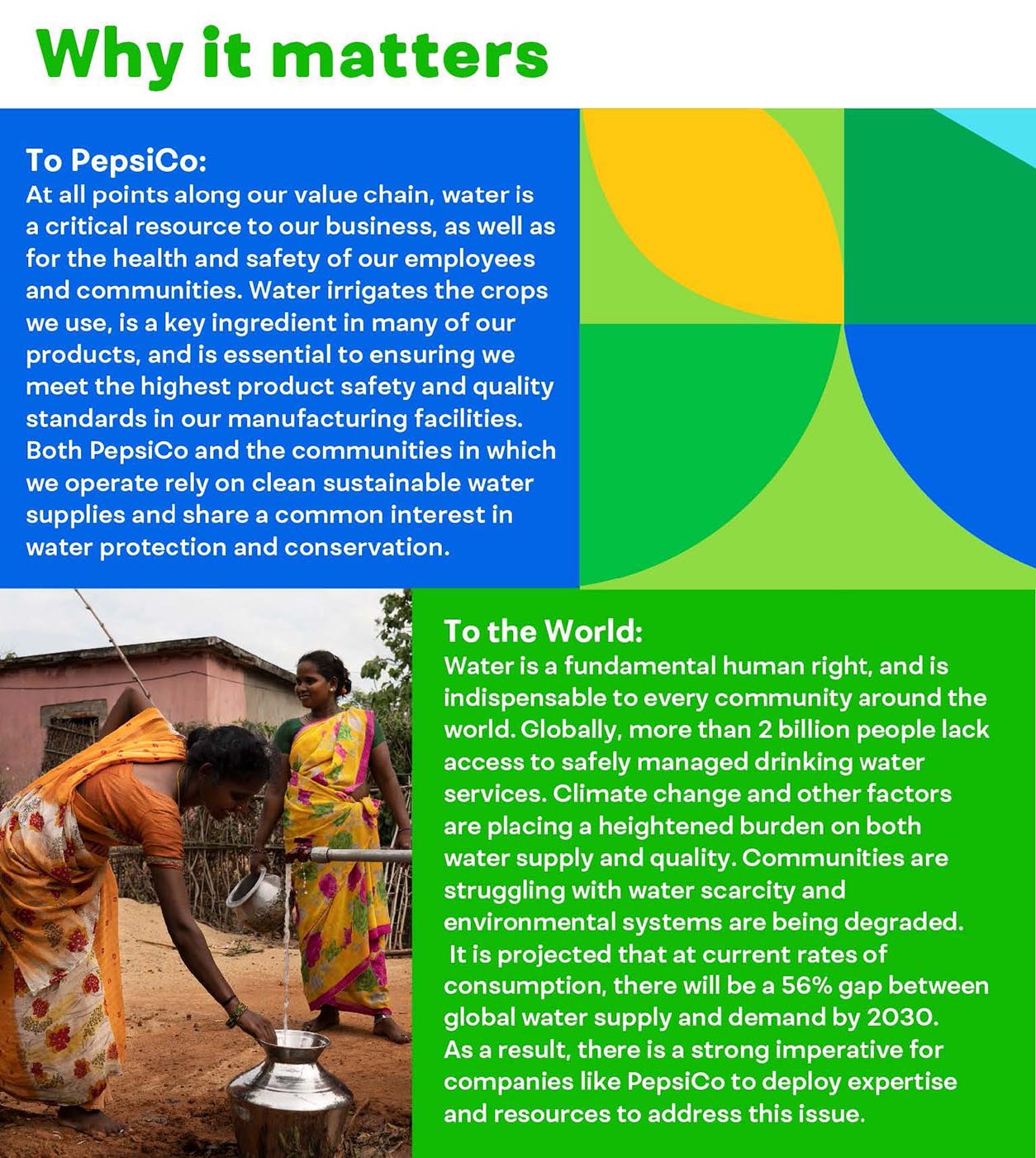 Approach
Water stewardship has long been one of PepsiCo's top priorities, and it's an important part of building a Positive Value Chain. As one of the first companies of our size to acknowledge water as a human right, we have a vision to become net water positive.
In order to achieve this, we have adopted an approach to watershed management that includes improving water-use efficiency across our value chain: on farms and in manufacturing facilities; replenishing water and improving the health of the local watersheds that are most at risk and where we operate; and increasing safe water access for communities that face water insecurity, including scarcity and unsafe water sources. As a convenient foods and beverages company, PepsiCo is acutely aware of the critical role water plays in the food system, and it is our vision that wherever in the world PepsiCo operates, water resources will be in a better state because of our presence. We work to understand the water challenges at a local level and support collaborative solutions that address the specific needs of the watershed and the communities that depend on it.
Goals
We have set standards for ourselves and our supply chain that support our vision for net positive water impact, and ultimately — a Positive Value Chain. To this end, in 2021 we announced a new, impact-driven ambition, including a set of 2030 goals aimed at becoming net water positive in our operations, enhancing watershed management in our agricultural supply chain and contributing to community water health. All together, our water ambition aims to reduce absolute water use and replenish back into the local watershed more than 100% of the water used. This 2030 agenda builds on our prior 2025 commitments and includes a specific focus on:
Agriculture
Advocating for and contributing to a measurable improvement in the health of high water-risk watersheds where we directly source our crops, including an improvement in water-use efficiency of 15% (by 2025, measured versus a 2015 baseline).
Operations
Achieving "best-in-class" or "world-class" water-use efficiency at all company-owned and third-party manufacturing facilities by 2030, covering more than 1,000 facilities in high-risk and lower-risk watersheds.
In high water-risk areas, replenishing more than 100% of the water that we use in company-owned facilities and 100% of the water used in third-party manufacturing facilities back into the local watershed by 2030.
Adopting the Alliance for Water Stewardship Standard in all high water-risk company owned facilities by 2025.

Community
Providing 100 million people safe water access by 2030 (baseline year 2006).
Agriculture
To improve our water-use efficiency, we identify opportunities in at-risk locations, develop phased action plans, ensure farmers have the correct equipment, and train farmers to execute against water goals. We help farmers access more efficient irrigation equipment, support best practices for scheduling and maintenance, and enable the transition from flood irrigation to more efficient methods, such as drip irrigation. We created 72 demonstration farms around the world, many of which feature water-use efficiency best practices or demonstrable improvements in water quality and provide an opportunity to engage large numbers of farmers in hands-on learning and understanding innovation.
Operations
Improving water efficiency
PepsiCo supports the principles of circular water within our company-owned manufacturing operations and third-party manufacturers. This means we look to reduce our freshwater footprint and identify reuse opportunities for treating process water within our own operations and those of our third-party manufacturers, particularly in high water-risk areas. The efforts we are taking through our operational water efficiency programs, behavioral changes, innovation in manufacturing and capital technology investments are delivering annual performance in line with operational targets.
We assess operational water efficiency against our peers, in both beverage and food production, based on publicly-available information as well as against peer company commitments and information shared with us through industry groups. With this knowledge, we have strived to set water efficiency goals that are best-in-class in the Consumer Packaged Goods industry for company-owned and third-party locations in high water-risk areas. Our definition of "best-in-class" is based on our assessments and benchmarking, and corresponds to using:
1.2 liters of water per liter of production in beverage plants, and
0.4 liters of water per kilogram of food within convenient foods production plants.
In PepsiCo and third-party sites not facing high water-risk, we strive for world-class water efficiency, which we define as using:
1.4 liters of water per liter of production in beverage plants, and
4.4 liters of water per kilogram of food within convenient foods production plants.
With these new goals, which build upon our 2025 goals, PepsiCo expects not only to improve production efficiency, but to also reduce absolute water use to recharge local watersheds. As part of our new ambition, we plan to expand beyond our own operations, working closely with third-party facilities to share best practices and drive towards best-in-class and world-class water-use efficiency, as appropriate.
In high water-risk areas, PepsiCo's new best-in-class efficiency standard would reduce our company-owned operational water-use by 50% by 2030 compared to a 2015 baseline. We aim to reduce our freshwater footprint as much as possible in all company- and third-party-owned manufacturing facilities in high water-risk areas and we are employing a range of creative solutions to do that. By raising our efficiency standard at 99 company-owned sites in high-risk watersheds, PepsiCo aims to avoid using more than 11 billion liters of water a year.
Our approach to improving operational water-use efficiency is multi-faceted and aims to capture efficiencies through initiatives such as our Resource Conservation (ReCon) program which identifies and shares operational efficiency best practices across our locations globally. We are also developing low water footprint manufacturing processes and investing in world-class technology, such as membrane technology, that allow us to safely reuse water within our manufacturing processes.
Water sustainability is integrated across all aspects of our business, including the design of line expansions, validation of new water reuse solutions, and innovation in product design through our Sustainable from the Start program. Through these and other projects, we expect to invest significantly in the coming decade to support our water strategy.

Water replenishment
Good quality fresh water is vital to our business, as a key ingredient for our beverages, to maintain sanitary conditions throughout our operations, to grow the crops within our agricultural supply chain and to produce other raw materials necessary for our business. We expect that future water dependency in our company-owned and third-party manufacturing operations will change with improvements in both operational and agricultural water-use efficiency and water availability. With that in mind, and given the risks facing good quality fresh water, PepsiCo aims to replenish more than 100% of the water we draw for our operations and 100% of the water we use in third-party manufacturing facilities in high-risk watersheds by 2030. In other words, we aim to put back more water than we take from local watersheds.
To do that, we're working with partners to deploy a range of initiatives that restore the health of high-risk watersheds. Each watershed is unique, and it is important that replenishment projects are informed by the local conditions within the areas that we source from. An understanding of the unique challenges and risks of the watershed helps to inform which tactics will be the most impactful. The most common types of projects are those that conserve and restore land, increase water supply reliability, improve water quality, and/or restore aquatic habitats.
Advocacy for improved water security
While we can make a significant impact in water stewardship through the actions we take across our value chain, we also have opportunities to help mitigate water insecurity on a broader level, through advocacy for improved water governance and through increased collective action.
We support existing collaborative efforts to address water risk and mitigate water insecurity. In the absence of current collaborations, we seek out new opportunities to partner with other stakeholders. We do this by advocating for the adoption of smart water policies and regulations; by sharing information and best practices with water stakeholders; and by providing public education and training for consumers and communities. In addition, we joined the Alliance for Water Stewardship (AWS) in 2018 and aim to adopt the AWS Standard at all of our high water-risk facilities by 2025, using it as a vehicle for advocacy and to help ensure that freshwater resources in high water-risk locations are available for all water stakeholders.
Community
Water is a fundamental human right, and the fact that billions of people have been left with limited access to it for decades is a problem of global importance that must be addressed rapidly. Today, 2 billion people— about 1 in 4— lack access to safely managed drinking water services. Water insecurity puts communities at risk, increasing negative health outcomes, decreasing food availability, and, in the worst cases, driving communities out from their homes.
Over the last 15 years, PepsiCo and the PepsiCo Foundation have helped more than 68 million people gain access to safe water through distribution, purification and conservation programs – putting PepsiCo and the PepsiCo Foundation two-thirds of the way to our goal of providing access to safe water for 100 million people by 2030.
The PepsiCo Foundation has invested more than $55 million in safe water access programs, leveraging approximately $740 million in additional funding from other donors.
Our community water programs, hosted in Latin America, Asia, the Middle East and Africa primarily, are designed to help improve water security, including building sanitation facilities and community water systems, providing loans to families to build water infrastructure in their homes, supporting local water entrepreneurs, installing community water access points and helping to rehabilitate natural springs.
Governance
Our global approach to water stewardship is led by a team of water experts in PepsiCo's Global Sustainability Office. They, in turn, work in partnership with our respective sector teams and external partners to execute our strategy and work toward achieving our commitments. PepsiCo's water strategy applies to the entire organization, including all companies, entities or groups over which operational control is exercised. Portions of our water strategy, including world-class water efficiency and replenishment, also apply to third-party manufacturers. A sustainability subcommittee of the Executive Committee includes water stewardship among its areas of focus. At the Board level, the Sustainability, Diversity and Public Policy Committee oversees key water risks and practices.
Assessing water risk
Through our Enterprise Risk Management process, we identify and assess water-related risks within our direct operations and other stages of our value chain twice a year. Supplementing that process, we also conduct an in-depth global water risk assessment of all our company-owned operations on a rolling three year cycle. Partnering with a specialized environmental consultancy, we have developed a robust water risk assessment process that leverages multiple data sets and local insights. This process is designed to provide PepsiCo with a holistic view of all water-related risks, both current and future, in our global manufacturing locations.
Some of the inputs used include: the World Resources Institute's (WRI) Aqueduct tool, local site risk assessment surveys, and third-party independent expert experience and knowledge operating within the watersheds. This helps us to determine and quantify the level of physical (quantity and quality), regulatory and reputational water risk.
The outcome of our operational water risk assessment informs which sites are designated as high risk and allows us to focus our efforts and resources where it matters most.
Progress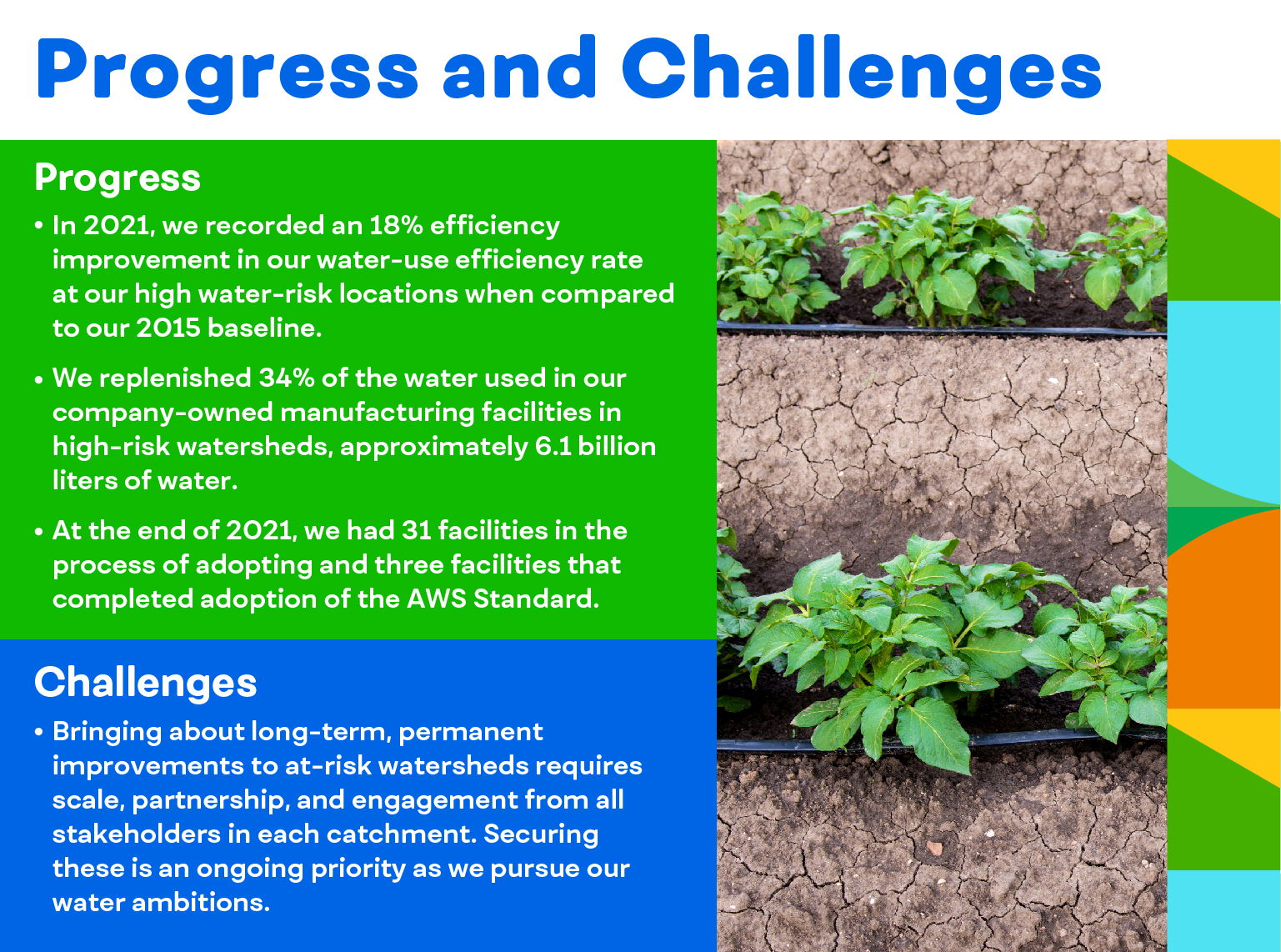 Improving water-use efficiency in agriculture
Measuring our agricultural water consumption requires the support of hundreds of farmers in a complex global value chain. We collect and publish agricultural water-use efficiency data every three years, or sooner if warranted by organizational changes, updated methodologies, or more accurate data. Our most recent data collection was conducted in 2020. Between 2015 and 2020, we improved direct agriculture water-use efficiency in our high water-risk regions by 14%. As the science evolves, we continue to improve the integrity and efficiency of our data collection, processing, and reporting system.
Improving water-use efficiency in our direct operations
In 2021, PepsiCo had 99 high water-risk manufacturing locations as defined by our global water risk assessment process. These locations span five continents and 18 countries and account for more than 30% of our company-owned manufacturing sites. Eleven of our top 24 markets have manufacturing operations in high water-risk locations and high water-risk sites account for more than 25% of our company-owned production output. To track our operational water-use efficiency goal, we measure both water withdrawal (the total amount of water that we remove from a water source) in high water-risk areas and non-high water-risk areas as well as the volume of product produced. In 2021, we withdrew approximately 86 million cubic meters of water across all company-owned operations — approximately 20% from regions of high water-risk. Water consumption (the amount we withdraw that is not replenished back into its source watershed) across PepsiCo was approximately 29 million cubic meters of water — approximately 20% from regions of high water-risk.
In 2021, we recorded an 18% efficiency improvement in our water-use efficiency rate at our high water-risk locations when compared to our 2015 baseline. This represents a nearly 3% improvement from the prior year and builds on a 26% improvement already achieved between 2006 and 2015 as part of our Performance with Purpose goals.
Water replenishment
In 2021, through our projects across the globe, we replenished more than 6.1 billion liters of water, or 34% of the water we consumed in our company-owned manufacturing facilities in high-risk watersheds. Progress is driven by 31 projects across the globe, with our support of the Greater Cape Town Water Fund and our reforestation partnership with the Arbor Day Foundation in California representing the projects with the greatest individual impacts.
Access to safe water
In 2021, the PepsiCo Foundation continued to expand the reach of its safe water access program, helping to provide safe water access to more than 68 million people since 2006, with a goal of reaching 100 million by 2030. To continue to advance this goal, the Foundation is providing grants over three years to two new water stewardship programs in Latin America and Africa.
Building on a decade-long, successful partnership with the Inter-American Development Bank (IDB)'s Aqua Fund, the PepsiCo Foundation aims to improve water access and sanitation services across the Latin America region, bringing the Foundation's total investment to over $10 million.
In Nigeria, the Foundation is providing a $1 million grant to WaterAid to support the construction of water supply and sanitation facilities and the development of programs to promote good hygiene practices.
When COVID-19 struck, we supported WaterAid's global emergency response with the installation of handwashing stations and mass media awareness campaigns. In Pakistan and India, the PepsiCo Foundation helped fund a prevention campaign reaching more than 24 million people with crucial messages on social distancing and handwashing with soap.
Advocacy for improved water security
In 2019 we launched pilot projects to adopt the AWS Standard at high water-risk facilities in South Africa, Pakistan and Mexico, with a fourth pilot launched in the United States in 2020. These pilots stood up cross-functional teams of PepsiCo associates who have come together to diagnose local water risks and opportunities for the facilities to be good water stewards. At the end of 2021, we had 31 facilities in the process of adopting and three facilities that have completed adoption of the AWS Standard.
Strategic Partnerships
PepsiCo draws on the expertise and local knowledge of an array of partners in order to deliver on its water stewardship ambitions. These include non-profit organizations, research institutions, developmental experts as well as collaborative initiatives. For detail on a selection of these partnerships, see Water partnerships and engagements.
What's Next?
In the coming year, we will work to bring our new "net water positive" vision to life. This will include prioritizing:
Agricultural water-use efficiency: Continually improving water-use efficiency towards our 2025 goal with a particular focus on our most severely high water-risk growing regions;
Operational water-use efficiency: Working towards achieving "best-in-class" or "world-class" water-use efficiency at our nearly 100 high-risk sites, more than 350 third-party bottler and franchisee facilities in high-risk watersheds, nearly 200 other company-owned sites and more than 440 other franchisees and third-party bottler locations;
Water replenishment: In high water-risk areas, aiming to replenish more than 100% of the water that we use in company-owned facilities and 100% of the water used in third-party manufacturing facilities back into the local watershed by 2030;
Community access to safe water: Implementing new programs and expanding existing partnerships to make progress on our safe water access goal benefiting a total of 100 million people by 2030; and
Advocacy: Scaling up our efforts to start adopting the Alliance for Water Stewardship Standard at our high water-risk facilities in new geographies.
Last Updated
August 2, 2022