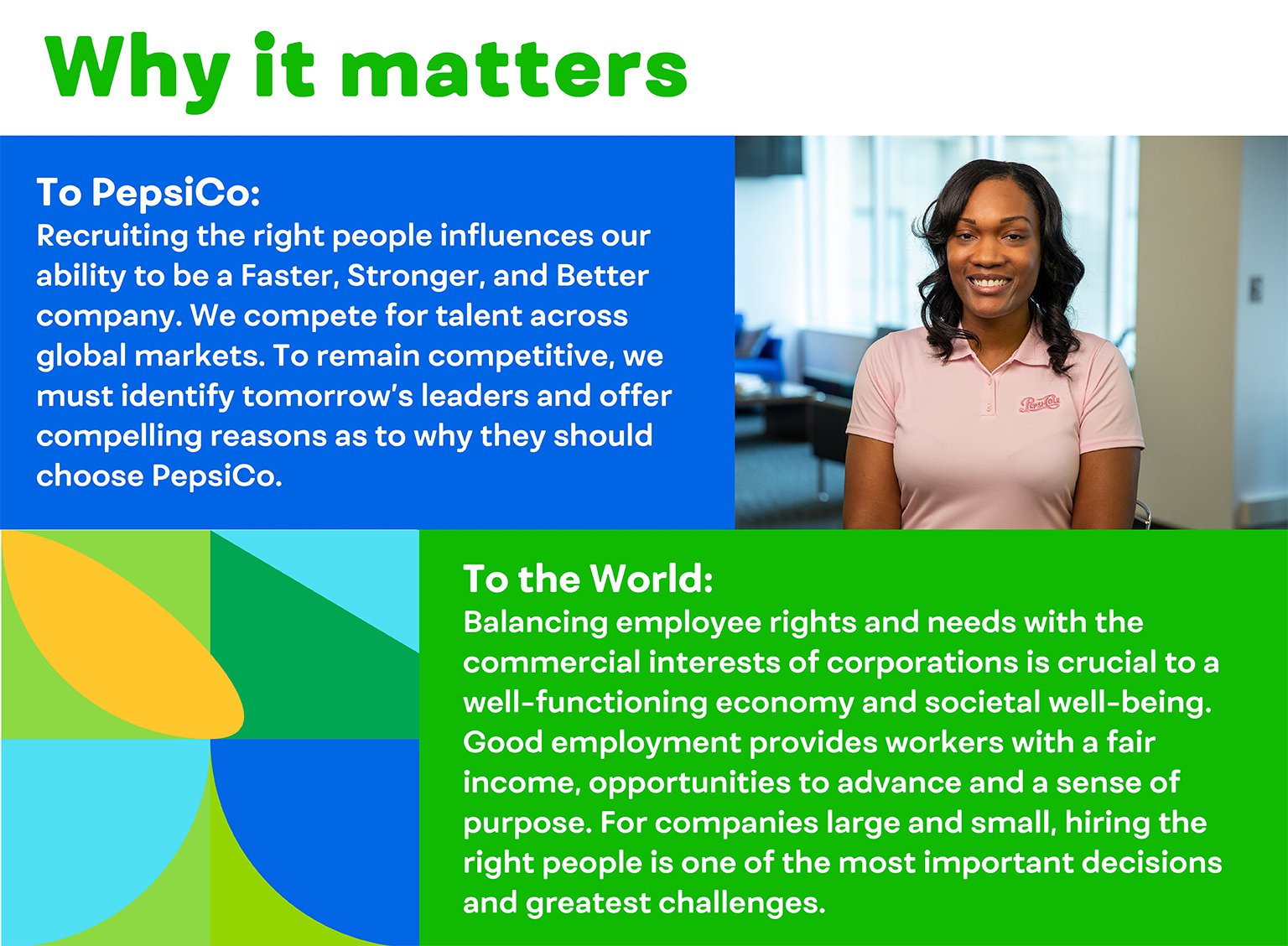 Approach
To attract the best and brightest in a competitive talent landscape, we strive to maintain our reputation as a great place to work. Our employer brand showcases both our market successes and a collaborative, dynamic work environment through which our associates make impactful contributions and win with purpose. Through this platform, we are engaging with our current associates, and inspiring our teams to move Faster, Stronger, and Better with PepsiCo. In addition, we are focused on continuing to attract top talent and encouraging candidates to bring their unique skills and experiences to our global stage.
As part of our pep+ (PepsiCo Positive) ambition, we're striving to develop a Positive Value Chain by building a more inclusive workplace, and by supporting inclusion beyond our own walls. This means working to advance human rights and diversity, equity and inclusion (DE&I) for our employees, our business partners, and our communities. Our recruitment practices are an important tool for achieving measurable progress towards our Racial Equality Journey goals in the U.S.
In addition to bolstering our attraction and engagement strategies, PepsiCo's global Talent Acquisition team has continued to deploy a balance of both traditional and progressive recruitment methods in order to attract and retain a diverse and engaged workforce. We continue to grow our reach in traditional channels such as campus recruiting, while also pursuing proactive pipelining strategies tapping into alternative sources of talent to reach future prospects.
Progress
In 2020, the global job market underwent significant volatility, as the global COVID-19 pandemic left unprecedented numbers of people looking for new work. With face-to-face engagement not feasible in many markets, our Talent Acquisition team transformed its recruitment process to support virtual interviewing and onboarding for candidates — professional and student. We continue to embrace advancements in mobile technology and have made significant mobile and digital enhancements to our external careers site, pepsicojobs.com.
In addition, we've sustained continued growth on social media platforms with an active presence on key channels including LinkedIn, Facebook, Instagram, and Twitter. We also have a strong overall culture rating on Comparably, receiving Best CEOs for Diversity in 2019, Best Company for Leadership 2020 and Best Company Global Culture in 2021. We are proud to see our highest marks coming from our work culture, diversity, retention, and compensation categories. Our LinkedIn followership has soared to more than 5 million since the start of 2019. On Glassdoor, where talent can read transparent reviews from both employees and prospective candidates, we are proud to have a 4 out of 5 star rating.
PepsiCo is proud to be named on Fortune's 2021 "World's Most Admired Companies" list for the 16th consecutive year. In 2021, PepsiCo was also awarded Top Employer Global Certification for the first time, one of 16 companies recognized worldwide.
At PepsiCo, we are constantly connecting with students around the country as part of our efforts to identify tomorrow's leaders. We value our partnerships with colleges across the U.S. and we held more than 6,500 interviews with the class of 2020. These efforts yielded more than 2,500 student job offers with more than 1,700 acceptances, a 68 percent offer acceptance rate. Of the acceptances, approximately 43 percent were full time hires and the remainder were intern or co-op hires. We are pleased to have extended full-time offers to more than 675 interns during the year, of whom approximately 72 percent accepted the offer.
Strategic Partnerships
Attracting and retaining female leaders across global sectors remains a key component of our recruitment strategy, and we've partnered with leading female-focus platforms such as Fairygodboss in order to advance these efforts.
In addition, we continued to build upon our partnerships with external organizations focused on developing diverse undergraduate and graduate students, such as Management Leadership for Tomorrow, The Consortium for Graduate Study in Management, National Sales Network, National Association of Black Accountants (NABA), the Society of Women Engineers, and The National Black MBA Association.
What's Next?
PepsiCo is on a transformational journey to be the global leader in convenient food and beverages and talent acquisition is a key enabler in making this possible. Since then, major world events have redefined the relationship between people and their work.
In order to progress our Positive Value Chain ambition, we will continue to position ourselves as a top destination for skilled and specialized talent; an employer of choice for early career entry points; and a consistent, equitable experience for all candidates. We will continue to work toward increasing global female representation; and delivering on Black and Latinx talent commitments in the U.S.
Talent Acquisition will leverage technology to provide candidates with a consumer-grade digital experience; renew emphasis on building talent pipeline strategies based on ever-changing market insights and talent dynamics; and prioritize evolving a differentiated employee value proposition to help increase brand strength, diversity, and critical skill sets.
Last Updated
September 15, 2021