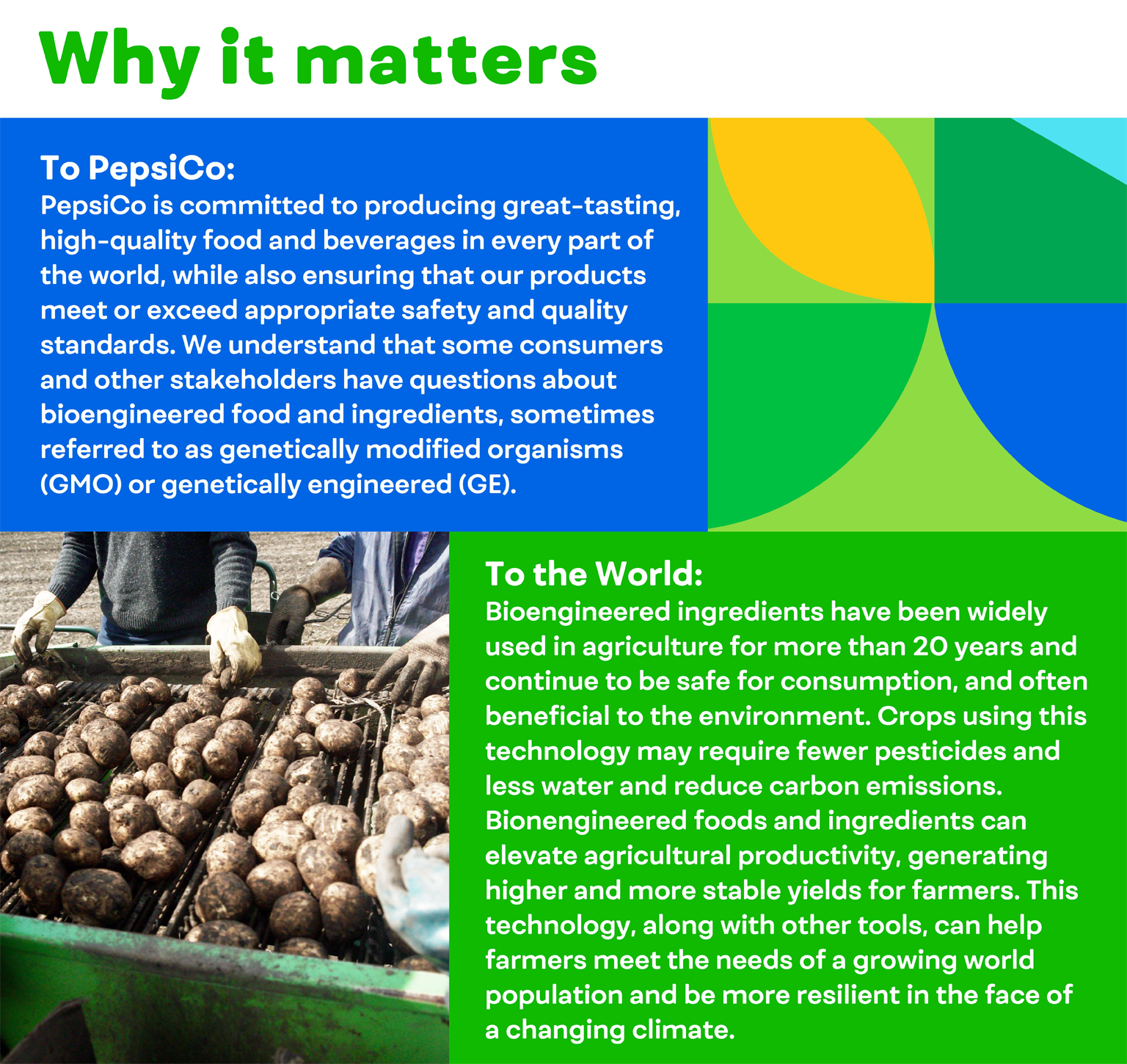 Approach
We understand that some consumers and other stakeholders have questions about bioengineered food and ingredients, sometimes referred to as genetically modified organisms (GMO) or genetically engineered (GE). As new technologies have developed, concerns have arisen around potential impacts to human health or the environment. Food and consumer safety is important to PepsiCo, and we support the use of innovative technologies when they have proven safe for humans and the environment.
The use of bioengineered food and ingredients is safe. Some of the most prominent regulatory agencies and organizations that study the safety of the food supply, including the U.S. Food & Drug Administration, the American Medical Association, the World Health Organization, Health Canada, the European Food Safety Authority, the U.S. Department of Agriculture, and the National Academy of Sciences, have found that bioengineered food and ingredients are safe, and no negative health effects associated with their use have been recorded.
Suppliers who use bioengineered ingredients are expected to follow the same guidelines as conventional suppliers. Our Global Sustainable Agriculture Policy sets standards of performance and expectations for growers across our diverse, global supply chains, including compliance with governmental laws, regulations, and industry standards as well as appropriate use of pesticides. For more information, please see Pesticides and Other Agrochemicals.
PepsiCo's use of bioengineered ingredients

Government approval of the usage and labeling of bioengineered foods differs from market to market. PepsiCo complies with all relevant regulatory requirements where we operate. Like other global food and beverage companies, PepsiCo recognizes that different regional markets can have different expectations and consumer preferences as well as varied raw material availability. Depending on local factors, individual business units may choose not to use bioengineered ingredients, even if government-approved for use. For example, we offer "Non-GMO" verified products in our Stacy's Pita Chips, Quaker Organic Oatmeal, SIMPLY brand snacks, and Off the Eaten Path product lines in certain markets.
Labeling
PepsiCo ensures that products containing bioengineered materials comply with local regulations for their use, including any labeling requirements. We want consumers to have clear and helpful information about their foods and beverages and believe that any labeling standards established in this regard should be clear and consistent so that consumers can better understand the safety, prevalence, and benefits of bioengineered ingredients and can make informed choices for themselves and their families.