To PepsiCo:
The manufacture and distribution of our products requires energy. Transitioning to renewable energy is an important part of achieving our net-zero emissions goal by 2040.
To the World:
The global economy depends on energy, yet traditional fossil fuel sources contribute to climate change. Society is looking to governments and large companies to show the leadership necessary to limit global warming to 1.5 degrees Celsius. Our stakeholders expect us to reduce our energy footprint and transition to renewable energy to create a low-carbon value chain.
Approach
As we strive to reach net-zero emissions and help drive a Positive Value Chain, we are aiming to achieve 100% renewable electricity in our operations by 2030 and additionally in all our franchise and third-party operations by 2040.
In 2020 and again in 2021, PepsiCo sourced 100% renewable electricity for our U.S. direct operations, our largest market, accounting for nearly half of our total global electricity consumption. Our shift towards renewables globally has had a rapid and significant impact on PepsiCo's 2021 carbon footprint, delivering a 25% reduction in company-wide direct operations (Scopes 1 and 2) greenhouse gas (GHG) emissions relative to a 2015 baseline. This represents major progress against the company's goal of cutting Scope 1 and 2 GHG emissions by 75% by 2030 (against a 2015 baseline).
With PepsiCo's scale, the transition to renewable energy across all company-owned and controlled operations, franchise, and third-party operations has the potential to reduce approximately 2.5 million metric tons of GHG emissions by 2040, the equivalent of taking more than half a million cars off the road for a full year.
Progress towards our goal is being achieved in part by building new wind and solar installations at our plants and distribution centers, coordinated by local and sector teams. Additional renewable electricity is purchased through the grid where our facilities operate, an effort that combines global and sector sustainability teams in partnership with our global procurement function. To achieve 100% renewable electricity, PepsiCo has targeted a diversified portfolio of solutions. These include Power Purchase Agreements (PPAs), which finance the development of new renewable electricity projects such as solar and wind farms, as well as energy attribute certificates (EACs), known as renewable energy certificates (RECs) in the U.S., from existing wind or solar farms, which are credits certified by independent third parties that support existing electricity generation from renewable sources.
Progress
In 2022, having met our goal to source 100% renewable electricity in the U.S., PepsiCo was named as the 11th top corporate buyer of clean power in North America by the EPA Green Power Partnership. This milestone, paired with a further 40 countries in which we have on-site renewable generation or have contracted for renewable electricity, means that PepsiCo's total renewable electricity consumption was approximately 3,000 GWh in its operations in 2021. Overall, PepsiCo's electricity use was 4,600 GWh, of which approximately 92% was purchased through the grid and approximately 70% of the company's direct global electricity needs were met through renewable sources.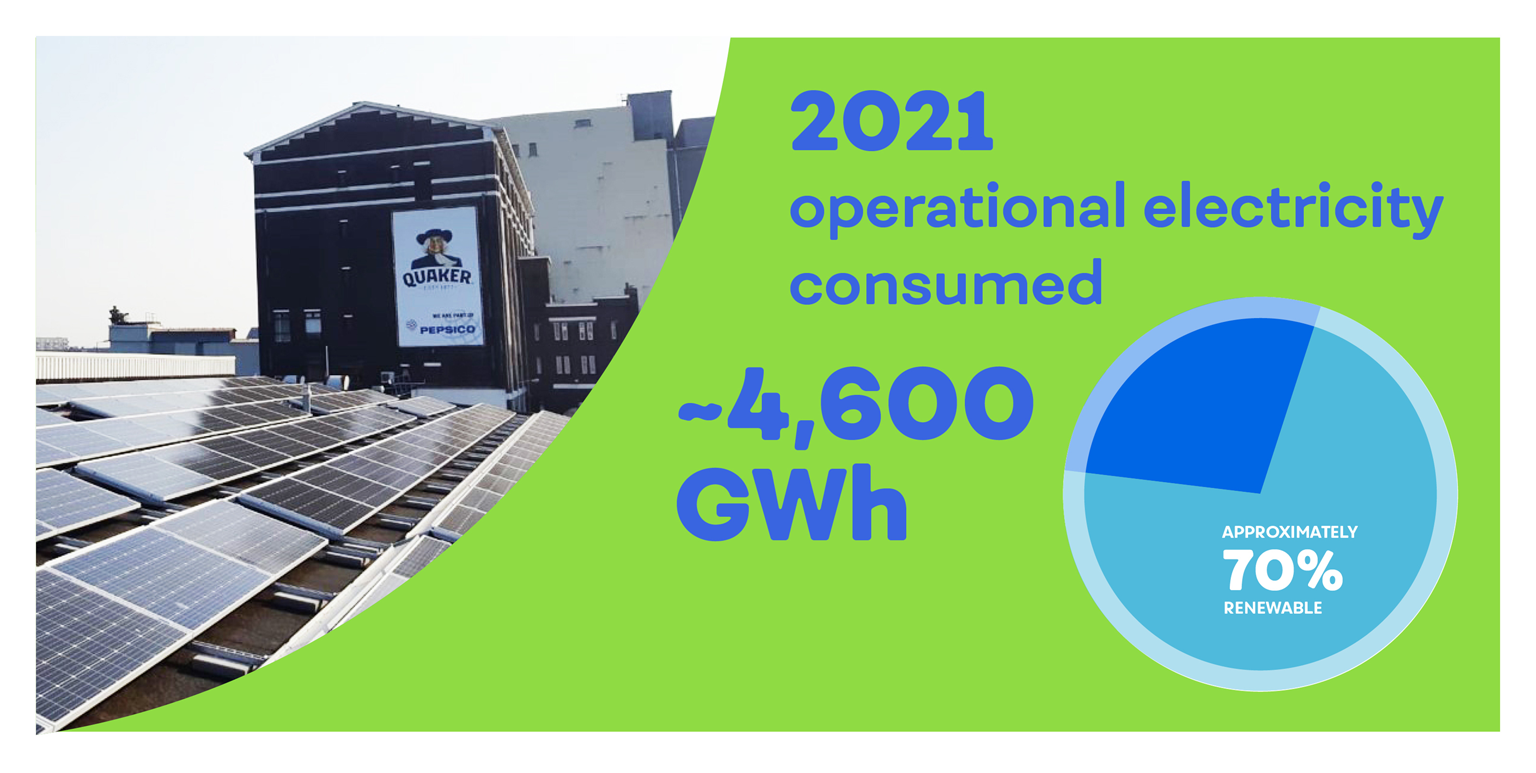 In 2021, 13 countries in PepsiCo's operations sourced 100% renewable electricity for manufacturing and non-manufacturing facilities, including Mexico and Turkey who achieved the milestone during the year. Twelve countries in PepsiCo's Europe sector already source 100% renewable electricity for their manufacturing operations only.

In our transition to renewable energy, we celebrate our progress while remaining focused on overcoming the challenges we face.
Progress
In 2021, PepsiCo worked diligently towards meeting its target to source 100% renewable electricity across all of its company owned and controlled operations by 2030 and third party operations by 2040, sourcing 100% renewable electricity in 13 countries.
Challenges
Meeting our science-based targets requires that we successfully scale up renewable projects and that our business partners (suppliers, contract manufacturers, franchise bottlers and joint ventures) all do the same. In some markets around the globe, doing so is not feasible today given local market and/or regulatory environments.
More than 400 solar panels help power the Quaker plant in Rotterdam, Netherlands. In July 2021, a planned wind project in Texas came online, accounting for nearly 11% of our total U.S. electricity needs.
Also in 2021, we partnered with Ørsted to purchase a portion of the electricity from a 298 MW wind installation.
Strategic partnerships
In order to meet our renewable energy commitment, we are proud to partner with leading energy experts, including: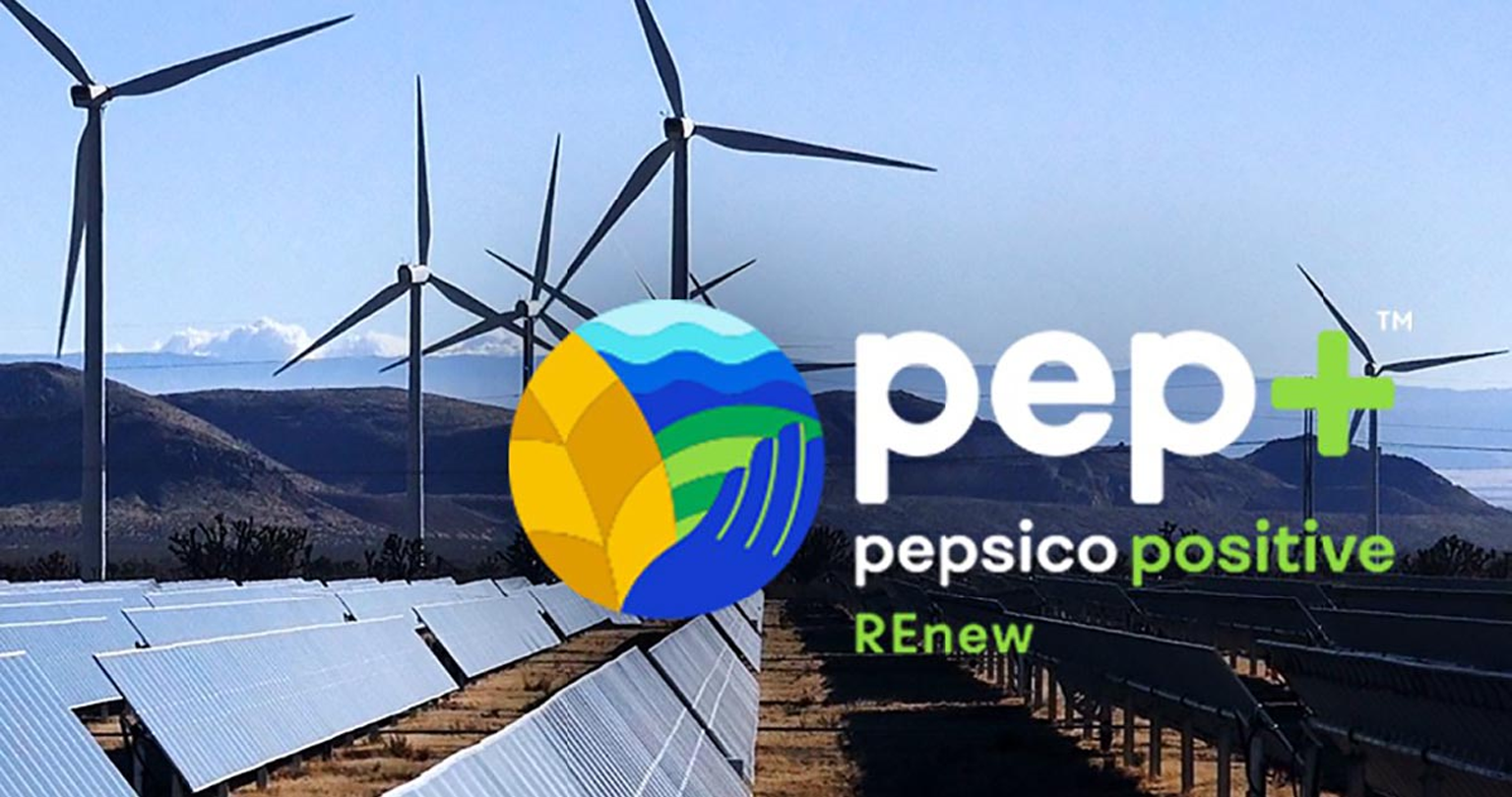 In 2022, PepsiCo launched pep+ REnew, an educational program to simplify the transition to renewable electricity for many businesses. Through a first-of-its-kind partnership for the food and beverage industry, PepsiCo has created pep+ REnew with Schneider Electric — an independent advisor on renewable energy purchasing. The goal: helping suppliers adopt renewable electricity in order to reduce their carbon footprints. PepsiCo partners who want to take part can register for free at the pep+ REnew site, schedule a call with Schneider Electric to discuss their electricity profile, and access online education resources. Once participants complete the curriculum of curated webinars, they have the opportunity to work with the Schneider Electric team to explore their procurement options.
What's next?
Advancing our net-zero climate goal and becoming pep+ (PepsiCo Positive) will require continued efforts to transition to renewable energy.
In our Alvalle plant in Alcantarilla, Spain we will be installing rooftop solar panels, which will provide approximately 20% of the facility's electricity needs.
We will continue exploring solar and wind projects in our European markets.
Last updated
November 23, 2022