To PepsiCo:
The future success of our company depends on our ability to hire and retain the most talented people. In a world where expectations of the workplace are changing rapidly, it's essential that we remain in tune with current trends, particularly to retain employees. Engaging with our employees is one of the key ways we stay on the pulse to ensure PepsiCo remains an employer of choice.
To the World:
Engaged employees have more fun at work, higher levels of career fulfillment, a better sense of well-being and overall more satisfaction with where they work. Ensuring that PepsiCo employees are engaged helps drive positive interactions between coworkers, as well as customers, consumers and other external stakeholders.
Approach
As part of our pep+ (PepsiCo Positive) ambition, one way we're striving to develop a Positive Value Chain is by building a better workplace. To meet this ambition, we're working to drive engagement amongst our employees — improving how they feel about their jobs, team and company direction.
Embedding authentic and shared company values is an important tool in establishing a positively engaged workforce. PepsiCo's Global Talent Management team is responsible for our employee engagement strategy and leads efforts to establish core cultural values and opportunities for employees to share feedback on their experience with the company.
These values, known as The PepsiCo Way, represent seven key employee behaviors that we believe will help to bolster our mission, drive our vision and help PepsiCo adopt the mindset of Winning with pep+. In pursuing this strategy, we strive to build a Faster, Stronger and Better company.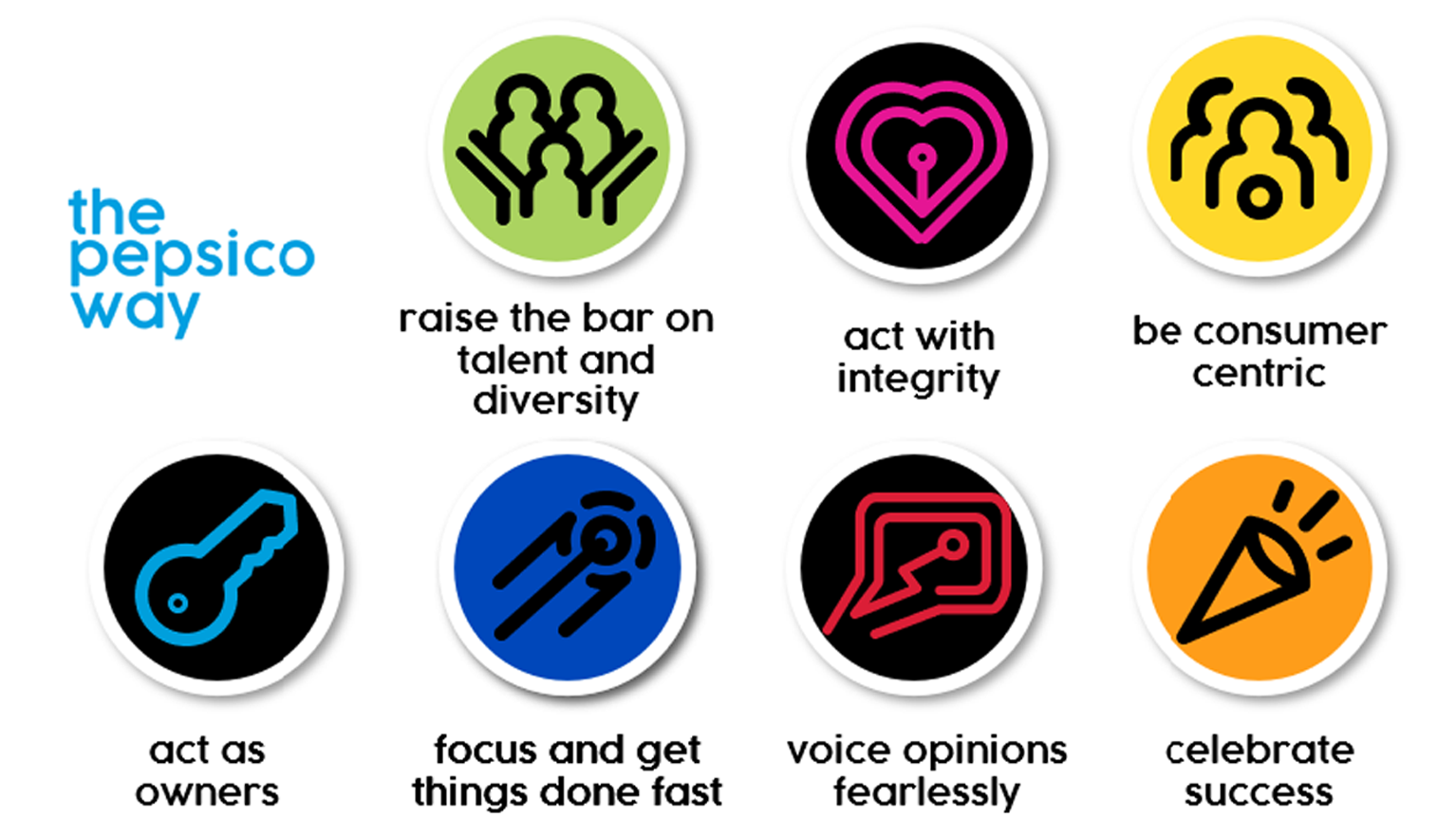 In order to achieve our ambitions, we have established various channels for employees to voice opinions fearlessly, one of the seven behaviors in The PepsiCo Way. These candid opinions are a critical input in identifying areas of organizational strength as well as opportunities to strengthen our practices. Each engagement channel is designed to provide the opportunity to speak up, providing valuable feedback to those empowered to address it. They include:
Organizational Health Survey (OHS), an annual census survey available to all employees to gauge employee engagement and commitment to PepsiCo.
Employee Confidence Index (ECI), a pulse check on employee engagement and confidence through sampling conducted three times a year.
Life cycle surveys, through which we measure employee experience and engagement at key moments in the employee life cycle.
These tools are publicized to every level of employee, from front line to executive. Senior leaders share global communications about the surveys, and posters, kiosks and QR codes help target every employee. Survey results are confidential, and individual results are never shared out. Results are aggregated and shared with team leaders where 5 or more responses are grouped.
Armed with results from these surveys, we identify opportunities for improvement at both the team and company levels. Each year, executive leadership and team leaders review the results of our OHS and ECI and recommend actions based on issues identified through the surveys. By listening to employees through these channels and acting to solve issues raised, we aim to ensure we are providing the best employment experience possible.
In addition to surveys, we have other initiatives to elicit employee ideas on company strategy and direction, such as our crowd-sourcing project, Next Big Idea.
Next Big Idea is an employee-led and -driven online business innovation game that allows employees to collaborate with colleagues around the world to act as owners, voice opinions fearlessly and share their ideas that will make PepsiCo Faster, Stronger and Better. Employees can participate in any capacity they choose: entrepreneur, expert, or investor. The top three employee teams, as voted by PepsiCo associates, are given the opportunity to present their ideas to senior leadership. This enables employees to help shape the future of PepsiCo.
Through our global employee recognition program, Smiles, we're further able to encourage The PepsiCo Way behaviors and impact employee engagement. The Smiles platform allows employees to give recognition to other employees for demonstrating The PepsiCo Way behaviors or to celebrate milestones like work anniversaries.
As we strive to achieve our pep+ strategy and to build a Positive Value Chain, we are aiming to provide meaningful jobs and growth opportunities for our people and empower them to enhance their well-being and make a positive impact at work, at home and in their local communities. Employee engagement is a key way to ensure that we can meet our ambitions. We will work closely with the PepsiCo Foundation to identify ways that employees can engage with their communities and with each other.
Progress
Our 2022 internal survey results show that PepsiCo associates feel high levels of pride in working for PepsiCo, are energized by their work and are confident in PepsiCo's future success. In 2022, 72% of all associates participated in PepsiCo's Organizational Health Survey (OHS). PepsiCo's OHS Score stood at a solid 79% with employee engagement at 82% and employee commitment at 76%. External benchmarking suggests that our employee engagement remains among the best.
In our OHS survey, perception of The PepsiCo Way improved in 2022 compared to 2021 scores, especially among frontline populations. To continue our journey on ingraining The PepsiCo Way behaviors, we will continue to leverage the Smiles platform, utilize the Next Big Idea and continue to rely on our strength in leadership to set future direction and meet employee needs. In 2022, employees sent more than 820,000 smiles on the platform, up 38% from 2021.
Volunteering is a way for all our associates to feel more engaged, have a sense of pride and establish a stronger connection with their local team and community. In 2022, we launched a new volunteering platform, One Smile at a Time, to provide a way for all our associates to give back to their communities.
What's next?
Looking ahead, we expect to continue the general structure and process of surveys such as our Organizational Health Survey and Employee Confidence Index as well as our Next Big Idea crowdsourcing initiative. We will continue to identify and implement opportunities to improve the employee experience.
To further ingrain The PepsiCo Way in employees' everyday behaviors, additional learnings and new methods are being developed as PepsiCo dedicates itself to simplification and understanding. We are dedicated to improving employee engagement and remedying any gaps identified from the previous years to better embed the PepsiCo Way within our workforce.