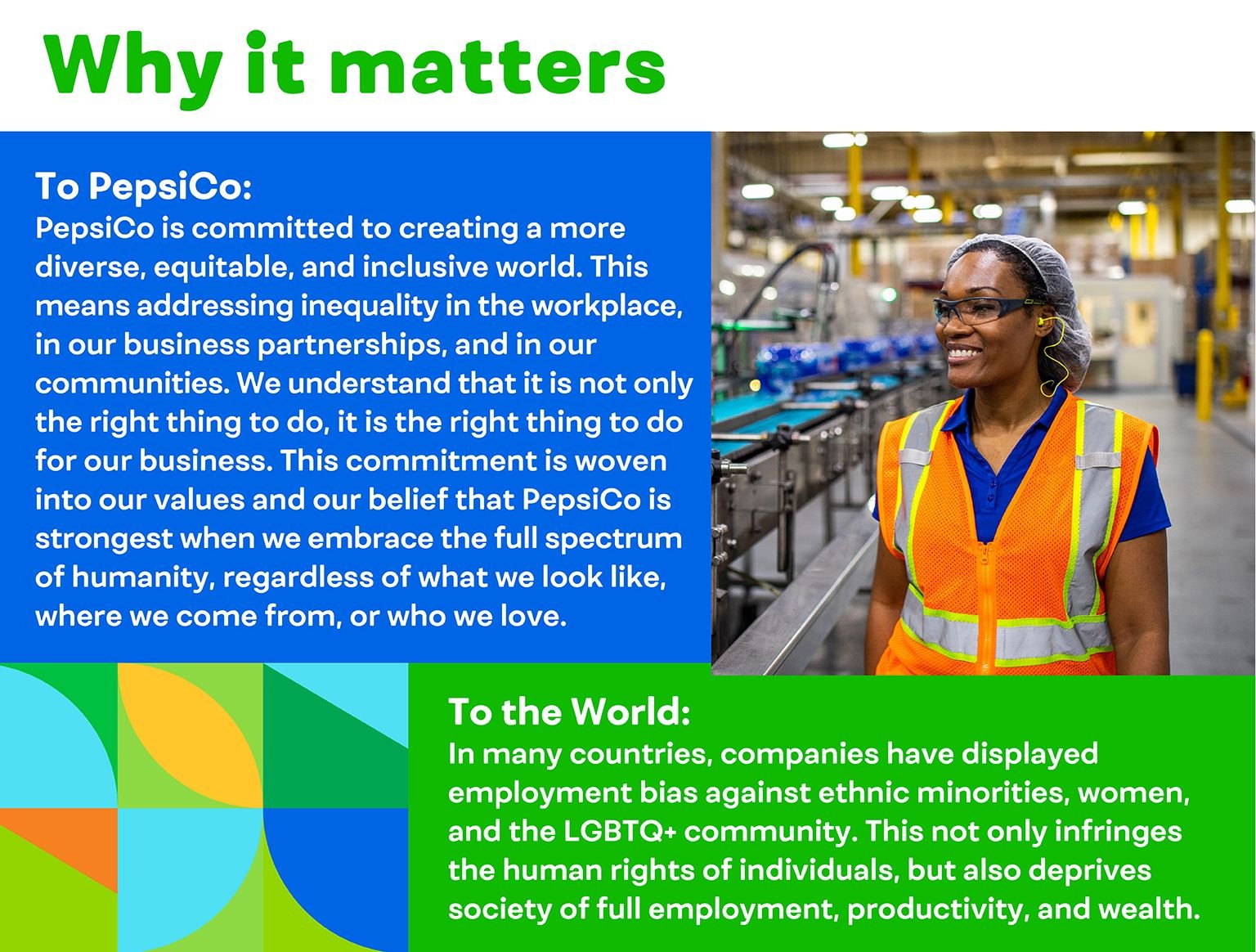 Approach
At PepsiCo, we know that our company can only succeed when our associates and the societies we serve flourish. That's why we are committed to fostering a diverse workforce by creating a collaborative, equitable, and inclusive space where everyone, regardless of what we look like, where we come from or who we love, has a voice. Because when we have a space to authentically be ourselves, explore each other's ideas with compassionate curiosity, we can deliver more smiles, and build a better and more positive workplace and world.
PepsiCo was built on the foundation that we thrive because of our diversity, and we believe we have a responsibility and unique opportunity to help address societal challenges. To become PepsiCo Positive, and contribute to a better workplace and world, we will continue to help address inequalities for underrepresented people and underserved businesses and communities. Accordingly, as we work towards Positive Agriculture, we are working to improve the livelihoods of more than 250,000 people across our agricultural supply chain and in our communities, including by economically empowering women. We will focus our work on the most vulnerable farming communities linked to our global value chain, including smallholder farmers and farm workers, women and minority farmers.
In the U.S., we are addressing one of the most important issues in our society with PepsiCo's Racial Equality Journey, investing more than $500 million dollars over the next five years with a focus on three pillars: People, Business, and Communities. For people, we are focused on increasing Black and Hispanic representation at PepsiCo to reflect the workforce availability of the communities where we work through recruitment, education, internships, and apprenticeships. For businesses, we are leveraging our scale and influence across suppliers and strategic partners to increase Black and Hispanic representation and elevate diverse voices. And for our communities, we're working to drive long-term change by addressing systemic barriers to economic opportunity and advancing economic empowerment for Black and Hispanic Americans.

For more information on our efforts to improve diversity in the workplace, in our value chain, and in our communities, see our Diversity, Equity, and Inclusion Annual Report and the Diversity, Equity & Inclusion page on our website.
Last Updated
September 15, 2021