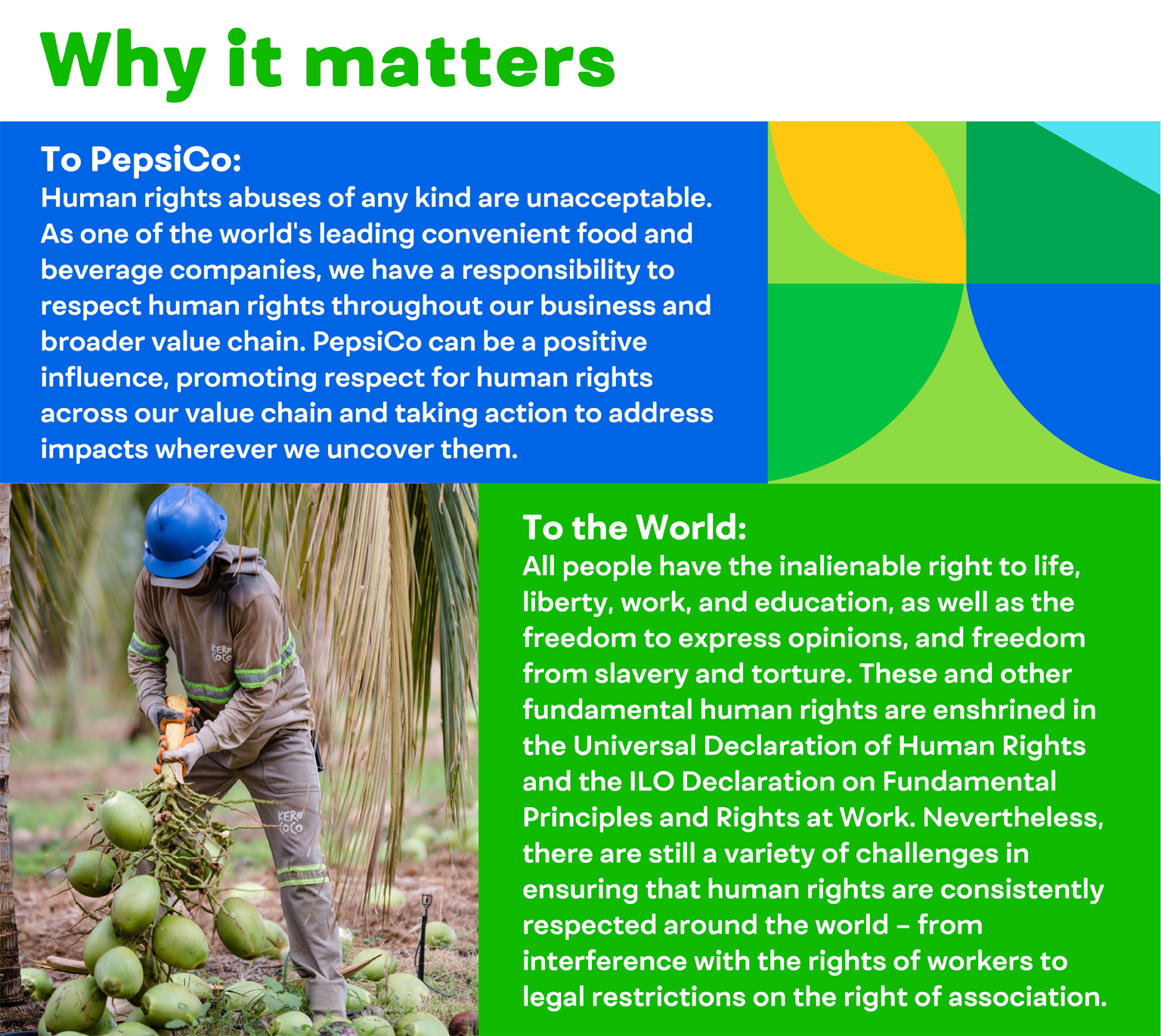 Approach
We are a global company with a complex value chain that spans multiple tiers and hundreds of countries and territories. A robust management approach is required to prevent, identify, and address potential human rights impacts. Our approach is grounded in the United Nations (UN) Guiding Principles on Business and Human Rights (UNGPs) and includes the following pillars: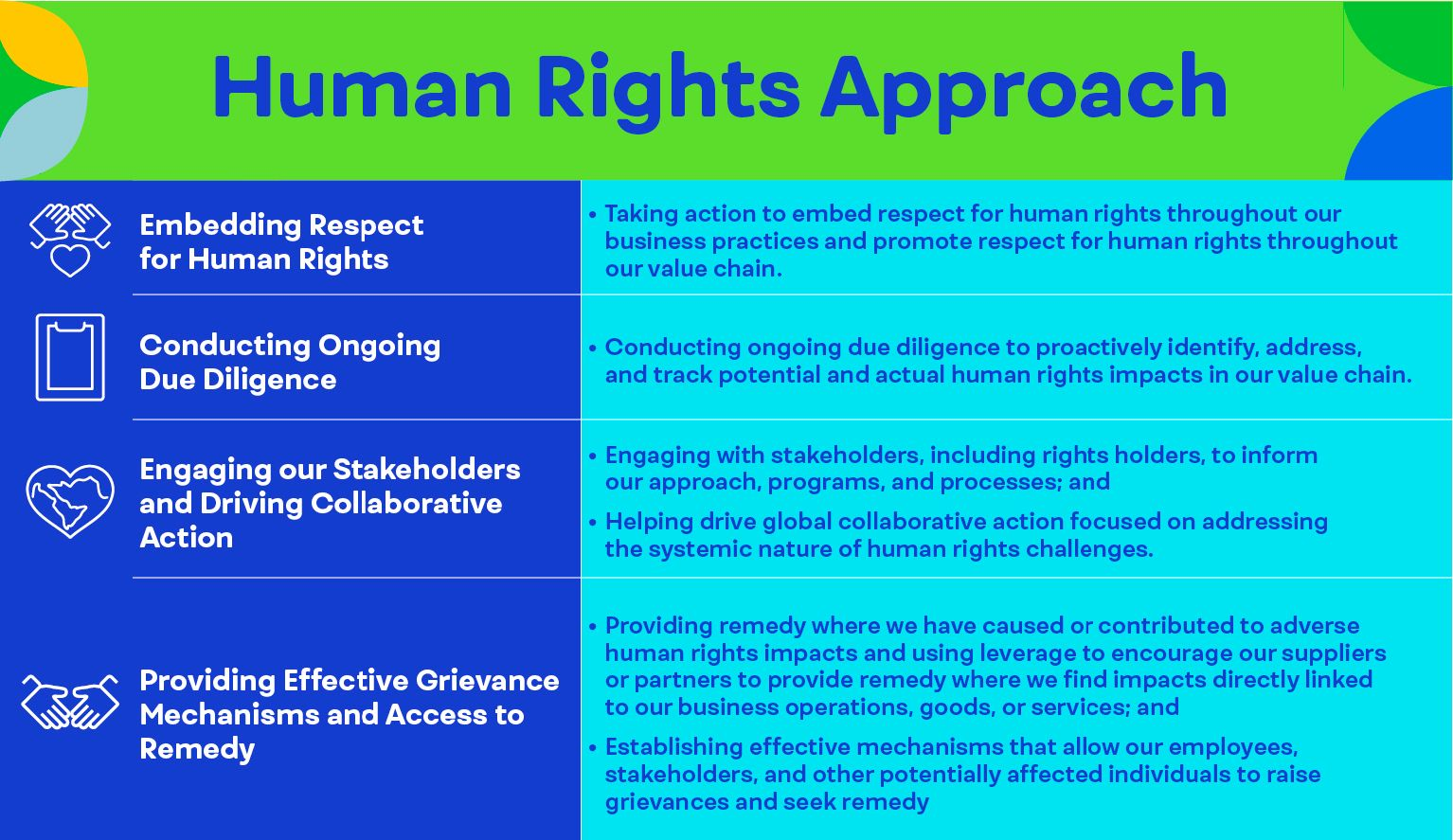 Salient issues
With this approach as our foundation, we prioritize our efforts by focusing on our salient human rights issues – the human rights at risk of the most severe negative impacts through our company activities and business relationships. This process helps ensure that we have the appropriate policies and procedures in place to help prevent and address potential human rights risks across our value chain. We also work on a variety of related issues (e.g., Climate Change, Privacy, Nutrition, Added Sugar and Sodium Reduction) through our broader Sustainability Agenda. We closely monitor emerging issues and regularly review our salient issues to ensure alignment with emerging best practices and external stakeholder feedback.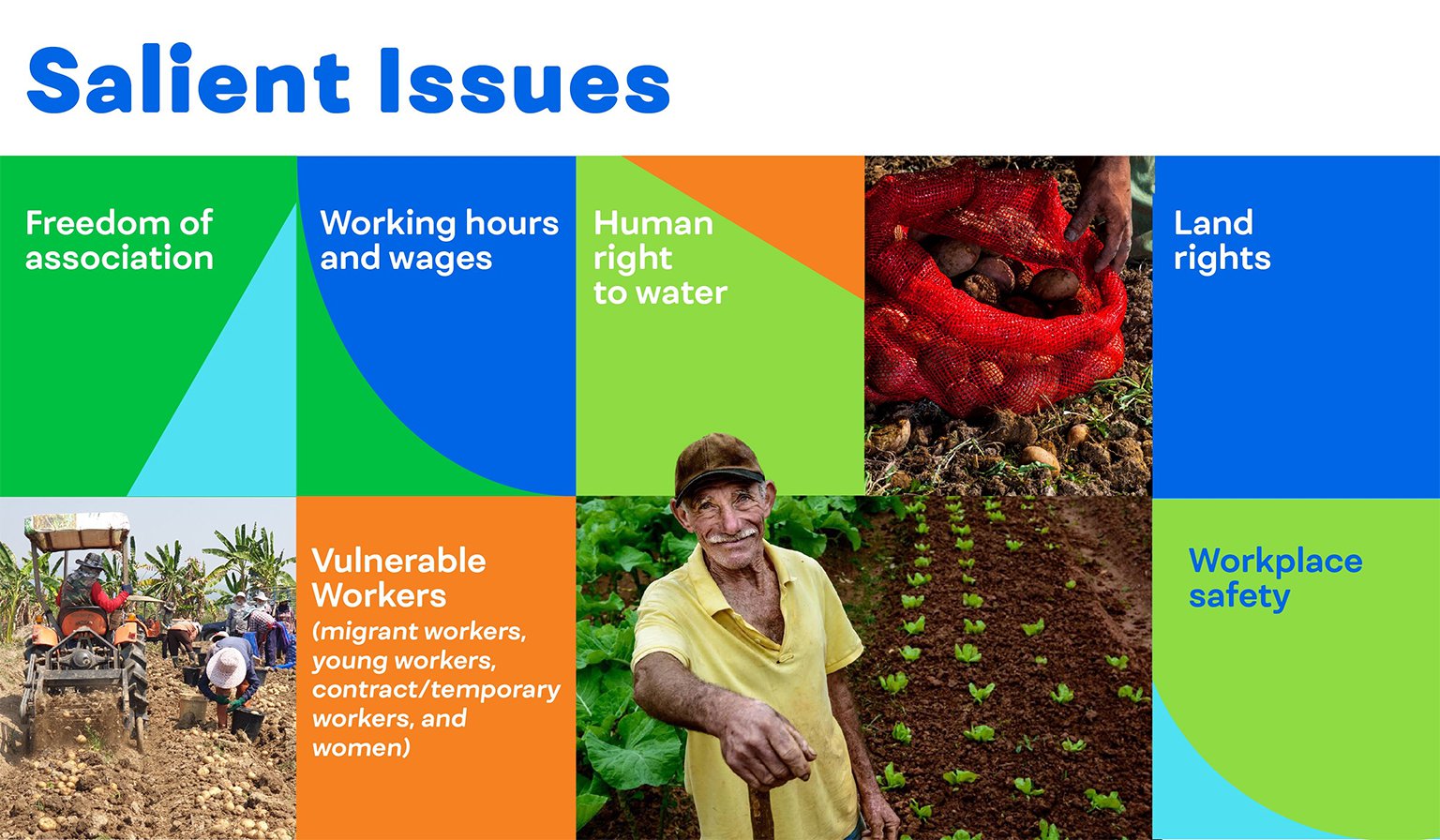 Freedom of association
Freedom of association refers to the right of all workers to join or form a legally recognized trade union or any other organization. While freedom of association is a fundamental right enshrined in the Universal Declaration of Human Rights and the ILO Declaration on Fundamental Principles and Rights at Work, there are still a variety of challenges in ensuring that it is consistently respected around the world – from interference with the rights of workers to legal restrictions on the right of association.
We respect the right of freedom of association, and this principle is embodied in our Global Code of Conduct, Global Human Rights Policy, and Global Supplier Code of Conduct. This means that, consistent with local laws, associates have the right to assemble, communicate, and join associations of their choice. PepsiCo fully complies with all laws regulating collective bargaining. In 2021, approximately 53% of employees worldwide, eligible to be covered under collective bargaining agreements, were represented. PepsiCo maintains positive working relationships with union representatives.
Human right to water
Water is fundamental to the global food system and to our business. It nourishes the crops used to make our products, serves as the main ingredient in many of our beverages, and is an integral component of our manufacturing operations. But in some regions, water is scarce. Climate change is also worsening pressures on water resources around the world, with recent estimates indicating that two-thirds of the world's population will live in water-stressed regions by 2025.
Land rights
Secure land rights are a vital component of economic prosperity, sustainable food production, and the responsible use of natural resources. This can be particularly true in developing countries and areas inhabited by indigenous communities, yet recent estimates indicate that only 30% of the world's population has a legally registered title to their land. Land rights issues have the potential to directly impact local communities and the daily lives of rights holders, such as through physical displacement or the loss of economic opportunity.
Vulnerable workers
The terms "vulnerable workers" and "vulnerable worker groups" are generally used to refer to a specific set of workers that are at a higher risk of experiencing potential adverse human rights impacts. The underlying reason for their vulnerability can be the result of a variety of factors such as their location, industry, or employment conditions. Recognizing the scale of our value chain and the inherent complexities involved in global agricultural supply chains, we identified vulnerable workers as one of our salient human rights issues during our last review. Through internal assessments and consultations with external experts and stakeholders, we determined that migrant workers, women, young workers, and temporary/contract workers were the groups with a higher risk of potentially experiencing adverse human rights impacts across our value chain.
Working hours and wages
Given the complexities of the manufacturing and agriculture sectors, workers in these industries are at a higher risk of facing potential adverse human rights impacts related to working hours and wages, such as excessive working hours, lack of adequate rest periods, and compulsory overtime. We are committed to providing fair and equitable wages, benefits, and other employment conditions in accordance with local law, and we expect the same of our suppliers and business partners throughout our value chain.
Workplace safety
Supporting the health, safety, and well-being of workers throughout our value chain is one of our top priorities as a company. We have established a number of policies and programs to help drive health and safety values throughout our direct operations and supply chain.
Human Rights Governance
We believe that strong governance is essential to successfully embedding respect for human rights throughout our business. Our global governance structure is responsible for overseeing and managing human rights at various levels throughout our business, with our Board of Directors, Executive Committee, and Chief Human Rights Officer serving central oversight and management roles.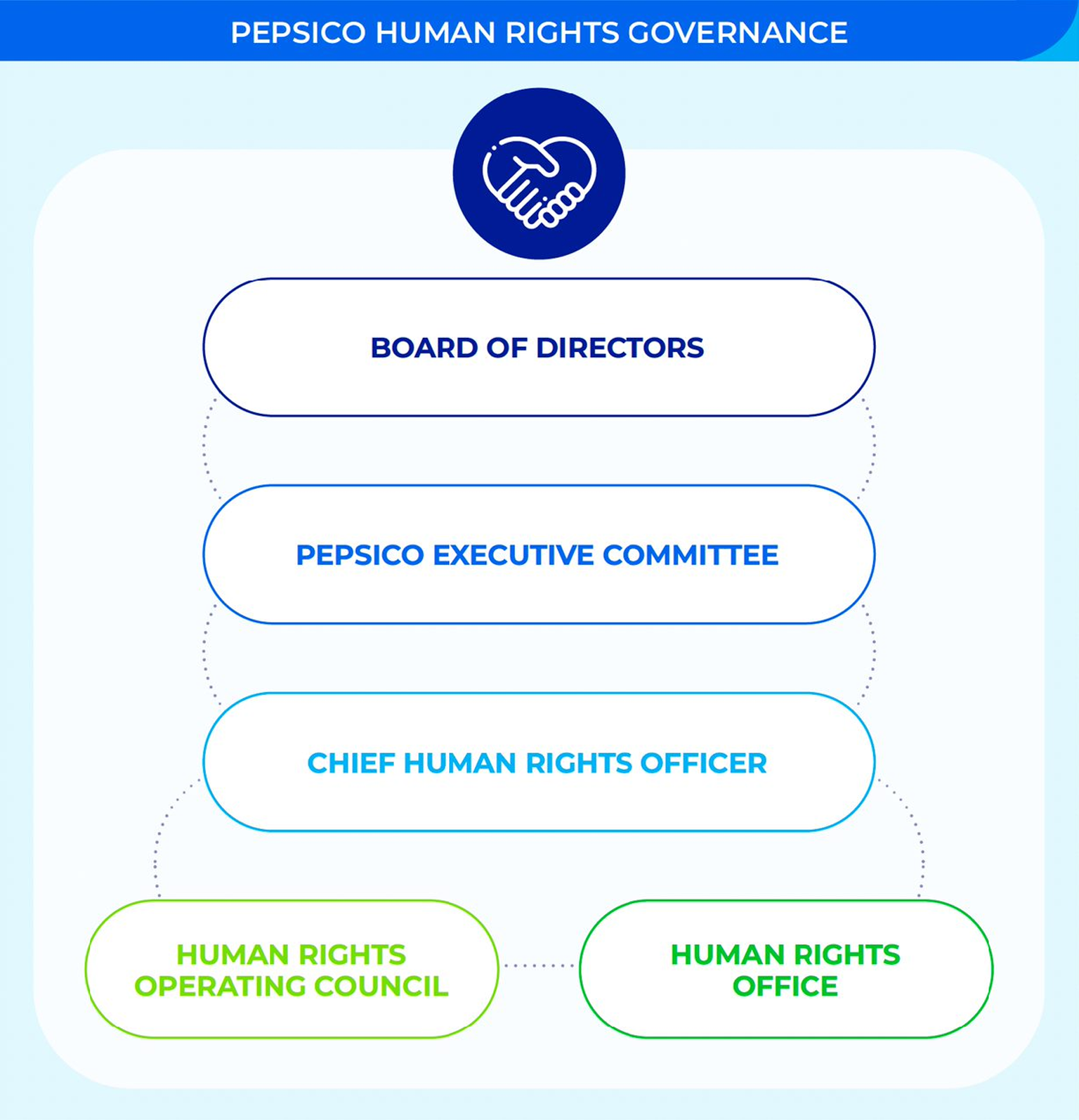 Board of Directors (Board)
The Board plays an essential role in determining our strategic priorities and considers sustainability issues (e.g., human rights) as an integral part of its business oversight. To this end, the Board established a Sustainability, Diversity and Public Policy Committee toassist the Board in providing more focused oversight of key sustainability, diversity, equity, and inclusion, and public policy matters.
PepsiCo Executive Committee (PEC)
The PEC is comprised of our Chairman & CEO, his direct reports, and top functional leaders and has direct oversight of our sustainability agenda, strategic decisions, and performance management. This ensures that sustainability, including human rights, is a key accountability for every member of our senior leadership team.
Chief Human Rights Officer (CHRO)
PepsiCo's CHRO has day-to-day responsibility for human rights at PepsiCo and leads our Human Rights Office in its management of our human rights program. Our CHRO also serves as Senior Vice President and Chief Counsel for Global Human Resources at PepsiCo, reporting directly to our Executive Vice President, General Counsel and Corporate Secretary – a PEC member.
Human Rights Operating Council (HROC)
PepsiCo's HROC is a cross-functional group of senior corporate and sector leaders that supports our CHRO and advises the Human Rights Office on actions to address human rights risks in our value chain. The HROC meets regularly throughout the year to review our due diligence findings, monitor emerging trends and risks, and discuss and integrate stakeholder feedback into our due diligence approach.
Human Rights Office
Our Human Rights Office is a dedicated team within our Law Department that is responsible for driving our global human rights strategy, facilitating performance against our goals, and managing our salient human rights issues. The team, led by our CHRO, oversees our human rights due diligence programs (i.e., Global Human Rights Assessment Program, Sustainable Sourcing Program) and works closely with other internal stakeholders (e.g., Human Resources, Global Sustainability, and Global Procurement) on the implementation of our strategy throughout our value chain.
Our Human Rights Office is tasked with delivering the human rights program for our own operations and supply chain, and its members have clear annual performance targets that link their compensation with the performance of our human rights program. This includes their responsibility for a wide range of human rights issues, including forced labor and vulnerable worker populations.

Human Rights due diligence
We have established a due diligence process that assesses potential human rights impacts in our value chain, integrates its findings into our internal systems, tracks the effectiveness of our actions, and regularly communicates our progress. Our process utilizes a risk-based approach and a series of due diligence programs (such as our Global Human Rights Assessment Program and Sustainable Sourcing Program) to continuously monitor risk and assess, identify, and remediate impacts across various segments of our value chain. When needed, we may increase the frequency and/or type of due diligence assessment in response to new events such as entry into new markets, onboarding of new suppliers, or emerging human rights challenges in certain markets.
We are continuing to expand our due diligence programs to cover additional areas of our value chain, including our franchisees, third-party labor providers, and transportation and logistics providers. Learnings and insights from our due diligence programs are regularly integrated into our internal processes to help ensure that we have the appropriate policies and management systems in place to prevent, identify, and address potential human rights risks across our value chain.
Stakeholder engagement and collaborative action
We believe that an open and continuous dialogue with our stakeholders is critical to informing and strengthening our human rights program. Our engagement approach focuses on an ongoing dialogue with a wide range of stakeholders (including workers, NGOs, trade unions, investors, and customers) to gain both global and local perspectives on areas like the design of our approach, management of our salient human rights issues, and the overall performance of our program. We also recognize the importance of capturing the voice of rights holders through this process, and we are committed to engaging with potentially and actually affected rights holders, including our employees, supply chain workers, and the local communities in which we operate, in the development and management of our human rights approach.
Our global and regional Public Policy and Government Affairs teams, in conjunction with other internal groups (including Human Resources, Labor Relations, and Sustainable Agriculture) support our business by identifying the external parties we should engage with and helping communicate our policies and grievance mechanisms to stakeholders (including workers, NGOs, trade unions, and investors) across our value chain. While the frequency and form of these engagements (such as direct consultations, worker roundtables, landscape programs, and multi-stakeholder collaborations) may vary, we regularly engage with a wide range of stakeholders throughout each year.
Grievance mechanisms and access to remedy
We recognize that our policies and programs may not prevent all adverse impacts in our value chain. Our aim is to provide effective remedy where we have caused or contributed to those impacts and to use our leverage to encourage our suppliers and partners to provide remedy where we find impacts directly linked to our business operations, goods, or services. To facilitate this process, we have established a variety of mechanisms that allow our employees, stakeholders, and other potentially affected individuals to raise grievances and seek remedy. Data and insights from these mechanisms are regularly reviewed by our Human Rights Office and HROC to identify trends across our value chain and integrate learnings into our approach and due diligence programs.
Our direct operations
All PepsiCo employees have an obligation to report suspected violations of our Values, Global Code of Conduct, policies, or applicable law. Our employees have several avenues for reporting issues and seeking advice, including their manager, Human Resources, the Law Department, the Global Compliance and Ethics Department, and our Speak Up hotline.
Speak Up is a toll-free ethics hotline operated by an independent third-party that provides PepsiCo employees, consumers, suppliers and business partners, and community members with a 24/7, anonymous and confidential means of reporting suspected violations. These reports are used to drive organizational changes and a better work environment, including training, policy revision, and process enhancements. Speak Up is accessible anywhere in the world with dedicated toll-free phone lines in over 60 countries and multiple languages and by web in 26 languages. We regularly publish information on the usage of our Speak Up hotline, including the total number of reports and their categorical distribution. Our latest report can be viewed here.
Our supply chain
We expect our suppliers and business partners to operate with the same high standards of integrity to which we hold ourselves. This expectation includes having an effective grievance management system in place for their operations and prohibiting potential retaliation against individuals who raise concerns. To complement their systems, their employees and contractors may also report suspected violations of our policies and standards through the PepsiCo Speak Up Hotline, which is made available through our Supplier Code of Conduct and Supplier Training.
We have also established a grievance mechanism for our agricultural supply chain to complement our existing program (e.g., Speak Up) and help us more effectively manage environmental and social concerns throughout our value chain. The mechanism allows third parties to raise concerns that our environmental and social policies are not being upheld in our agricultural supply chain. Our approach is set out here.
At the end of 2021, 36 total grievances were registered in our agricultural grievance system. Most of the grievances concerned palm oil production in Southeast Asia and focused on a combination of environmental and social issues (e.g., deforestation, labor rights). Of the 36 logged grievances, 20 remain open, 11 have been closed, and five have been deemed "out-of-scope" by PepsiCo. We are continuing to engage with our suppliers and others to help resolve the open grievances.
Progress
In 2021, progress across our human rights management approach included:
Policy framework
Our policies play an important role in our ongoing work to embed respect for human rights throughout our operations and broader value chain. They set and communicate clear expectations for our employees, suppliers, and business partners and establish a framework that helps us monitor compliance with our standards. We regularly review our policies for alignment with stakeholder feedback, emerging regulatory developments, and internationally recognized best practices.
We recently revised our Global Human Rights Policy to clarify our expectations and strengthen our standards in several key areas, including forced labor, land rights, and the human right to water. We also published a new Human Rights Defenders Statement that outlines our commitment to respecting the rights of human rights defenders throughout our value chain. These documents were reviewed and approved by our Chairman & CEO in early 2022.
Salient human rights issues
In late 2021, we initiated a formal review of our salient human rights issues to help ensure that we are continuing to prioritize the rights at risk of the most severe impacts through our business activities and relationships. This review is being facilitated by an external organization and will include a detailed analysis of our business operations and supply chain, past assessment and due diligence findings, as well as feedback from rights holders and external stakeholders, (e.g., NGOs, trade unions, investors, etc.) on the saliency of identified issues. We anticipate publishing an update on our review and the underlying analysis in late 2022.
Details and/or updates on our Salient Issues are available below:
Human rights due diligence
The primary focus of our due diligence process has been on direct operations, direct suppliers, and agricultural partners, as these areas were identified as segments of value chain where we have the greatest ability to prevent and respond to human rights impacts (i.e., in our operations) and where the risks to rights holders are the highest (i.e., in our supply chain and with our agricultural partners). To help ensure that we are in the best position to prevent, identify, and address potential impacts, we are continuing to expand our due diligence programs to cover additional segments of our broader value chain (i.e., our franchisees, third-party labor providers, and transportation and logistics providers) and integrating new assessment tools into our due diligence process. For instance, in 2021, we piloted a new remote worker voice initiative with over 500 workers to gain insight into potential risks in our direct operations. Feedback from the pilot has been integrated into our approach to help improve our due diligence process, and we are expanding the worker voice initiative to additional markets in 2022.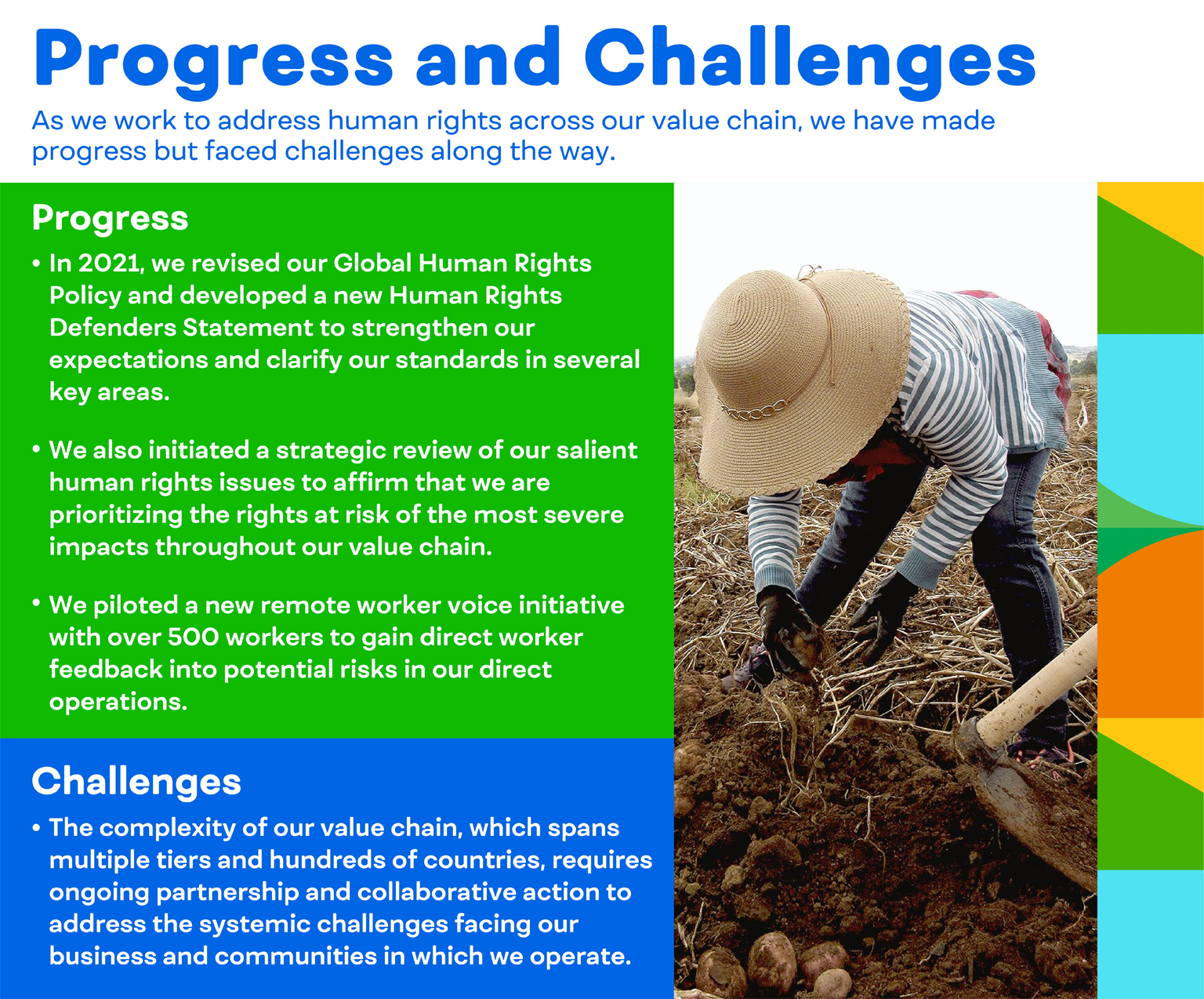 Strategic Partnerships
We participate in a variety of multi-stakeholder groups and collaborative initiatives to enhance our knowledge of specific issues, drive industry-wide progress, and help address systemic challenges facing our industry. Several of these groups include AIM-Progress, the Sedex Stakeholder Forum, the Consumer Goods Forum, and the Leadership Group for Responsible Recruitment.
What's Next?
We will continue to use our unique size and scale to advance respect for human rights throughout our value chain, prioritizing action to address our salient human rights issues. In particular, we will take action to:
Evolve the human rights training program for our employees and suppliers to targeted guidance materials and more effective capability building efforts across our value chain.
Expand our remote worker voice initiative within our own operations and partner with suppliers to pilot the program within our direct supply chain.
Explore new and innovative ways of evaluating the performance of our human rights program, working with experts and external stakeholders to review and evolve our current metrics and performance indicators.
Actively engage in multi-stakeholder initiatives, through collaborative efforts, and with governments to drive industry-wide progress and help address systemic human rights challenges.
Last Updated
September 14, 2022