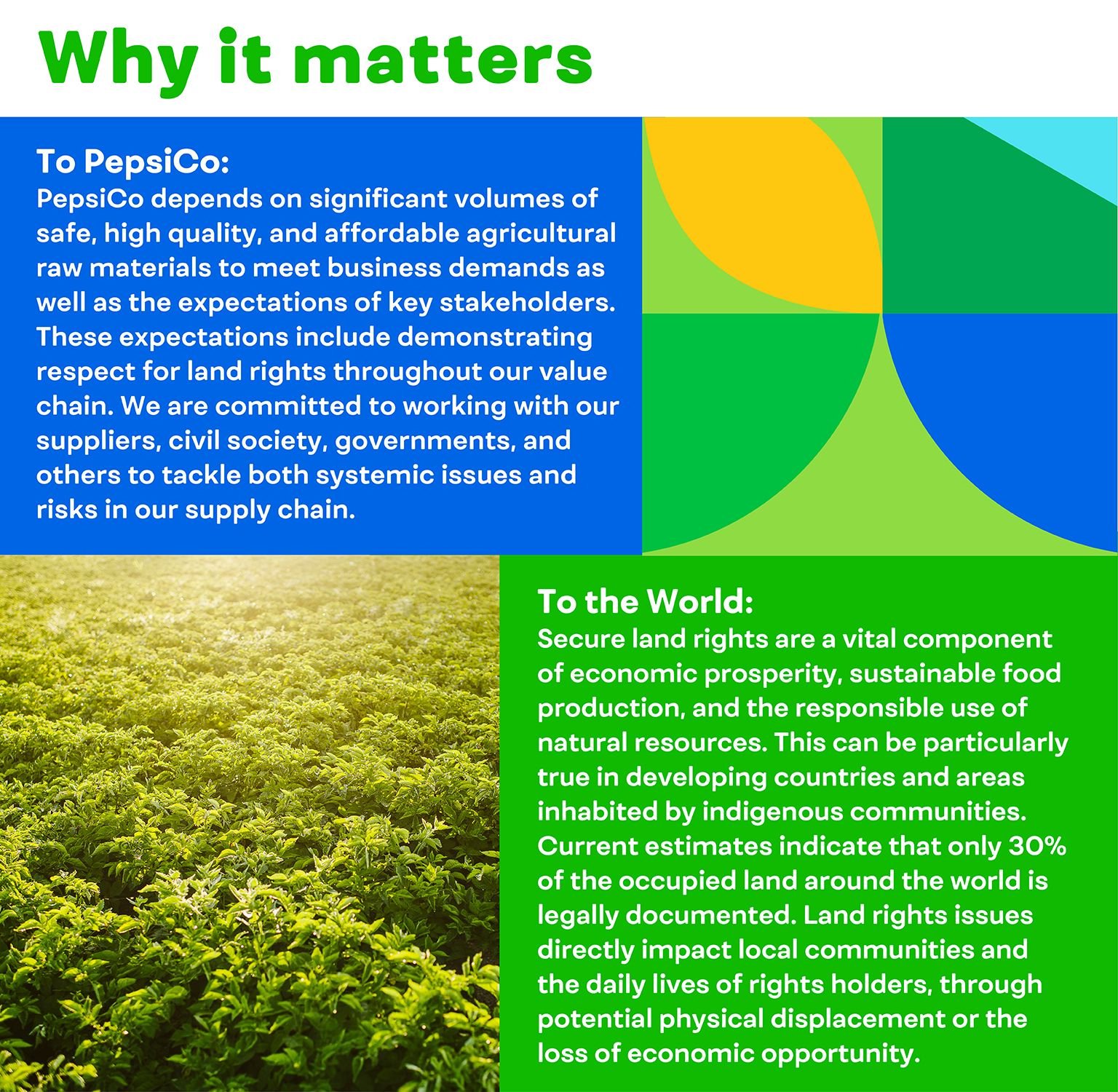 Approach
PepsiCo depends on significant volumes of safe, high quality, and affordable agricultural raw materials to meet business demands as well as the expectations of key stakeholders. These expectations include demonstrating respect for land rights throughout our value chain. Since 2014, PepsiCo has been working with suppliers, civil society, and industry peers to implement our Land Rights Policy. Specifically, we are committed to:
Zero tolerance for land displacements of any peoples, in accordance with IFC Performance Standards, including Free, Prior, and Informed Consent (FPIC);
Requiring our operations and our suppliers to meet IFC Performance Standards, including FPIC, in land acquisitions (including leasing and utilization);
Fair and legal negotiations for land transfers and acquisitions; and
Use of appropriate grievance mechanisms, such as the PepsiCo Grievance Mechanism for our Agricultural Supply Chain, for dispute resolutions.
To support our Land Rights Policy, our commitments are embedded in our sustainability work including:
PepsiCo Supplier Code of Conduct, which restates our requirement that all land acquisitions by our suppliers (including leasing and utilization) meet IFC Performance Standards, including FPIC;
PepsiCo Human Rights and Salient Issues Statement, which identifies land rights as one of our salient human right issues, meaning that we are putting additional effort and resources into managing land rights beyond our standard due diligence and other human rights tools; and
Through our contribution to developing external standards and criteria that align requirements on land rights with our policy and credible global standards. These include the IFC Performance Standards and the UN FAO Voluntary Guidelines on the Responsible Governance of Tenure of Land, Fisheries, and Forests in the Context of National Food Security (UN FAO Guidelines). Specific examples include development of the NDPE Implementation Reporting Framework for commodities such as palm oil and review of the standards of certification schemes such as Bonsucro and RSPO.
Grievance Management
We recognize that our policies and programs may not prevent all adverse impacts in our value chain. In line with the UN Guiding Principles for Business and Human Rights (UNGPs), we aim to provide effective remedy where we have caused or contributed to those impacts and to using our leverage to encourage our suppliers and partners to help enable remedy where we find impacts directly linked to our business operations, goods or services.
In July 2017, we formalized a grievance mechanism for our agricultural supply chain to complement our existing programs and processes to prevent, identify and manage environmental and social concerns throughout our value chain. The mechanism allows third parties to raise concerns that our environmental and social goals and policies may not be upheld within our agricultural supply chain. Our approach is set out here. More information about our grievance management can be found in the Transparency and Accountability section of our Palm Oil page.
Progress
While land tenure-related risks can occur anywhere in our supply chain, our focus is on our agricultural supply chain where our own analysis and feedback from stakeholders suggest the greatest opportunity for impact. Challenges are often systemic to geographies and commodities and shared with others that source from the area in question. Our implementation approach therefore focuses on:
Developing tools and approaches to help us and our supply chain better apply due diligence to land rights and therefore understand and mange specific risks;
Working with our suppliers and others at a country level to identify challenges, raise awareness, and build capacity;
Managing grievances in our supply chain through our Agricultural Grievance Mechanism and by working with peers, suppliers, and civil society; and
Engaging in partnerships and collaborations with business, civil society, and others to share expertise, learn from each other, review and improve standards, and identify ways to work together to tackle systemic issues.
ACRE Framework
PepsiCo has collaborated with Landesa, a global organization that champions and works to secure land rights for millions of the world's poorest, to provide opportunity and promote social justice, to create the ACRE Framework to monitor our Land Policy globally, across crops and borders. The tool will better enable us to monitor progress on adopting responsible land practices in our supply chain, as well as to identify and respond to potential gaps in implementation. The framework outlines concrete practices we expect at different levels of our supply chain, integrating with our Sustainable Sourcing Program (SSP) and Sustainable Farming Program (SFP), as well as crop-specific certification standards.
ACRE is grounded in PepsiCo's Land Policy and internationally recognized best practices for responsible land investments, including the IFC Performance Standards, UN FAO Guidelines, and leading industry certification standards. The ACRE Framework is currently being piloted in select commodities and geographies.
Country Level Engagement
Since 2014, we have been implementing a third-party assessment program on our sugar supply chain in Brazil and Thailand, on our palm oil supply chain in Mexico and on our coconut water supply chain in the Philippines. This program is conducted with the participation of affected communities and is based on available and accepted standards to audit the social, environmental, and human rights aspects of these supply chains, including impacts related to land rights. We are also applying these principles in other countries, such as India.
Our aim with these programs has been to understand whether the standards set out in our Land Policy and other policies and commitments relating to human rights are being upheld. How we address the findings of these assessments varies in each instance but our responses fall into two broad categories depending on the assessment outcomes:
No significant issues found: we will continue to monitor suppliers through our existing programs such as our SSP and SFP and will continue to engage with our suppliers and external stakeholders to understand any new issues that may arise and require action.
Issues found that are specific to PepsiCo and our value chain: in addition to the above, we will work with our value chain to understand the issues and develop an action plan to address these concerns.
We will continue to engage with cross-industry bodies and other external stakeholders to better understand industry-wide actions that can be taken to address systemic issues. In addition, we have continued to engage with a wide range of stakeholders in these industries such as mills, producers, certification bodies/certification firms, grower/industry organizations, and other end users, government, and civil society, including Oxfam, about how to conduct improved assessments on land rights and other human rights issues in line with best practice.
As a result of this engagement, we aim to ensure that future assessments of our supply chain in these industries:
Are developed with input from affected stakeholders and conducted by independent organizations with expertise in the salient issues being assessed;
Include either a publicly available version of the assessment or a summary of the context, process, and findings in line with good practice; and
Focus on areas and issues where these risks are greatest.
India
In West Bengal, India, PepsiCo is supporting efforts to promote women's empowerment within its potato value chain in partnership with the U.S. Agency for International Development (USAID). PepsiCo funded an assessment of women's economic empowerment and equality, land rights, and agricultural engagement in the potato supply chain and is now supporting, along with USAID, activities that provide resources and opportunities for women to engage in productive practices; substantive roles for women in agricultural leadership and decision making; and access to and control over agricultural products and income by women.
PepsiCo also worked in partnership with Landesa to implement a social impact program targeting the sugar cane industry in India. The project sought to educate sugar mill operators and farmers that supply the mills on the concept of social impacts. The intent was to help them better understand the social impacts of growing sugarcane and the requirements that apply to PepsiCo and its suppliers related to social impact issues, including land tenure. The program created training modules in three different languages that were presented to staff of three sugarcane supplier mills: one to train smallholders who supply the mills; one training module specifically for women farmers; and, one to train mill staff to conduct future farmer trainings.
Brazil
In 2020, PepsiCo engaged Landesa to conduct a study of our Brazilian cane sugar supply chain to identify the current land practices of our sugar suppliers in Brazil and to better understand both land tenure risks and good practices. This report (in English, Portuguese) will directly contribute to PepsiCo's understanding of land rights issues and help inform our approach to implementing and monitoring compliance with our Land Policy in the sugar supply chain in Brazil. Building on the engagement with suppliers established through the study, insights from the report will also help inform PepsiCo's approaches for monitoring and supporting good land practices in other commodities and geographies, including through the development of the ACRE Framework.
While the study findings indicate a stable land tenure situation in sugarcane areas with minimal conflicts, it also identified several risks to monitor and areas for improvement, both for PepsiCo's engagement with its Brazilian sugar suppliers on its Land Policy and for land practices at the mill level. Specific recommendations for PepsiCo include raising awareness of our land policy with suppliers; providing additional guidance to suppliers on good land practice; and continuing to monitor implementation of our land policy by suppliers in Brazil. We will review these and the other recommendations in the report to further improve our approach to managing land rights in Brazil and more widely.
This study follows two sets of independent audits that were conducted in 2014 and 2015 to identify specific human rights and land rights issues that might exist at our primary sugarcane suppliers. No significant land rights or other human rights issues were found in these audits, but concerns were raised about the level of engagement with stakeholders, and the need for specific land rights expertise to conduct such assessments.
Thailand
In Thailand, we supported an independent assessment of Thailand's sugarcane producers, which includes a review of performance on human rights and land rights to identify potential systemic issues in the supply chain in Thailand. This assessment was commissioned by Bonsucro, the global multi-stakeholder, non-profit industry change platform for sugarcane. The assessment was completed in August 2017 and is available on the Bonsucro website, as well as here. Our initial response and next steps can be found here. They include investment in a three-year program in partnership with others to build capacity for small holder farmers to understand and address social and environmental challenges.
Mexico
In Mexico, Proforest, an organization with expertise in managing natural resources sustainably, conducted a two-tier assessment on potential land rights and other human rights issues in PepsiCo's palm oil and sugarcane supply chain. The first phase, a desk-based study including consultation with external stakeholders to understand the issues, including the legal and policy framework, and evidence of existing conflicts, was completed in July 2017, and can be found here in English and here in Spanish. Our initial response to the report can be found here. The findings have influenced work in our own supply chain, as well as collaboration with peers, civil society and others to address the systemic actions found in the report.
Philippines
As part of our original commitment, an assessment of our coconut water supply chain in the Philippines was undertaken in partnership with Fairtrade USA. The assessment was conducted in and around facilities in Sorsogon and Candelaria with 143 farmers. Some issues related to environmental compliance were found, particularly the burning of household and farm waste. Working with our supplier, Fairtrade USA and the local government, training was held with the farmers who participated in the assessment. In addition, any farmers that were not compliant with the issues noted above acknowledged that they understood the respective policy. Finally, while no evidence of land or human rights violations were identified, 12 percent of the farmers could not produce documentation showing their rights to the land they were farming. Fairtrade USA is supporting farmers on this systemic issue across the Philippines to ensure they secure and maintain proper land documentation.
Strategic Partnerships
Landesa
PepsiCo has collaborated with Landesa, a global organization that champions and works to secure land rights for millions of the world's poorest, to provide opportunity and promote social justice, to create the ACRE Framework to monitor our Land Policy globally, across crops and borders. The tool will better enable us to monitor progress on adopting responsible land practices in our supply chain, as well as to identify and respond to potential gaps in implementation. The framework outlines concrete practices we expect at different levels of our supply chain, integrating with our Sustainable Sourcing Program (SSP) and Sustainable Farming Program (SFP), as well as crop-specific certification standards.
Interlaken Group
PepsiCo sits on the Steering Committee of The Interlaken Group, an informal network of individual leaders from influential companies, investors, CSOs, government and international organizations. The purpose of the Group is to expand and leverage private sector action to secure community land rights. Together they develop, adopt and disseminate new tools and advance new "pre-competitive" mechanisms to accelerate private sector learning on responsible land rights practices. Feedback from the group informs our approach and actions on land rights.
NDPE Implementation Reporting Framework
Since 2017, PepsiCo, working with Cargill and other companies throughout the industry, has convened the 'Palm Oil Collaboration Group' to discuss key sustainability issues and challenges on the topic (see Palm Oil page for further information). The group has been able to develop and roll out the No Deforestation, No Peat, and No Exploitation Implementation Reporting Framework (NDPE IRF), an industry-wide reporting tool for companies. The group is incorporating principles from the ACRE Framework into its measurement of land rights to establish a credible industry baseline on the issue.
What's Next?
We will continue to strengthen our policy and commitments and improve implementation so that land rights are respected in our value chain and local communities. This will include:
Reviewing and updating our Land Rights Policy to reflect best practice, and stakeholder feedback;
Completing pilots of the ACRE Framework in our supply chain to improve the framework and apply lessons learned to a wider rollout across our business;
Reviewing the independent study of land rights and our sugar cane supply chain in Brazil, to identify follow up actions; and
Continuing to engage and collaborate with stakeholders to further progress respect for land rights and tackling the systemic issues that cause them.
Last Updated
July 30, 2021