To PepsiCo:
PepsiCo is committed to respecting the human rights of all workers and local communities throughout our operations and value chain. Supporting the safety, wellness, and equality of the workforce across our value chain is important to our success as a company and to the success of our suppliers.
To the World:
Global sourcing strategies deliver benefits to consumers and businesses, but are frequently associated with concerns about labor and environmental standards in the countries of origin. Multi-national companies like PepsiCo aspire to use their purchasing power to raise standards, working with suppliers to meet best practice standards and comply with local regulations. An effective sustainable sourcing program should raise standards of human rights, labor, environmental management, and conservation of natural resources.
Approach
Our Positive Agriculture ambition aims to embed integrity, fairness, and stewardship throughout our agricultural supply chain. We expect our suppliers to adhere to the same standards of integrity to which we hold ourselves. Therefore, all suppliers, vendors, contractors, consultants, agents, and other providers of goods and services who do business with or on behalf of PepsiCo entities worldwide are expected to follow our Supplier Code of Conduct (SCoC) and all other relevant policies as a condition of doing business with us. These include:
Many of these standards are based on international conventions including the Universal Declaration of Human Rights; the International Covenant on Civil and Political Rights; the International Covenant on Economic, Social and Cultural Rights; and the ILO Declaration on Fundamental Principles and Rights at Work.
Our approach to sustainable sourcing is operationalized through:
Our Sustainable Sourcing Program (SSP) - a supplier engagement program for our most business-critical first-tier suppliers and business partners that includes formal risk assessments, third-party audits, corrective action, and capability building.
Our Sustainable Farming Program (SFP) - a farm-level continuous improvement program that helps us assess our direct growers, identify potential gaps relative to our policies, implement plans to safeguard human rights and embed regenerative agricultural practices. (see also: Agriculture).
Our procurement practices - our supply contracts include our SCoC, for which we provide training on it through the SSP and on our website. In purchasing categories with time-bound commitments to sustainable sourcing, such as palm oil, our procurement teams use tools such as supplier scorecards to evaluate and compare performance of individual suppliers against our expectations.
Tailored programs - in cases where we identify potentially high risk or priority supply chain concerns, we deploy specific programs to improve knowledge, awareness, and outcomes.
Sustainable Sourcing Program Overview
Our SSP builds supplier awareness and capabilities on the issues and expectations referenced in our SCoC. The program is targeted towards our key, tier one suppliers who provide PepsiCo with a range of key inputs including ingredients, packaging, and services; or manufacture on our behalf. Additionally, in 2021, nearly 30% of our sectors had engaged joint ventures and franchisees in the program and we are aiming to expand this coverage to nearly 80% by the end of 2022 on our way to fulfill engagement. The SSP supports our long-term sustainable supply goals by addressing known risks and building capability within our value chain.
Our approach is informed by regular engagement with our suppliers through the SSP process, and through our leadership positions with industry groups such as AIM-Progress, Sedex, and The Consumer Goods Forum. It is also strengthened through engagement with expert non-governmental organizations (NGOs) such as Shift, to leverage best practices within and beyond our industry. We engage and include worker input in monitoring our programs, including through worker interview data during third-party on-site audits. Additionally, our worker voice pilot in 2021 provided key insights to our approach with over 500 workers participating from sales/distribution centers in our own operations. We intend to further expand this program in the year ahead, integrating key learnings from these frontline stakeholders into our overall monitoring and due diligence processes. Internally, the SSP strategy is reviewed annually in consultation with leaders from our human rights, sustainable agriculture, procurement, and legal teams to support business integration.
The SSP includes assessment of risk and compliance with our SCoC as well as third-party auditing of business-critical direct suppliers, contract manufacturing, and co-packing locations. In 2021, we expanded our SSP to additional segments of our supply chain to include joint ventures and franchisees in select markets, with a total of 92 countries included in the program. We will continue to expand this risk-based approach to other geographies and segments of our supply chain in the future as part of our commitment to advance respect for human rights throughout our value chain.
Supplier Code of Conduct
Our SCoC is a cornerstone of the SSP. It sets out the expectations we have of our suppliers in the area of business integrity and anti-corruption, labor practices, health and safety, and environmental management. Suppliers are also expected to communicate and apply the SCoC and relevant policies throughout their supply chain. The human rights subsection of the SCoC is based on recognized international human rights standards and explicitly prohibits all forms of forced labor and child labor. Compliance with our SCoC is a part of PepsiCo's supply contracts. The SCoC is available in 26 languages, and we provide open-access online training to help our suppliers further understand the principles of our SCoC in addition to more targeted trainings with our business-critical suppliers as part of our SSP.
In 2018, we revised our SCoC to clarify our expectations around several key issues, including forced labor and migrant workers protections, confidentiality, land rights, anti-corruption and bribery, working hours and rest days, environmental protection, and grievance mechanisms. As part of this process, we also revised our SCoC training to strengthen our guidance to suppliers on key issues such as recruitment fees, freedom of movement, and clear worker contracts. We plan to review our SCoC again in late 2022.
Assessing Compliance
Suppliers are responsible for demonstrating compliance with our SCoC through activities including an initial risk assessment, SCoC training, a graded site-level Self-Assessment Questionnaire, and participation in on-site audits as requested. The SSP leverages the Sedex Members Ethical Trade Audit (SMETA) methodology aligned to international standards in the areas of business integrity, labor practices, health and safety, and environmental management.
Frequency of audit or assessment is conducted at each site based on risk, usually a minimum of once every three years, with greater frequency at sites with higher risk driven by geography and category risk and historic results. Where instances of non-compliance are found during on-site audits or virtual assessments, a corrective action plan with a timeline for remediation is put in place by the supplier and follow-up audits are conducted by an approved third-party auditing firm to verify implementation.
Grievance Mechanisms
While our policies and programs may not prevent all adverse impacts in our value chain, we aim to provide effective remedy wherever possible, including using our influence to encourage our suppliers and partners to provide effective remedy where we find impacts directly linked to our business operations, goods, or services. We have established a variety of mechanisms that allow our employees, stakeholders, and other potentially affected individuals to raise grievances and seek remedy. More information on our grievance mechanisms is available on our Human rights page.
Our Speak Up hotline is an important component of our culture, ethics, and integrity, and we encourage our suppliers and business partners to use their own effective grievance mechanisms and make the PepsiCo Speak Up hotline available for their use through our SCoC.
In the spirit of transparency, we regularly publish information on the usage of our Speak Up program, including the number of reports and the most prevalent categories of complaint. Our latest report can be viewed here.
Progress
We continued to engage suppliers around our Supplier Code of Conduct, and in 2021, more than 99% of our targeted business-critical direct suppliers completed the SCoC training.
In response to COVID-19 impacts on our supply chain, we worked closely with Sedex and AIM-Progress members to support the development and adoption of the Sedex Virtual Assessment methodology. This enabled sites that could not allow on-site auditors in their manufacturing locations to demonstrate — through third-party verification — protection of worker health and safety, human rights, environment, and business integrity to meet our SSP expectations. In 2021, we continued to utilize virtual assessments where we were unable to conduct on-site audits due to ongoing pandemic-related restrictions in some countries. We saw 225 virtual assessments completed in 2021, building on the strength of this methodology launched in 2020.

As we pursue our Sustainable Sourcing Program engagement with suppliers, we continue to explore new assessment innovations, but face challenges along the way:
Progress
Despite continued COVID-19 impacts in many markets, we were able to re-ignite engagement in our auditing and assessment programs with our suppliers and saw continued improvements in working conditions in sites engaged in the SSP. The Sedex Virtual Assessment was a valuable tool, significantly increasing use to 225 assessments, allowing further engagement as sporadic lockdowns continued.
Challenges
Coming our of COVID-19 in select markets we continue to see sites managing rapid volume fluctuations, worker shortages leading to staffing challenges and issues with suppliers managing working hours, rest days, and maintaining proper health and safety standards in manufacturing sites.
In 2021, more than 900 on-site audits or virtual assessments were conducted with first-tier suppliers using the industry standard SMETA 4-Pillar Audit Protocol or an equivalent assessment. Following the on-site audit, sites were scored from red to green based on the severity and number of instances of non-compliance found on-site.
Among our Tier 1 strategic suppliers in 2021, the non-conformance rate for suppliers with highest risk — red audit results — was just over 8% of our total assessments and at the year-end corrective action plans had been developed for 100% of these red sites which will be validated by an auditor at their next on-site follow-up audit.
The top overall noncompliance findings in 2021 were focused in:
Health, Safety, and Hygiene (including fire safety, chemical safety, and building/site maintenance
Working Hours (including rest days and overtime)
Wages
Regular Employment (including contract of employment)
Environment
Building supplier capability is an important aspect of the SSP. Among other program actions, we continue to focus on corrective action plan materials providing robust guidance for suppliers on conducting root cause analysis of issues identified through the SSP. We utilize an online platform to further streamline corrective action management and further provide access to training materials and resources to support suppliers' continuous improvement through our own engagement and through groups including AIM Progress where we co-sponsored supplier training events in China and the Gulf markets focused on health and safety and responsible recruitment.
Since the SSP launched in 2015, we have seen strong improvement from sites as they learn from audit findings, strengthen their internal management systems and capabilities, and resolve non-compliances. High-level results of this improvement over time are presented below, based on sites that have completed both initial and follow-up audits.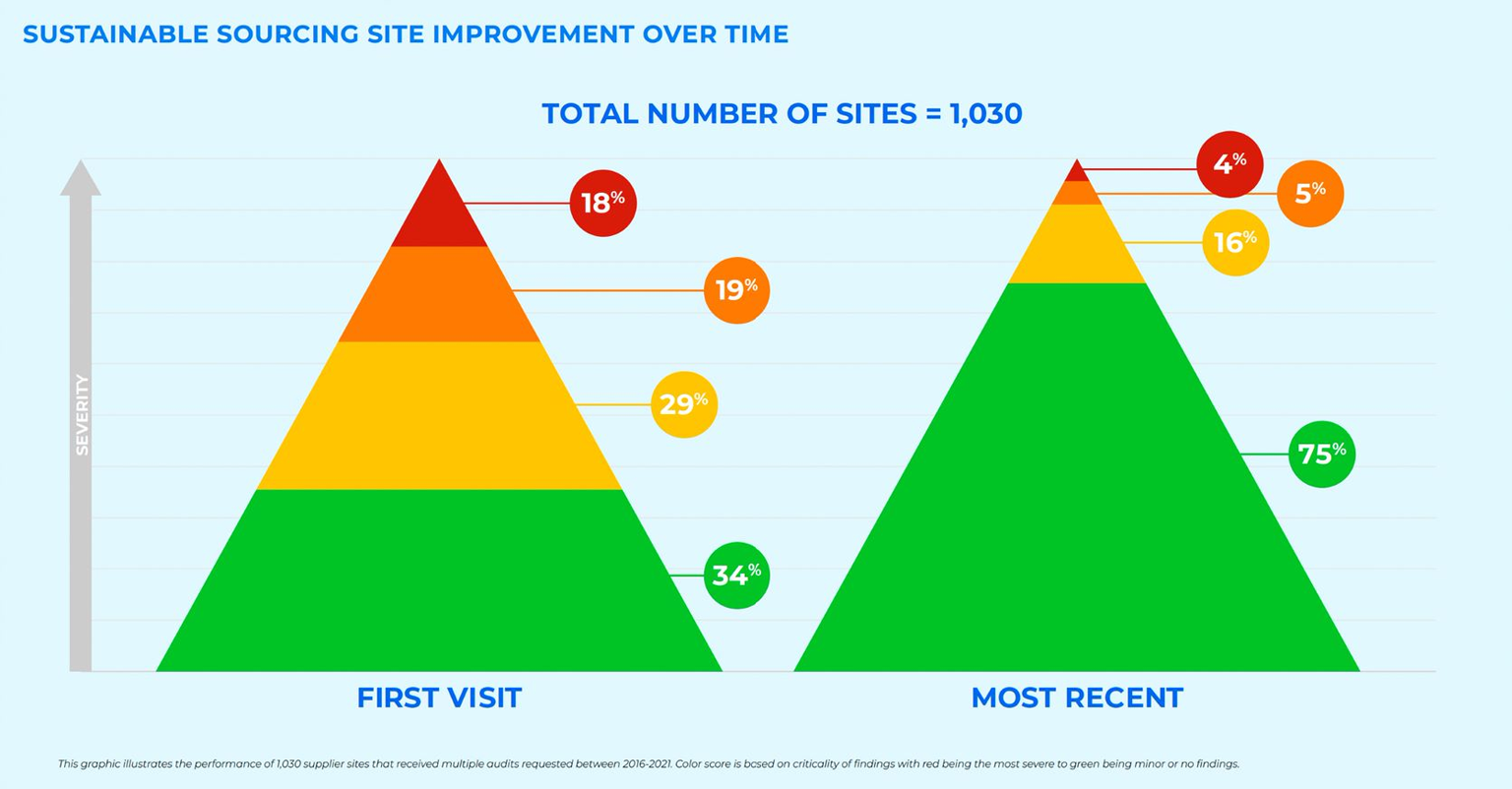 What's next?
As we pursue our pep+ (PepsiCo Positive) ambitions, we will continue to evolve and enhance our programs in line with our sustainable sourcing goals. Key areas of focus for 2022 include:
Expanding the risk-based focus of our program to support further engagement with our business-critical and potentially high-risk areas in our supply chain through continued engagement in multi-stakeholder initiatives;
Extending the principles of our Supplier Code of Conduct to more franchisees and joint venture partners;
Deepening the specificity of our program tools to assess and address risks in upstream supply chains, including responsible recruitment with temporary labor agents by trialing different assessment technologies like worker voice;
Continuing to analyze our multi-year supplier performance to better understand trends in supplier challenges, root causes of recurring noncompliance, and to further evaluate the effectiveness and efficiency of our engagements;
Improving our ability to provide suppliers with targeted training and capability building opportunities based on the challenges identified through their assessments and audit results.