Approach
Informed by the guidelines on sodium intake provided by the WHO and other national and international authorities, we have set a goal to help consumers reduce the amount of sodium in their diets. Our goal, as part of our pep+ (PepsiCo Positive) ambition, is that by 2025, at least three-quarters of our global foods portfolio sales volume will not exceed 1.3 milligrams of sodium per Calorie. While global dietary intake data show that snacks contribute a relatively small proportion of total sodium intake, we developed our goal so that it shifts a significant portion of our total foods portfolio towards lower sodium levels that make it easier for our consumers to follow the WHO's recommendations.
Our approach to managing sodium within our foods portfolio is guided by PepsiCo's Nutrition Criteria. These science-based criteria are based on recommendations for diet and nutrient intake from leading global and national nutrition authorities including the WHO, the U.S. Department of Agriculture (USDA), the National Academy of Medicine, and national public health authorities. For more on these criteria, click here.
To respond to global consumers' nutritional needs, and the policy and regulatory environment, we are exploring sodium-reduction techniques that will allow us to meet all of our consumers' taste expectations of our products. This includes continuing to advance and apply a range of technologies to enhance flavor while reducing a product's overall sodium content.
Progress
In 2021, we reformulated products across 10 countries around the world, including the United Kingdom, Turkey, Saudi Arabia, Egypt, Canada, and Australia and by the end of 2021, 66% of our convenient foods sales volume in our Top 23 global markets, (representing 86% of our global convenient foods volume), was in line with our goal to reach sodium levels that do not exceed 1.3 mg per Calorie. This was an improvement from 64% in our Top 23 global markets at the end of 2020.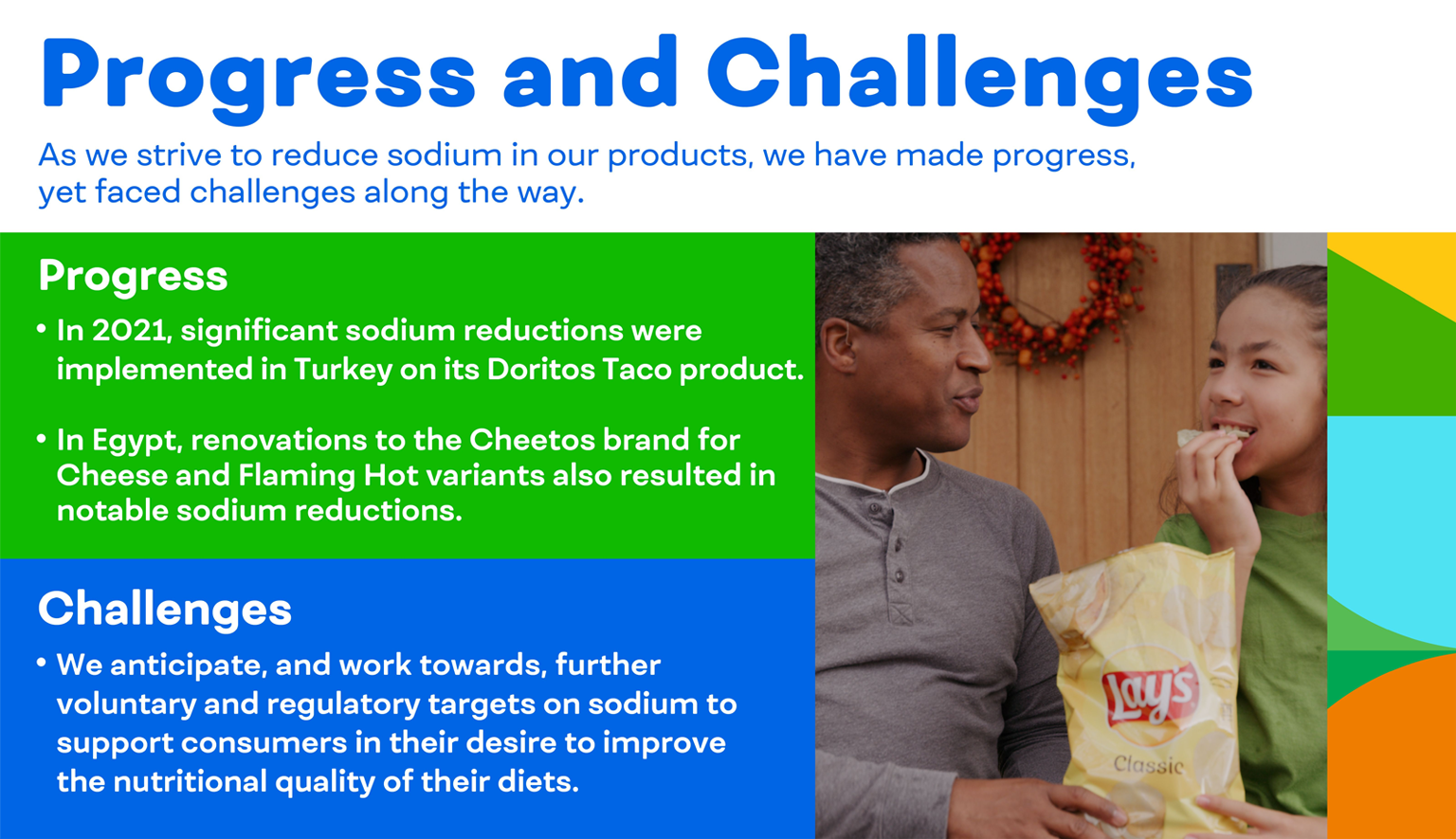 PepsiCo's 2020 acquisition of Pioneer Foods brought approximately 15 new food brands into the PepsiCo portfolio. In doing so, progress against our product goals was impacted – for sodium, this had the effect of positively contributing to our 2020 and 2021 progress.
Strategic Partnerships
We have also formed an agreement with Partnership for a Healthier America (PHA), an organization that works with the private sector to help improve the health of youth in the United States by addressing childhood obesity, to conduct an independent review of our progress against our sodium goal. The first year of this review was conducted in relation to 2016 data. Most recently, this review, covering then current 2020 SKU level data of products in our Top 23 global convenient food markets, confirmed the accuracy of our calculations and the reliability of the methodology we use to make those calculations. We plan to continue conducting independent reviews of the data and methodology, in order to drive transparency around this important goal.
What's Next?
The impact of the COVID-19 pandemic, paired with deadly conflict in Ukraine has increased pressure on food poverity and diet quality. However, PepsiCo anticipates that efforts will continue unabated within the food industry to improve the nutritional quality of products and support consumers in making Positive Choices.
Last Updated
June 23, 2022