Explore This Page

To PepsiCo:
Our stakeholders expect PepsiCo to demonstrate best practices by maintaining a global environmental, health, and safety (EHS) system. This ensures we achieve a consistently high standard across our global operations, reducing our EHS risk profile.
To the World:
EHS policies, procedures, and best practices have been formalized to support businesses in safeguarding workers, the environment, and the communities in which they operate. EHS systems and programs provide assurance that businesses are managing their operational risks which support performance improvements year over year.
Approach
At PepsiCo, our Global Environment, Health, and Safety (EHS) function strives to achieve a 'Beyond Zero' vision which, supported by our EHS strategy, aims to realize an injury-free workplace and a culture of positive impact on the health and well-being of our employees, the environment, and the communities in which we operate.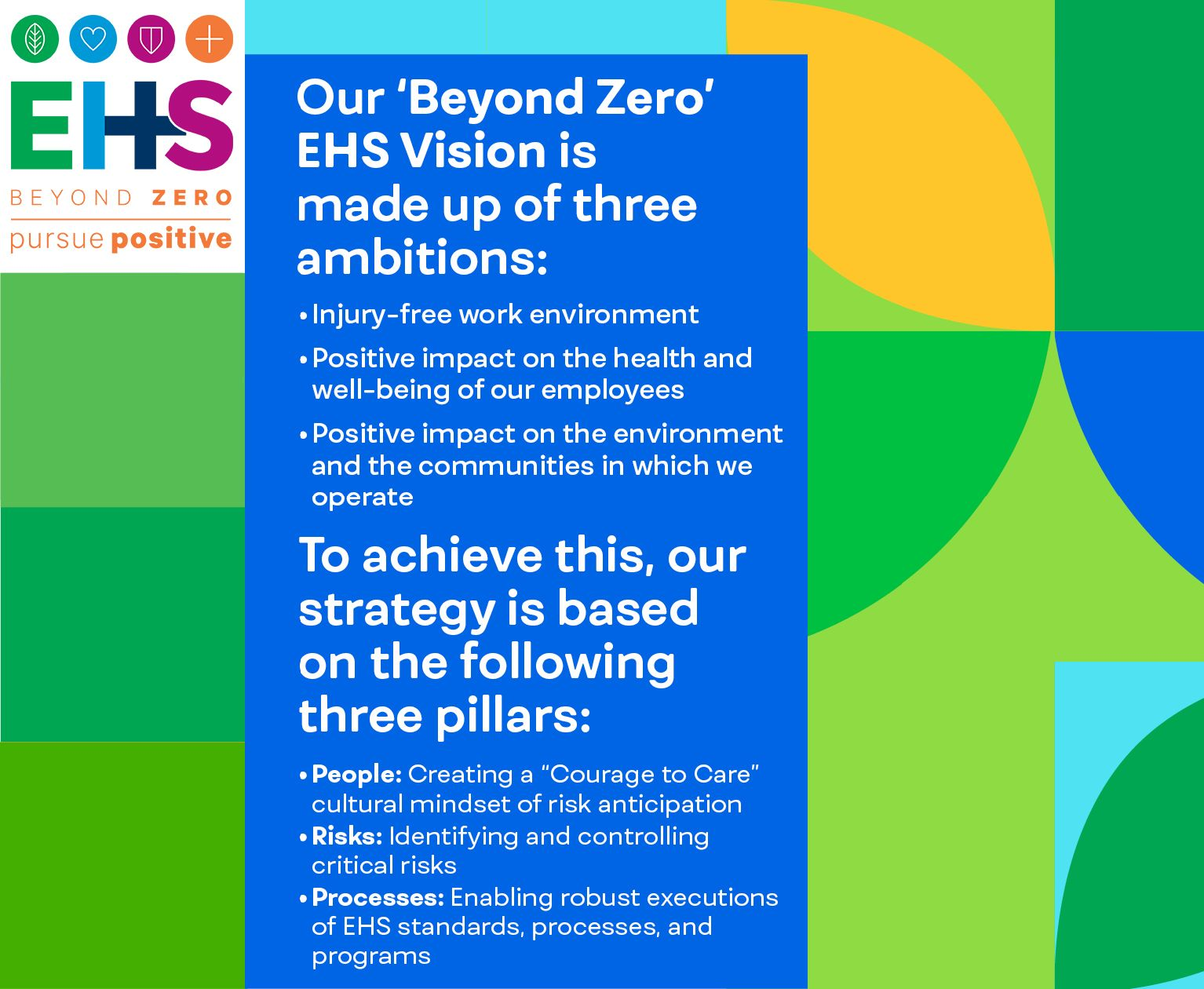 Our EHS Strategy is defined and supported by the Global EHS team, with sector EHS teams executing the strategy to reduce risk and drive continuous improvements.
PepsiCo's system of risk management is designed to reduce environmental incidents and occupational injuries and illnesses and enhance safe driving, while delivering our products. Our EHS Policy formally establishes our focus on environmental protection, safe driving, and occupational health and safety from our front line associates to our senior leaders.
Health and Safety Management
A key component of our overall EHS risk management strategy is the implementation of a robust Global EHS Management System (GEHSMS), a comprehensive set of management and technical standards for key EHS risk areas across our business. To ensure deployment of GEHSMS in our business, we perform best practice internal and external auditing processes and consistently benchmark externally with other peer groups to continually improve the ways in which EHS is managed at PepsiCo.
To help protect our employees from occupational injuries and illnesses, we identify high risk areas, including the examples of risks below, and invest in a wide range of engineered, technological solutions and administrative initiatives to continually raise awareness and upskill our associates on safety protection. We leverage fleet telematics and distracted driving technology with an aim to reduce road traffic incidents. For machine safety, we use virtual design reviews and augmented reality to conduct technical risk assessments and then invest in risk controls to ensure physical and safety awareness measures are implemented. We also invest in ergonomic risk control technologies to promote safe handling of product and improve posture behaviors to help reduce ergonomic risk. Additionally, we utilize hands-free remote collaboration tools to conduct virtual audits and inspections, allowing us to continue our strong EHS governance, even under COVID-19 restrictions.
Environmental Management
In addition to our internal programs that we have in place to minimize environmental impact, we use a system of internal and external auditing processes and benchmarking with peer groups to monitor our compliance with GEHSMS and environmental regulations in which we operate.
We proactively monitor current and emerging environmental protection legislation and other areas of concern across our value chain, and follow a risk-based approach leveraging our GEHSMS standards and focusing on the following key areas:
Prevention and control of spills: Our goal is to prevent spills and unexpected environmental releases. In the event that spills occur, locations respond in accordance with internal standards and applicable state, federal or provincial regulations. Sites develop and implement a tailored Spill Prevention and Response Plan (SPRP) based on our global standard, which includes best management practices to help prevent, respond to, and minimize the risks associated with spills of chemicals, hazardous substances, oils, petroleum products, and ingredients.
Elimination and management of waste: We are striving to achieve virtually zero waste to landfill in our direct operations

1

. We manage our waste holistically, from end to end within our operations, and we approach each site with a tailored strategy that takes into account local infrastructure and the greatest opportunities for improvement. Our waste management program is driven by shared data, using predictive analytics to develop prescriptive solutions to solve tough waste challenges in our operations.
Reduction and control of air emissions: PepsiCo has established a GEHSMS Air Quality Management Standard to define minimum requirements and best management practices to ensure that each applicable PepsiCo facility and selling operation complies with applicable air regulations and applies risk management practices to reduce impacts on human health and the environment.
Minimization, control, and reuse of wastewater discharges: Within PepsiCo's GEHSMS, our Discharge of Process Wastewater technical standard is aligned with the World Bank's International Finance Council and Business for Social Responsibility's Sustainable Water Group. Our global wastewater standard formalizes the expectation that wastewater discharged from company-owned and operated facilities will:

Meet applicable regulatory requirements;
Be conducted in an efficient, safe and responsible manner; and
Maintain an effluent quality that does not cause degradation of local water quality.

Access to safe sanitation and hygiene (WASH): Our business depends on the thousands of dedicated employees in our manufacturing sites who ensure the safety and quality of our products, and we in turn are committed to ensuring safe conditions for them. Critical to this is the provision of employees' access to safe water, sanitation, and hygiene (WASH). This is aligned with our participation in the World Business Council for Sustainable Development's (WBCSD) WASH4WORK pledge, which PepsiCo signed in 2015.
Safe chemical use, storage, and disposal: PepsiCo defines the compliance obligations for safe use, storage and disposal in our GEHSMS standards. Our goal is to protect our workforce from injury and prevent accidental releases related to the storage, use, and management of chemicals. This includes chemical selection, approval, use, handling, storage, transportation, employee training, and hazard communication.
Understanding and managing emerging environmental legislation and aspects: Compliance with applicable legislation is an expectation of PepsiCo stakeholders, a core part of the PepsiCo EHS Policy, and a fundamental element of our GEHSMS.
Progress
Health and Safety
We aim to achieve world-class health and safety performance and at the end of 2021, 93%2 of company-owned manufacturing sites had achieved ISO 45001 certification, up from 79% in 2020. In 2021, PepsiCo facilities experienced a slight rise in Lost Time Incidents, driven by increased turnover and caution fatigue after a year of COVID-19, driving our Lost Time Incident Rate to 2.48 per million hours worked.

In addition to our existing health and safety policies, throughout 2021 we also focused on keeping our employees safe by continuing to implement consistent COVID-19 protocols, based on the guidance of our Scientific Advisory Committee, the World Health Organization (WHO), and Center for Disease Control (CDC) guidance. For more on our pandemic response, see PepsiCo's dedicated COVID-19 page, here.
Environmental Protection
At the end of 2021, 93%2 of our company-owned sites had achieved ISO 14001 certification, up from 79% in 2020. Our performance against our key focus areas was as follows:
Prevention and control of spills: In 2021, we continued to strive for prevention of all spills, and if they occurred, our program ensures adherence to applicable laws and regulations and best management practices for responding to, and minimizing the associated risks of spills. PepsiCo's spill program also includes requirements for site-level spill risk analysis, operator training, communicating all reportable incidents to PepsiCo and the relevant agencies, and completing follow-up actions.
Elimination and management of waste: PepsiCo strives to send virtually zero waste to landfill as a result of its manufacturing operations. For more on our efforts and performance on operational waste reduction, see Waste.
Reduction and control of air emissions: In 2021, PepsiCo continued educating associates with a computer-based employee training module to help associates in our plants understand how they can help to minimize air emissions from manufacturing operations.
Minimization, control, and reuse of wastewater discharges: Responsible wastewater discharge from our manufacturing operations is a critical element of achieving positive water impact. For PepsiCo, adhering to this goal is vital to the continuity of our manufacturing operations, as it helps ensure that we maintain our license to operate in local communities. In 2021, over 99%

2

of the wastewater from our manufacturing operations met PepsiCo and regulatory discharge standards.
Access to safe sanitation and hygiene (WASH): By the end of 2021, our manufacturing facilities' WASH conformance was at 98%

2

, up from 97% in 2019.
Safe chemical use, storage, and disposal: In 2021, our efforts continued to ensure that chemicals are safety used, stored, and properly disposed of in all relevant aspects of our operations.
Understanding and managing emerging environmental legislation and aspects: As environmental legislation emerges and evolves, we continue to work closely with internal and external partners around the world to stay abreast of all developments and compliant with all applicable regulations.
As we work to embed EHS excellence across our organization, we have made progress but faced challenges along the way.
Progress
We continued to successfully leverage technology to conduct virtual EHS audits in 2021. Additionally, we increased our ISO certification, with 93% of our facilities certified to ISO 14001 and 45001.
Challenges
As the COVID-19 pandemic continued, we faced challenges in turnover and health & safety fatigue, which contributed to increased frequency of Lost Time Incidents.
Strategic partnerships
PepsiCo continues to collaborate with industry leading multi-national corporations to align private sector goals with the United Nations' Decade of Action for Road Safety to improve road safety through our membership with Together for Safer Roads (TSR) Coalition.
To follow through on our commitment to water stewardship, we have partnered with the Business for Social Responsibility (BSR) Sustainable Water Group. Further, we collaborate with WASH4WORK – an organization focused on bringing water access to communities.
What's next?
As COVID-19 continues to impact our lives, we are taking proactive steps grounded in science to care for our more than 300,000 employees and their families, support our communities around the world, and protect the safety of our products. We continue to listen to local health authorities and implement recommendations in our facilities worldwide, responding to regional COVID-19 trends.


In 2021 PepsiCo launched its internal #BecauseICare campaign and urged all eligible associates to get vaccinated. #BecauseICare is about continuing to do all we can to keep each other safe.
For more on our pandemic response, see PepsiCo's dedicated COVID-19 page, here.
1Virtually zero waste to landfill means that a facility achieved a landfill diversion rate of 98% or greater. PepsiCo aims to reach a 99% diversion rate by 2025 in its direct operations.

2This figure excludes non-manufacturing and certain acquired company-owned sites, including Pioneer Foods, SodaStream, and Be & Cheery sites.
Last updated
December 20, 2022