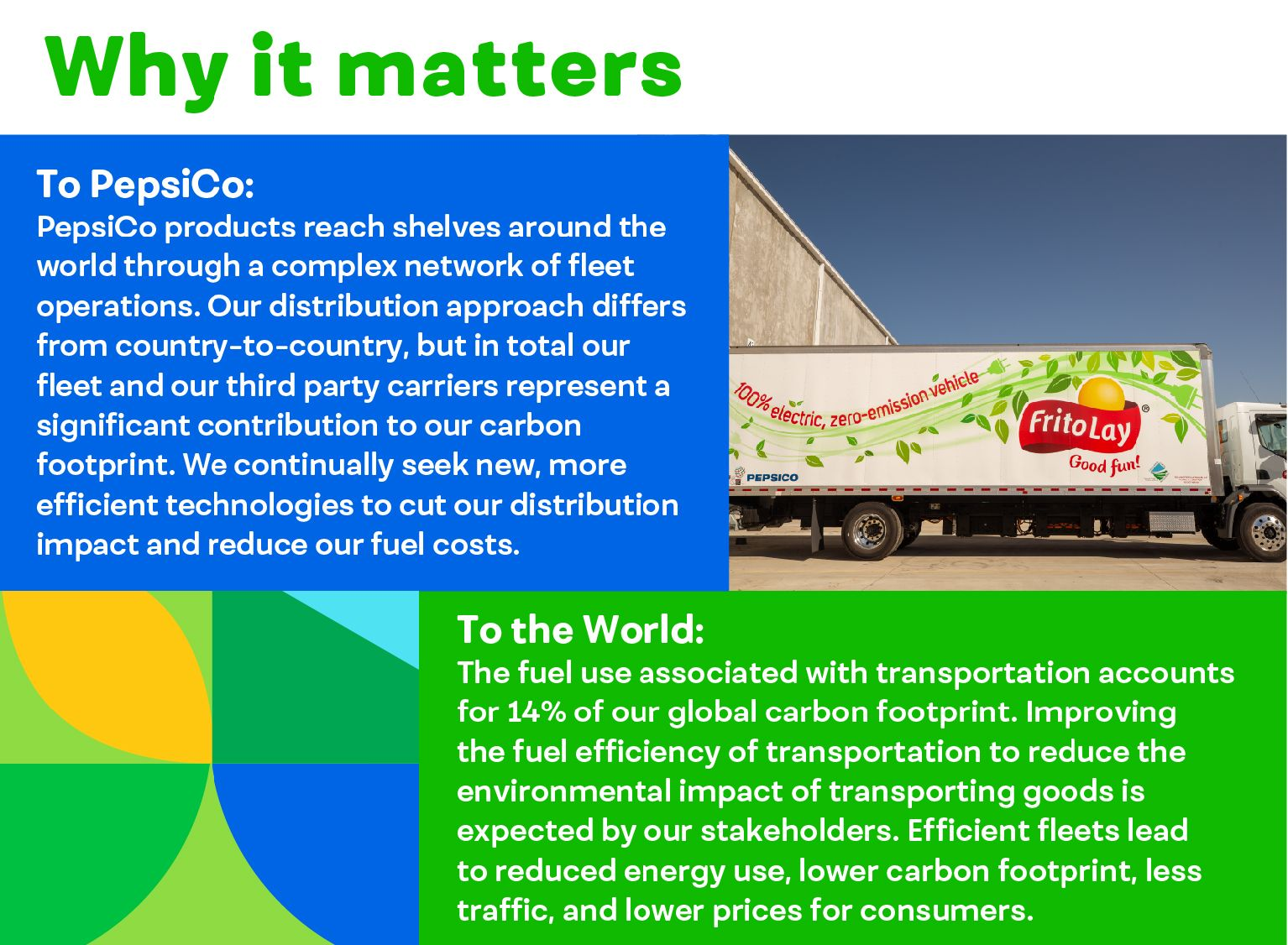 Approach
PepsiCo products reach shelves around the world through its operating subsidiaries and a complex network of fleet operations. Our distribution approach varies country-to-country, with the predominance of company-owned vehicles operating in North America. We also partner with third parties to distribute products in most markets. To decarbonize our fleet operations, we are striving to improve the efficiency of our vehicles, routing, and driving; to use cleaner fuels; and — importantly — to transition to zero-emission vehicles, and to develop and share best practices with third party partners to encourage them to do the same.
Progress
In 2021, our company-owned fleet accounted for nearly 30% of our global Scope 1 and 2 emissions. In 2021, this global fleet traveled approximately 1.2 billion miles and consumed nearly 20 million Gigajoules of fuel, of which nearly 7% was from renewable sources.
Efficiency
In 2021, we continued to optimize and right-size our PepsiCo Beverages North America (PBNA) delivery vehicles by reducing the weight of the tractor and trailer specification to help us transport more product without increasing miles. PBNA is also accelerating deployment of its Geo Box delivery system, which replaces bay delivery trucks with specially designed trailers that are pre-loaded at the warehouse. This ensures the right quantity and assortment of product reaches our retail customers in a more efficient and timely manner. Load optimization reduces the number of vehicles, miles driven and ultimately fuel used.
PepsiCo Foods North America (PFNA) introduced tractors with liftable tandem axles which deploy or lift the second axle as required by the weight of the load, resulting in reduced rolling resistance, reduced tire and brake wear and improved MPG by more than 4%. We also purchased about 650 30' box trucks which have 25% more cargo volume and improve MPG by more than 3% when compared to the 24' box trucks they are replacing. This, combined with 210 additional drop frame trailers that optimize available trailer volume, reduce the total number of miles required to deliver the same amount of product.
We also invest in energy saving technology and advanced aerodynamic devices, use low rolling resistance tires, reduce weight, and improve powertrain efficiency in our new equipment.
We continue to make improvements in fleet efficiency through Advanced Driver Assist Systems (ADAS), more efficient routing, and driver training that encourages fuel conservation. Our drivers are trained to practice gentler acceleration and the importance of avoiding unnecessary braking and idling. Safety features like collision mitigation, adaptive cruise control, blind spot monitoring, and lane keep assist are being deployed to keep our drivers and communities safer while improving efficiency.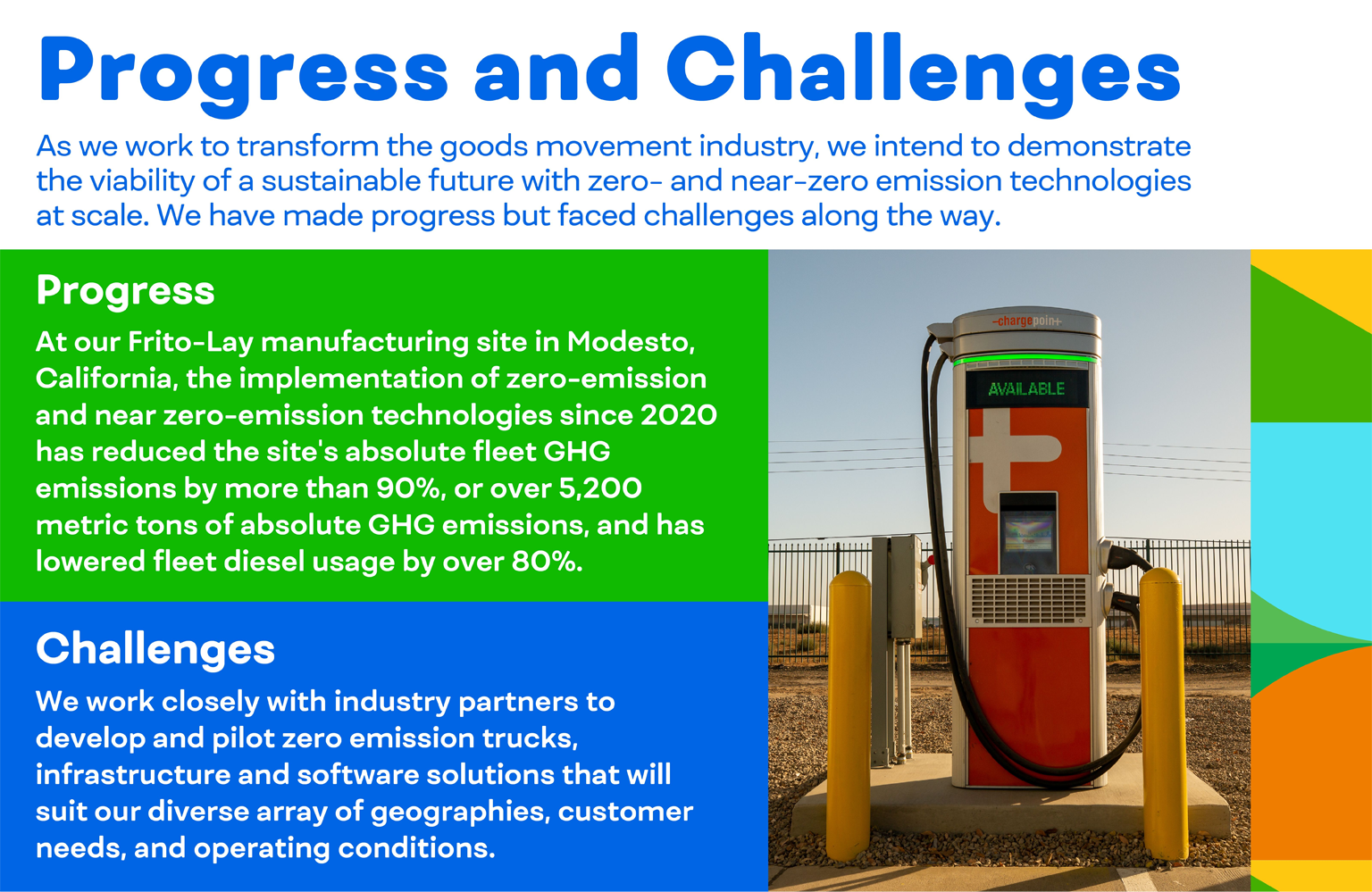 Cleaner Fuel Sources
Our PFNA class 8 tractor fleet is comprised of 45% Compressed Natural Gas (CNG) vehicles, and in 2021, the CNG fleet of over 700 tractors drove over 61 million miles. We continue to increase the use of natural gas sourced from renewable sources, achieving 82% renewable fuel in 2021. We are establishing fueling contracts to ensure that all future fleet natural gas will be from renewable sources. Operating CNG tractors in 2021 resulted in 63,000 metric tons of GHG reduction.
At our Frito-Lay manufacturing site in Modesto, California, the implementation of zero-emission and near zero-emission technologies since 2020 has reduced the site's absolute fleet GHG emissions by more than 90%, or over 5,200 metric tons of absolute GHG emissions, and has lowered fleet diesel usage by over 80%. To date, the equipment and infrastructure in place at the site includes nearly 60 tractors, box trucks, yard trucks, or forklifts powered by electric, lithium-ion technologies or natural gas with renewable attributes. Additionally, 15 Tesla semi tractors are expected to deploy by the end of 2022. Infrastructure to support the project incorporates an adjacent natural gas station with renewable attributes, as well as solar carports, battery storage, truck charging systems, and employee electric vehicle charging stations.
In our effort to continuously explore emerging technologies that will position us for the future, we made an initial reservation for 100 all-electric class 8 tractors from Tesla. These will be deployed across both our snacks and beverage businesses. Additionally, Frito-Lay will deploy over 40 electric vans in North America in 2022 to evaluate how best to leverage electric vehicles and technologies moving forward.
Strategic Partnerships
We believe it is important to engage in and support multi-stakeholder alternative energy initiatives. We are an original signatory of the Sustainable Fuel Buyers' Principles. These Principles, developed by the non-governmental organization Business for Social Responsibility (BSR), encourage accelerating the transition to sustainable, low-carbon fuel and related technologies.
In the U.S., PepsiCo is a certified member of the U.S. Environmental Protection Agency's (EPA) SmartWay initiative, formed to improve fuel efficiency and the environmental performance of goods-movement supply chains.
What's Next?
In the coming year, we expect to continue our transition to a cleaner, advanced, more efficient fleet increasingly powered by renewable sources. We will continue our investments and initiatives that focus on:
Safety: Leveraging advanced technologies that improve the safety performance of our fleet operations;
Connectivity: Utilizing data and technologies that improve efficiency; and
Electrification: Increasingly deploy electric vehicles to reduce emissions.
Last Updated
July 12, 2022